America's Creepy, Surveillance-Endorsing Love of NCIS
By featuring warrantless agents who thwart domestic terrorists with fantastical technology, shows like NCIS essentially ask Americans to root for Big Brother.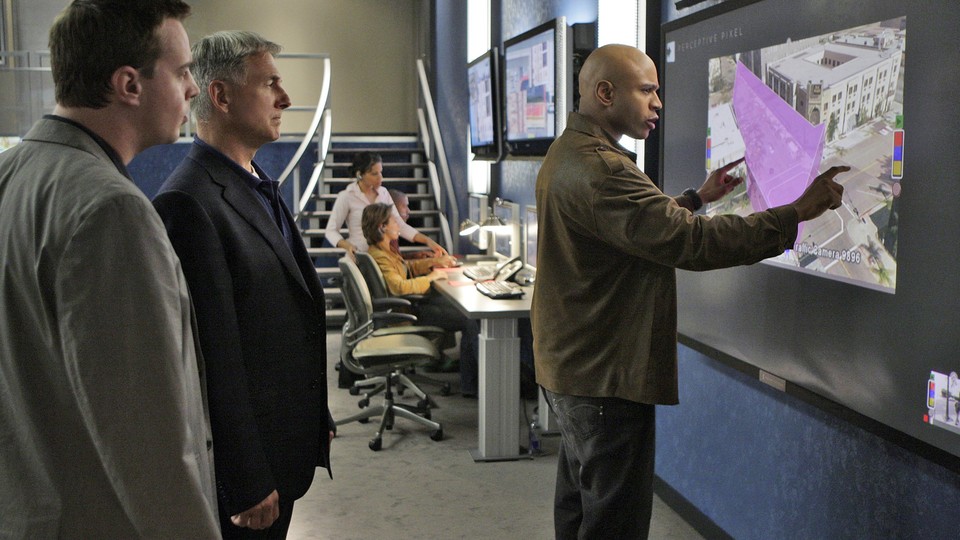 NCIS and its sibling NCIS: Los Angeles are the top-rated dramas on television, a distinction they have held for several years. Next season there will be a third iteration, which ones hopes will be titled NCIS: Spinoff. As Quartz's Jason Lynch notes, viewers love these formulaic procedurals—while critics ignore them.
But what exactly are so many Americans watching—and rooting for—when they tune in for these TV shows? A closer look reveals that both series are uncomfortably akin to a cheering section for the NSA: The shows depict a world in which terrorists planning mass slaughter are under every bed, in which viewers root for the good-looking, wisecracking agents to smash down doors without warrants; in which super-advanced electronic surveillance is used exclusively to protect the public. In the NCIS version of reality, we'll all die unless powerful government agencies treat the United States Constitution like a big joke.
Of course primetime TV is rich in galimatias: Wacky sitcoms are hardly realism, and virtually all action programming overstates the frequency of violent crime. That crime is in steady decline simply isn't mentioned on procedurals like Hawaii Five-0 and the Law & Order franchise, which depict homicide at runaway levels. Primetime dramas also exaggerate the use of firearms. In the actual NYPD, 1 officer in 800 fired at a suspect in 2012; on TV, the streets of New York City are as bullet-ridden as the Wild West. Procedurals further overstate the chance of criminals being caught: A disturbing number of real crimes never are solved, while in primetime, as the top of the hour approaches, the cell door slams behind the villain. Viewers long have clicked on the tube to entertainment in which crime is rampant, gunfire echoes down the mean streets, and bad guys always get what's coming to them.
But the subliminals are shifting. A generation ago, network crime dramas featured private detectives who were lone outsiders, like The Rockford Files' Rockford, or For Hire's Spenser. Post 9/11, audiences seem to prefer heroes with government authority. Federal agents based in secret facilities, elite crime-fighting units with extralegal powers, fantastical technology, and commando-team backup are everywhere on primetime.
The NCIS siblings take this one step further by placing the entire nation in jeopardy on a regular basis. The two shows have offered numerous plots involving weapons of mass destruction in the hands of lavishly financed Iranian, Pakistani, or Russian evildoers. (Odd that the shows don't roll out Saudi evildoers, given most of the 9-11 mass murderers were Saudi nationals; though, in the NCIS universe, Romania is often depicted as a fountainhead of maniacal terrorists.) NCIS Los Angeles had an arc in which well-dressed bad guys with generic foreign accents seized three atomic bombs left over from the Cold War; another in which the deranged were racing through L.A. with a bioweapon that could "kill everyone west of the Mississippi in 48 hours."
How are these calamities prevented? Electronic surveillance. A sinister Pakistani terrorist has an accomplice in Washington, D.C. A super-advanced surveillance device takes mere seconds to locate the accomplice and determine he is on the way to the Norfolk airport. (When he arrives, Washington-based NCIS agents are already present, disguised as airline employees—how they could get there first is never explained, but that's a standard plot hole.) The well-dressed guys with the atomic bombs are tracked across Los Angeles by technology that apparently can detect fake accents from outer space. The woman with the bioweapon passes a closed-circuit security camera, and instantly the agents know her location.
On NCIS, info often comes from a particular tech staffer who can tap into any cell phone or video feed in mere seconds, never needing a password and never pausing for a judge's permission. (She dresses Goth; she's no Oliver North!) NCIS Los Angeles features two cool young techies who operate a never-explained super-computer that requires mere seconds to pinpoint any vaguely Middle Eastern-seeming person anywhere in the Golden State. Then the agents declare that if they have to stop to get a search warrant, the innocent will die.
In the setup of the shows, viewers have seen the bad guys doing something malicious, and so know they are guilty. Who cares about the rights of the guilty! But in reality, law-enforcement officers rarely are sure about guilt; nobody can be certain until a judge or jury speaks. By first showing the primetime audience an awful terrorist scheming to slaughter the innocent, then showing valorous agents who can stop the terrorist only by trampling the Bill of Rights, audiences are induced to think, "Listen in without a warrant! Break down the door! That's justice!"
In this respect, it's somewhat spooky that NCIS Los Angeles is sponsored by Lockheed Martin, the world's largest military manufacturer. As the credits roll, "Promotional consideration furnished by Lockheed Martin" appears in tiny type. Lockheed Martin does not market any consumer products—watching NCIS Los Angeles cannot inspire anyone to log onto Amazon and purchase an F-35 strike fighter. Yet the firm underwrites the show, which makes itself seem hip with references to NPR and gay rights, then offers plotlines in which advanced wiretap technology is good for the public. For car companies to have product placements in detective drama is one thing; for military contractors to underwrite programming that lauds Big Brother tactics is another.
The NCIS twins aren't the only primetime shows that glamorize electronic surveillance. Person of Interest, often in the Nielsen top 10, concerns an imaginary super-computer that fuses all data from all the world's devices, then directs the heroes to places where the innocent are imperiled. "The machine sees everything," the intro intones. And is used solely for good! Intelligence, a new primetime series, concerns a secret agent with an imaginary chip planted in his head. The chip fuses all data from all the world's devices, allowing the agent to stop terrorist attacks. And, similarly, it's used solely for good! As the credits roll after Intelligence, a message appears onscreen: PROMOTIONAL CONSIDERATIONS PROVIDED BY MICROSOFT.
Of course television studios have an unceasing need to pump out programming; what would really be scary is if bad guys from an NCIS episode got their hands on a MacGuffin generator. And plots in which imaginary technology saves the day have been on the tube since The Man From UNCLE half a century ago. But in today's political climate, why does Hollywood seem so enthusiastic about promoting the notion that the innocent have nothing to fear from Fourth Amendment violations and ubiquitous electronic surveillance?