A Septuagenarian Artist's Childhood, in 55 Watercolors
After a career creating famous images for clients, James McMullan undertakes a project for himself.
Poster artist and children's book author/illustrator James McMullan has created dozens of well-known Lincoln Center posters and editorial illustrations, including a series in New York Magazine that inspired the film "Saturday Night Fever. This month, his first illustrated memoir will be published. Leaving China: An Artists Paints His World War II Childhood (Algonquin Young Readers) chronicles McMullan's peripatetic existence before and after escaping with his mother from Japanese-occupied Cheefoo, China. Beautifully illustrated in his signature watercolor style, McMullan has written an unsentimental and compelling story tracing the saga of his missionary grandparents, family business, parents' relationship, and father's anti-Japanese intelligence work in the British army—all leading to McMullan becoming an artist.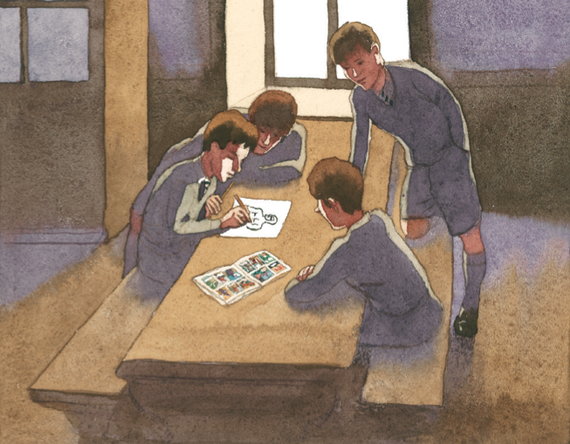 Leaving China is a collection of 55 short scenes, each illustrated with a stunning full-page watercolor impressionistically illuminating McMullan's recollections. "My earliest memory is of throwing a grape," McMullan writes in the first scene, in which he's bitten by a German shepherd. The incident may have triggered the "unsettling nervousness I exhibited during my childhood," though perhaps, he says, "I was simply destined to be a worried anxious boy, German shepherd bites or not."  The rest of the book continues that theme of uncertainty in a dangerous, war-torn world, and how he found "strength in art and a way to be in the world that was not his father's or mother's idea of a man's life."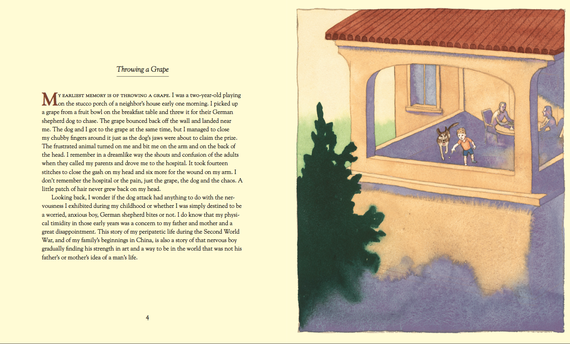 Over the decades, McMullan has suppressed some early memories and grappled with others. But in 2010,  he rediscovered a box of his parents' wartime letters, which motivated him to finally write down a narrative that pulled together all his memories of his first years traveling between China, Canada, and India. The letters had remained forgotten and unread because McMullan admits he didn't want to revisit the emotions of those times and his relationships with his parents, but, "being in my 70s, I faced the fact it was now or never to pin down what I could about my childhood," he explains, adding "I needed a sense that I actually had a childhood."
Deciding how to present these intimate recollections was his challenge. McMullan's wife, Kate McMullan, with whom he's collaborated a number of children's stories, initially tried making a book from a single memory onboard the U.S.S. Calvin Coolidge during a thwarted attack by a Japanese dive-bomber. "My character acted very heroically to find my mother a life vest," McMullan recalls. "I think I was always conscious that I was not a heroic little boy, and perhaps that kept me from writing the story for so long. Now that I've spent time writing and thinking about that history, I realize it was about survival and not heroics, and that my life as an artist was a kind of strength that came out of the experience."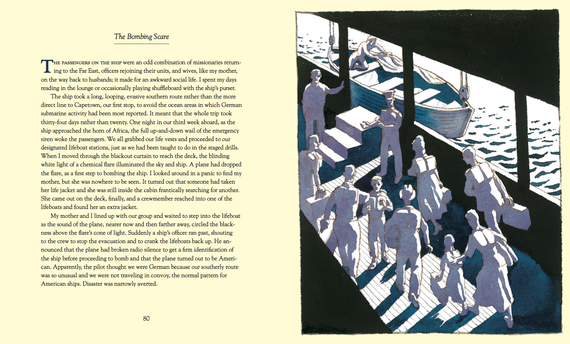 Apart from the letters, McMullan says he referred to his sister's and father's diaries, reminiscences by an older cousin, a book on British Army intelligence in China and, most importantly, two family photo albums from the early years in China. For the history of his paternal grandparents, he says, he relied on the stories his mother and cousin had told him and what he could further glean about The McMullan Company from dated Cheefoo newspapers.
McMullan's economical writing style complements the eloquence of the watercolor paintings. "I hoped that the illustrations would more effectively express the emotions that the writing only hinted at," he says. "It wasn't really difficult to decide on what to show in the pictures—they were scenes that have gestated in my mind for a long time. The incidents in the text always had a 'center' that the paintings could illuminate. Once I had written the scene, I approached making the image very much as something that had to work as an imagined and 'synthetic' work of art, not as a recreation of actual events. My use of a somewhat un-naturalistic color palette and an omniscient, high point of view was part of my method to free myself from what might have been the pressure to make 'true' illustrations."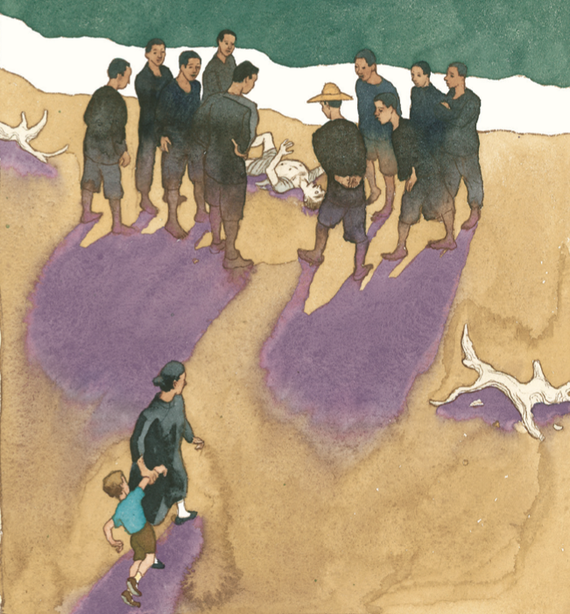 Working on the book, he says he became "in a way, two people." One was the author writing down the memories in an economical style, and the other was the artist "making creative 'hay' out of the material."
"I tried to be truthful and fair," he adds. "I didn't know my father well enough to make judgments about him, and what I wrote about my mother I hope conveyed that, along with her self- absorption and alcoholism, she was a witty and charming person."
With the exception of a few pictures drawn from the family album, almost every image is based on imagination. "I've actually never done illustrations before that were so much imagined and so little based on reference," he says, referring to his representational impressionist style. The most menacing scenes of The Japanese army "were imagined scenes." Also a central inspiration for McMullan's approach are Chinese scroll paintings where the tableaus are depicted from a high vantage point and the figures and objects are relatively small. "The tone of the pictures is distant," he adds. "They reflect how much these memories are part of a dream-like past. The closest I get to the sense of immediate crisis or drama is in 'The Bombing Scare.'"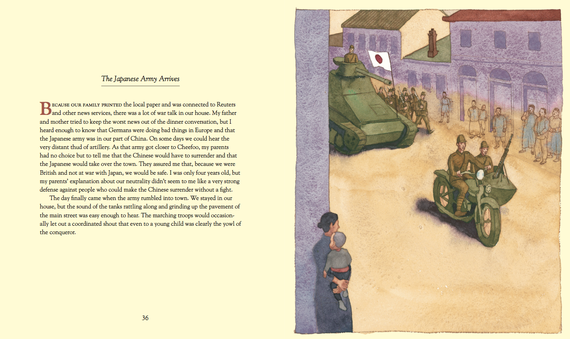 I asked McMullan about his visual voice, which differs from his theater posters. He recalls that the first picture he did for this project was the book's cover image, which set up the style for the rest of the pictures. "I had tried drawing the scene with a more realistic, lower-horizon view point but realized I had to find a more imaginative, dream-like frame of reference," he says. "It was a moment when I realized how free I was to make the images whatever I wanted. That probably sounds obvious, but for an artist with more that 50 years of making space in my mind for the client, it was an epiphany."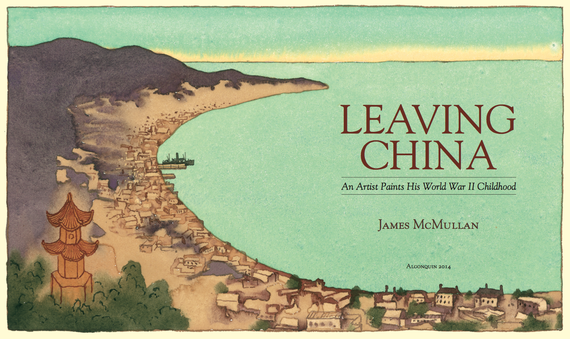 He also tried hard to eradicate the feeling of what he calls "poor little Jimmy" from the book: "I hope I've outgrown that persona. And I suppose any memoir is a form of hiding and self-aggrandizement, but all in all, I feel the character and the art are truthful."
Leaving China is targeted for an audience 12 and up, but is by no means exclusively for children or young adults. It's really a fascinating recollection/confessional that served as long-overdue catharsis for its creator. "When it was finished it was difficult to work on posters and children's books," McMullan says. "I spent months basically de-compressing."