1book140's March Read: Open City by Teju Cole
Join in with our Twitter book club this month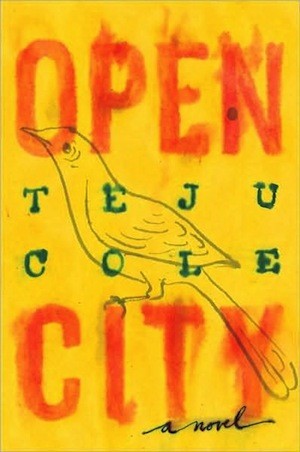 Join us this month to read Open City, by novelist Teju Cole. Our nominations this month featured stories by writers connected with Africa, and Cole's novel won with a clear margin.
In Open City, a half-Nigerian, half-German psychiatry grad student named Julius walks around New York City and meets interesting people. He talks to a Haitian shoe-shiner, watches a performance of Mahler at Carnegie Hall, and visits a detention center in Queens with a church group. During a visit to Brussels, Julius also encounters, admires, and argues with a fiercely opinionated Moroccan who works at an Internet café.
"The New York of Mr. Cole—a writer, photographer and historian who was raised in Nigeria and came to the United States in 1992—is a city of immigrants," writes Michiko Kakutani in the New York Times review. James Wood points out in his New Yorker review that "we ... need a flâneur to see interesting things in the city, and to notice them well." He calls it "a beautifully modulated description of a certain kind of solitary liberalism common to thousands, if not millions, of bookish types."
Reviewers love to compare Cole's work with works of philosophy and other serious novels. This is partly due to what Giles Foden calls "its cosmopolitan range of reference. Moments of genuine narrative are most often the springboard for a jump into book chat, music trivia or historical disquisition."
Open City won the 2012 PEN/Hemingway award, the 2013 International Literature Prize, and the New York City Book Award for Fiction in 2013.
As we discuss Open City on Twitter this month, I think that this episodic, digressive, referential style will be perfectly well suited to our own flights of discovery and discussion together.
About Teju Cole
Cole is  well-known for experimenting with storytelling on Twitter. In 2011, he  tweeted extracts from "Small Fates," a non-fiction narrative set in Lagos based on local news in Nigeria. He's posted a series of fictional tweets from drones. Earlier this year, Cole created the story "Hafiz" by retweeting fragments from his readers.
Cole, who moved to the United States from Nigeria at 17, is also a powerful and thoughtful public intellectual. I first encountered his voice in an Atlantic article on KONY2012 and the White-Savior Industrial Complex. He has also been a regular contributor to The New Inquiry, Granta, New Yorker, and qarrtsiluni. He is currently Distinguished Writer in Residence at Bard College.
Join the Conversation at #1book140
Share favorite quotes, share links, ask questions, and read along at @1book140, our Twitter book club. We have just finished Outlander by Diana Gabaldon. Our hashtag #1book140 is a great place to share about what else you're reading.
To join the conversation on Open City, follow us at @1book140 and tweet to join the conversation so we know that you're reading along. To avoid spoilers, we spread the conversation across one hashtag per week. Click on each hashtag to see the conversation at that point in the book.