18 Bands to Check Out From South by Southwest 2014
From punk screamers to electronic pranksters, these acts justified their buzz—or sparked some.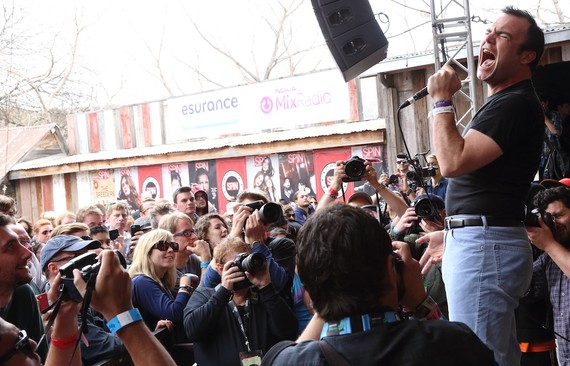 Gaga's vomit; Tyler's riot—the headlines can make it seem like the South by Southwest music festival exists for already-famous musicians to grab even more publicity. But despite the attention-getting presence of celebrities and sponsorships each year in Austin, there are still upwards of a thousand smaller bands in town for five days. The vast majority of them are undiscovered; some are buzzed-about up and comers. Here are the best sets we happened to catch from people who aren't yet big stars—but might be one day.
(Also, we've put together a Spotify playlist with most of the tracks mentioned, though you'll have to download the Phox one elsewhere.)
---
Future Islands
Baltimore
The sound: Eighties new wave reconstituted jauntily under the direction of an excellently theatrical lead man who's not afraid to wear dad jeans.
Key SXSW moment: Playing their seventh (!) set of the festival, Samuel T. Herring promised the crowd at Stubbs for Spin's Friday party that he'd offer a "sunny afternoon" show, then launched into the same unapologetically spastic dance moves that made the band's recent Letterman performance go viral.
Listen to: "Seasons (Waiting on You)"
Boy & Bear
Sydney, Australia
The sound: Road-trip-ready folk rock recalling CCR or a slightly perkier version of Sky Blue Sky-era Wilco: virtuoso fretwork, shuffling rhythms, and a soulful drawl.
Key SXSW moment: Saturday afternoon at the Wild Honey Pie's party at Cheer Up Charlie's, the band kicked up a good-natured ruckus built around Killian Gavin's lancing solos. The crowd roared, and singer Dave Hoskin gave credit where it was due, motioning to the guitarist—"I don't do much on this song, but this man does."
Listen to: "Southern Sun"
Nothing
Philadelphia
The sound: Dour but gorgeous shoegaze from some kids who clearly grew up in the '90s: The guitars heave and shimmer like My Bloody Valentine, vocalist Dominic Palermo sighs like Billy Corgan, and the lyrics wax nihilistic like Kurt Cobain.
Key SXSW moment: The tats-and-beanies-bedecked trio cast empty stares onto the crowd as they blanketed the sunny Red 7 patio with noise on Thursday for Brooklyn Vegan's day party. The only stage patter came when the band made their exit: "We have to go change our diapers."
Listen to: "Downward Years to Come"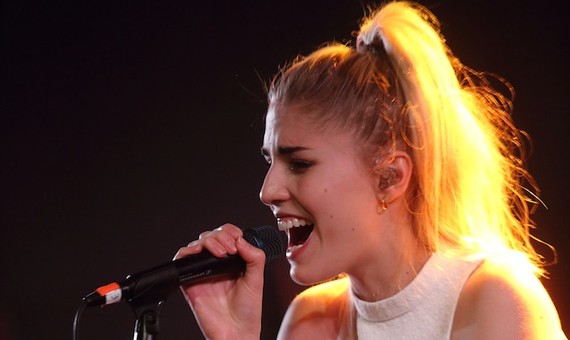 London Grammar
Nottingham, UK
The sound: Dramatic, spare trip hop that leans on the considerable talents of singer Hannah Read. Sounds like The XX, but with bigger ballads.
Key SXSW moment: Opening for Coldplay and Imagine Dragons at the iTunes Festival showcase on South by Southwest's first night of music, the trio proved their mettle at the enormous Moody's Theater while slyly pointing out their youth: The band grew up listening to Coldplay, Read said.
Listen to: "Strong"
Sylvan Esso
Durham, North Carolina
The sounds: Coffee-shop scat-singing diced up by an electronic tinkerer, making for experimental tone poems that appeal to the intellect and to the emotions.
Key SXSW moment: The line to see Little Dragon on Red 7's patio Thursday afternoon snaked through the bar's interior, where Sylvan Esso were performing. By the end of the duo's tricky, upbeat set, the queuing bystanders were bobbing just as enthusiastically as the folks up front.
Listen to: "Hey Mami"
The Griswolds
Sydney, Australia
The sound: Distinctly 2014 indie pop, which is to say the band has taken cues from MGMT, Passion Pit, and Vampire Weekend to come up with a polyglot sound held together with sticky choruses and springy rhythms.
Key SXSW moment: The five lads of the band seemed genuinely humbled playing inside Mohawk Friday night for ATC's showcase: "We're a bunch of happy Australians because we're here at South by Southwest. We can get drunk in Sydney any night."
Listen to: "Mississippi"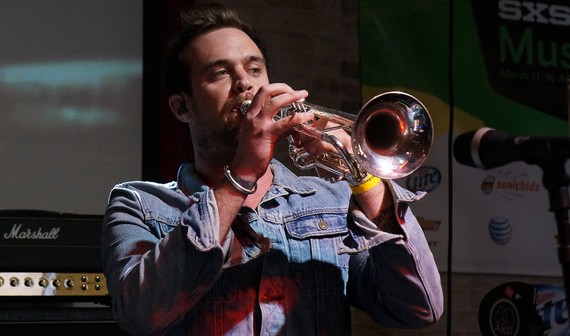 Until the Ribbon Breaks
Cardiff, UK
The Sound: Dreamy breakbeats, soulful samples, and breathy vocals from Welsh mastermind Pete Lawrie Winfield.
Key SXSW Moment: In the middle of a daytime slot at the British Music Embassy, Winfield picked up a trumpet and seamlessly integrated brass into his band's trippy, languid sound.
Listen to: "A Taste of Silver"
Jonny Fritz
Nashville, Tennessee
The sound: Sardonic, specific tales of life on the road crooned over well-executed honky-tonk tunes.
Key SXSW moment: Fritz's fashion choices for the GCT showcase Thursday night at Red 7 telegraphed his post-modern lounge-lizard shtick: Underneath an embroidered vest that'd make Neil Young proud, he sported a graphic tee printed to look like a bolo tie and collar.
Listen to: "Goodbye Summer"
Sophie
London
The sound: Ultra-inventive dance music that almost feels like a high-concept joke. The instantly catchy vocals sound like they're treated by helium; the rhythms wobble, clack, and groan—it's avant garde Aqua.
Key SXSW moment: In the middle of a high-energy, playful set for the Warp/Numbers showcase at Empire Garage Wednesday night, Sophie (a mysterious producer revealed at SXSW to be a skinny white guy with an asymmetrical shock of wavy red hair) started barraging the room with atonal bass drones that shook the auto shop's rafters. The crowd responded to the abuse with cheers.
Listen to: "Bipp"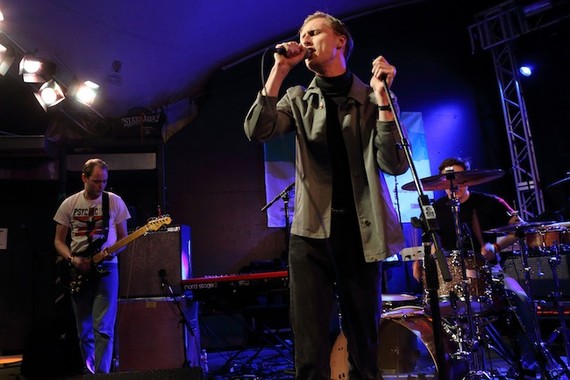 Eagulls
Leeds, UK
The sound: Shouty, galloping post-punk from the nation that does it the best.
Key SXSW moment: At 12:30 of the first afternoon of the music festival, the band offered a triple-guitar wakeup call for attendees of Spin's House of Vans party at Mohawk, who were soon "oy!"-ing back at vocalist George Mitchell.
Listen to: "Possessed"
Conner Youngblood
Dallas
The sound: Apocalyptic folk soundscapes ruled over by Youngblood's aching, studio-treated whispers. Think Bon Iver, but darker.
Key SXSW moment: Youngblood performed by himself inside Mohawk for ATC's Friday night showcase, but this was no campfire strumalong: Using loop pedals, he built a complicated, full-band sound with ukulele, brass instruments, drum patterns, and his own ethereal voice.
Listen to: "The Warpath"
Obey City
Brooklyn, New York
The sound: Hip-hop-inflected electronic music that feels strikingly organic: the percussion lands as if played by a drummer in your living room, and the songs share M83's penchant for melding the synthetic with the emotional.
Key SXSW moment: At Empire Garage on Wednesday night, guest singer/rapper Anthony Flammia played hype man, keeping Sam Obey's alien-sounding arrangements firmly relatable to the humans in the audience.
Listen to: "Fallin'"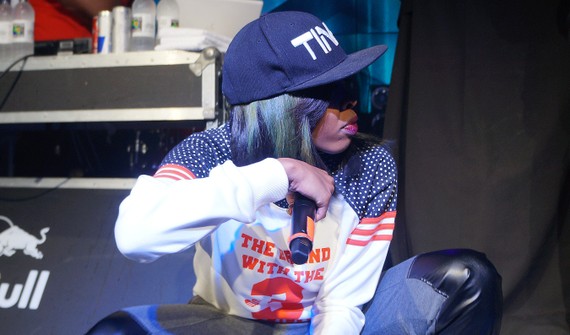 Tink
Calumet City, Illinois
The Sound: Gritty hip-hop from a Chicagoan who can sing, rap and write with an emotional authority that goes far beyond her 18 years.
Key SXSW moment: The crowd at Red Bull's Sound Select showcase wasn't exactly asking for a slow jam, but despite their indifference Tink took a break from hard rapping to prove she has seriously silky pipes.
Listen to: "When I'm Lit"
Kelela
Los Angeles
The sound: Adventurous, confrontational beats backing a newbie R&B singer with seeming decades of confidence.
Key SXSW moment: Wearing fetching white pajamas outside at Mohawk on Wednesday for Spin's day party, Kelela put on a thumping, magnetic performance despite environmental obstacles: "It's kind of windy. I'm also high as fuck."
Listen to: "Enemy"
Beautiful Bodies
Kansas City, Missouri
The sound: Bouncy, cavernous, and sometimes frantic power-pop anthems.
Key SXSW Moment: In front of a capacity crowd at their Soho House showcase, guitarist Thomas Becker, late of The Get Up Kids and Gratitude, spent half the set playing somewhere other than the stage—surfing the crowd, running on top of the bar, or hanging upside-down from a security barrier.
Listen to: "Invincible"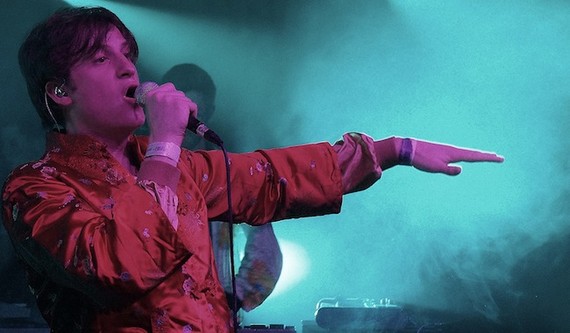 Great Good Fine Ok
Brooklyn, New York
The Sound: Synth pop recalling early Prince with deliciously fluffy falsetto vocals and just enough garage guitar to keep from being sappy.
Key SXSW moment: Towards the end of their gig at Neon Gold's Saturday night showcase at Empire Garage, the lead singer dropped his red kimono to reveal a shiny gold-pained jacket and jeans. His bandmate doubled down on the glam vibes with a keytar solo.
Listen to: "You're The One For Me"
Black Dave
New York City
The sound: Throwback to early Rick Rubin-produced East Coast hip hop—geographically obsessed, profane, and perfect for backyard barbecues.
Key SXSW moment: Early in the day Saturday, he fit a crew of nine onto Mohawk's small indoor stage and then led the sparse crowd in a raucous, jump-along refrain: "Fuck everybody, fuck everybody, fuck everybody!"
Listen to: "On Da Map"
Phox
Baraboo, Wisconsin
The sound: A big instrumental ensemble (banjos! trumpets!) capable of anything (spindly folk! surging rock! twinkling twee!) and fronted by a singer so charming she should run for office.
Key SXSW moment: Warming up the crowd early in the evening for Friday's ATP showcase outdoors at Mohawk, Monica Martin embellished up her group's dynamic set with winning self deprecation: "We're Phox, spelled P-H-O-X because we're zany."
Listen to: "Slow Motion"