The NFL Will Never Be 'Ready' for an Openly Gay Player
It doesn't matter whether the NFL wants to accept an openly gay player like Missouri defensive end Michael Sam. He's arrived, and the league will have to adjust accordingly.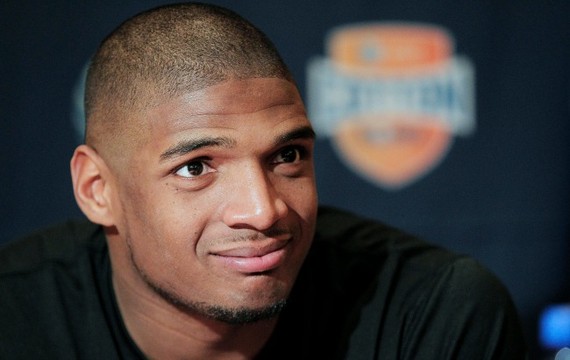 NFL prospect Michael Sam announced on Sunday that he was gay. For reasons that should be obvious, most pro athletes have come out either after they've retired or, as with Jason Collins, toward the tail end of their career when their prospects were in doubt.
Mr. Sam, a senior who was listed at 6 feet 2 inches and 260 pounds, had a stellar season as Missouri finished 12-2 and won the Cotton Bowl. He was a first-team all-American and was named the Associated Press defensive player of the year in the Southeastern Conference, widely considered the top league in college football. Teammates voted him Missouri's most valuable player.

Now Mr. Sam enters an uncharted area of the sports landscape. He is making his public declaration before he is drafted, to the potential detriment to his professional career. And he is doing so as he prepares to enter a league with an overtly macho culture, where controversies over homophobia have attracted recent attention.

As the pace of the gay rights movement has accelerated in recent years, the sports industry has changed relatively little for men, with no publicly gay athletes in the N.F.L., the N.B.A., the N.H.L. or Major League Baseball. Against this backdrop, Mr. Sam could become a symbol for the country's gay rights movement or a flash point in a football culture war — or both. Mr. Sam, 24, is projected to be chosen in the early rounds of the N.F.L. draft in May, ordinarily a path to a prosperous pro career. He said he decided to come out publicly now because he sensed that rumors were circulating.
Sam, unlike his predecessors, has his professional career in front of him and a great deal of money on the line. And I suspect there's something more. When black soldiers joined the Union Army they were not merely confronting prejudice—they were pushing the boundaries of manhood. And when the Night Witches flew over German lines, they were confronting something more—the boundaries of humanity itself. Groups define themselves by what they are and what they are not: Niggers are never men, ladies are never soldiers, and faggots don't play football. When Michael Sam steps on a football field, he likely will not merely be playing for his career but, in some sense, for his people.
In that sense he will be challenging  a deep and discrepant mythology of who is capable of inflicting violence and who isn't. Last week, Jonathan Vilma speculated about how he might feel if a gay teammate saw him naked:
Imagine if he's the guy next to me and, you know, I get dressed, naked, taking a shower, the whole nine, and it just so happens he looks at me. How am I supposed to respond?
What undergirds this logic is a fear of being made into a woman, which is to say a fear of being regarded sexually by someone who is as strong as, or stronger than, you. Implicit to the fear is the gay player's ability to do violence. It exists right alongside a belief that the gay player is a "sissy." ("Grown men should not have female tendencies. Period," Vilma once tweeted.) The logic is kin to the old Confederate belief that Southern slaves were so loyal and cowardly yet they must never be given guns.
The mythology Jonathan Vilma endorses will not fade through vague endorsements of "tolerance," lectures on "acceptance," nor any other species of heartfelt magic. The question which we so often have been offered—is the NFL ready for a gay player?—is backwards. Powerful interests are rarely "ready" for change, so much as they are assaulted by it. We refer to barriers being "broken" for a reason. The reason is not because great powers generally like to unbar the gates and hold a picnic in the honor of the previously excluded. The NFL has no moral right to be "ready" for a gay player, which is to say it has no right to discriminate against gay men at its leisure which anyone is bound to respect. And discrimination is already in the air:
"I don't think football is ready for [an openly gay player] just yet," said an NFL player personnel assistant. "In the coming decade or two, it's going to be acceptable, but at this point in time it's still a man's-man game. To call somebody a [gay slur] is still so commonplace. It'd chemically imbalance an NFL locker room and meeting room."

All the NFL personnel members interviewed believed that Sam's announcement will cause him to drop in the draft. He was projected between the third and seventh rounds prior to the announcement. The question is: How far will he fall?

"I just know with this going on this is going to drop him down," said a veteran NFL scout. "There's no question about it. It's human nature. Do you want to be the team to quote-unquote 'break that barrier?'"
This is going to be a fight, no matter how congratulatory the tweets. But Michael Sam already knew that. Ready or not, here he comes.