The Death and Resurrection of the Gastrotypographicalassemblage
The renowned, food-themed "Great Wall of CBS" has a new home after 20 years in a basement.
When Laurence Tisch became CEO of CBS in 1986, he started cutting costs everywhere from the mailroom to the newsroom. Even the cafeteria wasn't safe. That's where the proverbial knife fell on a landmark typographic installation: the now-legendary "Gastrotypographicalassemblage"—the Great Wall of CBS—that had hung for more than 20 years.
At 35 feet wide by 8.5 feet tall, this three-dimensional mural designed by CBS design director Lou Dorfsman and the typographic maestros Herb Lubalin and Tom Carnase took over one entire cafeteria wall of Eero Saarinen's Black Rock, the CBS Building on Sixth Avenue between 52nd and 53rd Streets. Dorfsman considered this massive frieze of custom-milled woodtype spelling out foods and food groups—from lamb chops to hasenpfeffer—his magnum opus, "his gift to the world."
That says a lot. Dorfsman was renowned for his graphic achievements that gave CBS its corporate identity. He saw the value of integrating graphic with interior, on-air motion, and animation design. In addition to creating sets for Walter Cronkite's evening news show and the CBS Morning News, he oversaw every minute visual detail of the CBS headquarters building, selecting type for the numerals on the wall clocks, the elevator buttons, and even the elevator-inspection stickers.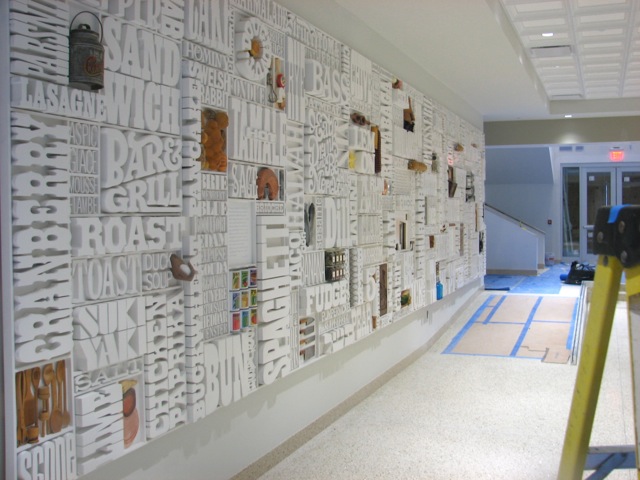 Tisch, though, didn't seem that interested in typographic nuance or learning to say "Gastrotypographicalassemblage." The work was saved from corporate-mandated oblivion by the sculptural illustrator and 3D designer Nick Fasciano, who originally worked on the piece. Once in his possession, he stored it in his basement for 23 years as the ravages of time sent the piece into disrepair. Adhesives from the '60s that were used to secure the letters in place gave way, and many of the letters cracked off as soon as they were touched. The wall also contained 65 three-dimensional food objects that either deteriorated or were aged beyond repair. Eventually, it was acquired by The Center for Design Study in Atlanta, which in the 2000s began a fundraising campaign to support extensive restoration. "The wall is a window to the past that should be built up, not torn down," wrote preservation advocate Richard Anwyl in the AIGA Voice.
Shortly after Dorfsman's death in 2008, it was announced that The Culinary Institute of America in Hyde Park, New York, would fund the restoration and display it on their campus. Last week, after years of detailed renovation the Gastrotypographicalassemblage was hung on ground floor of The Culinary Institute of America's newly constructed Marriott Pavilion and Conference Center. Rarely do works of typography earn such celebratory attention, but after what it's been through in the past few decades, some good news for the Gastrotypographicalassemblage is certainly overdue.