Sochi's Team Figure-Skating Event: Good for Skating, Good for Skaters
Some questioned whether such a fiercely individual sport could translate into a team competition at the Olympic level. The inaugural event proved it can.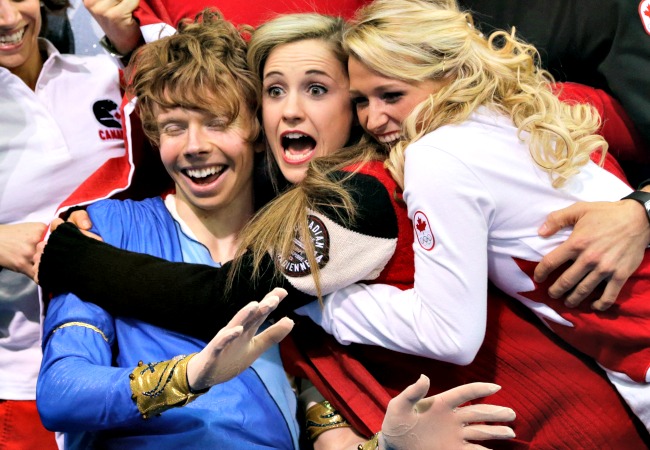 Though he can be brilliant on his home ice, American figure skater Jeremy Abbott tends to crumble under the pressure of international competition. So it was nothing new when, after a disappointing skate over the weekend, Abbott slumped in frustration in the "kiss-and-cry" area.
What was new, though, was that his friend and fellow figure skater Meryl Davis—his teammate in the first-ever Olympic figure-skating team event—was there to give him a sympathetic pat on the back.
Until this year, team events (in which athletes from each nation add up their points from individual disciplines for a shot at a team medal) had mostly been for fluffy pro-am competitions and obscure events like the World Team Trophy. So introducing the concept at skating's biggest competition seemed like a bit of a risky move. Would skaters get worn out skating for their teams before they went on to compete on their own? Or would it be invigorating to get a feel for Olympic ice before the individual event? Could athletes unused to being on a team develop a cooperative mindset? Two former Olympic skaters, commentating for NBC Sports, were asked whether they would have enjoyed doing a team event, and they found themselves divided over whether having to focus on others besides oneself could be beneficial to a skater. Tara Lipinski said yes; Johnny Weir said no.
Now that it's over, Russia, Canada, and the U.S. have earned the first-ever Olympic figure skating team medals. The individual event doesn't start until Tuesday, so it's too early for a verdict on whether or not the team competition wore anyone out, though Russia's Evgeni Plushenko has said he isn't sure whether he can go on. (Plushenko turned in an excellent short program, but his various injuries started to make themselves felt in the long, where he managed only one quad jump—unheard of for a male skater of his caliber.)
However, the brand-new event introduced a camaraderie rarely seen in the fiercely individualistic sport of figure skating. Over the years, fans have become far more used to seeing rivals—including rivals from the same country—stare each other down than help each other out. (Who can forget the edginess between Sasha Cohen and Michelle Kwan on practice ice, or the public bickering of Johnny Weir and Evan Lysacek?) But in the first inaugural Olympic figure-skating team event, it did look as if most many skaters' spirits—and performances—received a boost from the newfound closeness with their teammates.
The various teams waved flags and sported team apparel, cheered wildly for their skaters, and swarmed each other's kiss-and-cry areas to await scores together. Now and then, some spontaneous team dancing broke out on the sidelines. While not quite as elegant as what was being done on the ice, it looked like fun. And the antics of ice-dance coach Marina Zoueva—who coaches skaters from both the United States and Canada—as she dashed back and forth between the Canadian and American areas, changing team jackets on the way, were delightful. (They might have been even more delightful had she ever gotten her jackets mixed up, but no such luck.)
Becoming a team, of course, wasn't a natural transition for everyone. Abbott slipped up after his disastrous short program by calling it a "positive step" in his overall Olympic experience—despite the fact that it had left his team stranded in seventh place. "Positive" didn't seem the best word choice at such a moment.
But while there were a few subpar performances, having the support of a team—and having an extra chance to compete—seemed to spur many of the skaters to excel. Teenagers Kaetlyn Osmond of Canada and Gracie Gold and Jason Brown of the United States delivered their first Olympic skates with confidence and flair. First-time Olympians like Japan's Yuzuru Hanyu and Russia's Julia Lipnitskaia dazzled with beautifully skated programs and huge scores, and U.S. dance team Meryl Davis and Charlie White earned the best score of their career thus far with their passionate free dance.
And Ashley Wagner, for example, is one athlete for whom the idea of a team made perfect sense. In an article last week, I mentioned that she was inspired to do some of her best work at last year's World Championships when she saw a chance to earn the United States another Olympic spot. Here, given another chance to help her compatriots jump back into contention, she grabbed it, going after that elusive triple-triple combination with gusto and finishing it with only a small error on the landing.
"I. Belong. Here. Great job team!" Wagner tweeted joyously after the short program. Her score was lower than expected—causing a reaction that's on its way to becoming a meme. But, boosted by that score and by Davis and White's, the United States made the cut and earned the bronze medal.
Add to all this the fact that the new team event allows more skaters to earn medals, including good skaters who probably won't medal in the individual event. Gold, for instance, may not be able to break through next week in a deep ladies' field, and Osmond almost certainly won't. But it's nice to see that their hard work and gutsy performances were rewarded here.
It remains to be seen, of course, how the various skaters will be affected by this experience as they head into the individual event; its usefulness should be evaluated again after the individual competitions are completed. But giving skaters additional chances to medal and additional familiarity with the Olympic arena hasn't hurt anyone at this point. And in addition to being plain fun to watch, the first-ever team event demonstrated that while figure skating will clearly never lack for individual competitiveness, perhaps a little collaboration could be good for athletes in one of the world's most demanding individual sports.