Sochi 2014: The Drama in Figure Skating Has Already Begun
A guide to the athletes and action on the ice at the Winter Olympics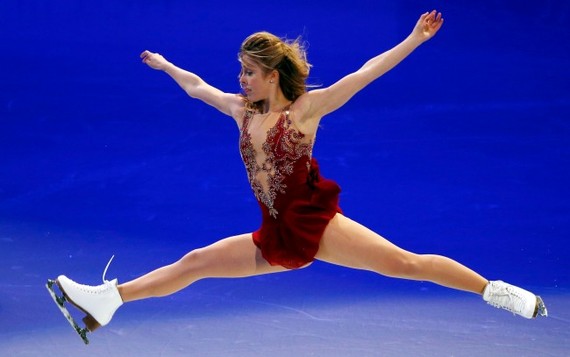 The 2014 Winter Olympic Games in Sochi don't begin in earnest until Friday, but within the high-pressure sport of figure skating, the show has already begun. Here's a predictive guide to the biggest stories of the Olympics—as well as some quietly compelling alternative storylines, the best days to tune in, and the words and phrases you should know before plunging into the sprawling media coverage of the Games.
---
The athletes you're about to get sick of hearing about: Perhaps most prominently, there's Ashley Wagner of the U.S. A controversial decision to send her instead of Mirai Nagasu, who finished ahead of her at U.S. Nationals, was a heartbreaker for many—but Wagner has had consistently higher results over the past four years. (The U.S. likely wouldn't even have had three women's spots without Wagner's determination to earn that third spot with a high placement at last year's Worlds.) But the circumstances may mean even more media scrutiny and pressure for Wagner than for U.S. champion Gracie Gold.
There's also Kim Yu-na of South Korea, who won in 2010. With her technical brilliance, many skating fans expect a repeat. For a while her only serious rival was Japan's Mao Asada, but lately Asada's results have been all over the map. Now, however, hungry 15-year-old Julia Lipnitskaia of Russia is on the hunt—and that could change everything. (Remember Tara Lipinski? Oksana Baiul?) Suddenly, Kim's sure victory isn't looking quite as sure as it once did.
And expect to hear quite a lot about Meryl Davis and Charlie White of the U.S. The ice dancers are the U.S.'s best chance for a figure skating medal—plus, they have a strong chance of winning the U.S.'s first-ever Olympic gold in ice dancing. Davis and White, who have skated together for 16 years, have been undefeated for two seasons now.
Subplots worth noting: The 31-year-old Russian Evgeni Plushenko has won Olympic gold once and silver twice, and he's fought hard to make his fourth Olympics—even though, at this point, he's practically held together by toothpicks and glue. It's possible he'll drop out after Russia's competition in the new team event is completed (more on that later). Still, the "old man" competing on home ice one last time, before an adoring crowd, will be worth seeing.
And without a doubt, Americans Davis and White and Canadians Tessa Virtue and Scott Moir, who won gold in 2010, will be the favorites, as they have been for years now. (Both teams have the same coach, which makes things even more interesting.) But the bronze medal race in ice dancing will be exciting in its own right. A number of top teams from France, Italy, and Russia are in that race, and even some other Canadian and American teams could have an outside chance at bronze if the others have an off day. Then again, seeing a North American ice-dance sweep in Russia, which once dominated the discipline, would be a little bit like seeing a unicorn. In any event, this competition will signal which teams will come to dominate the field post-Sochi.
Words and phrases to know:
Quad: These four-revolution jumps earn so many points that a man must be able to do one to be considered a contender. That's why fan favorite Jason Brown, the U.S. silver medalist whose "Riverdance" free skate at Nationals went viral, won't medal unless all the top men mess up. He'll put on a terrific show, but as he hasn't yet mastered the quad, he can't match their technical scores.
Below, watch Canadian skater Kevin Reynolds execute two quads in 2010. (The first is around the 0:42 mark.)
Grade of execution: It doesn't just matter that skaters complete all the jumps, spins, and footwork—it matters how well they perform them. The better the technique, the higher the grade of execution, and consequently, the higher the score.
Underrotation: The skater doesn't fully complete the required revolutions before landing a jump. This is harder to spot than a fall, of course, but still important: Too many underrotations can significantly lower one's score.
Best days to watch: This year will see the first-ever team skating competition, before the individual events. This will work much like team events in gymnastics, with athletes from each country adding up points from individual disciplines to try to win team medals. Tune in on February 6 to witness the event's debut.
On February 17, fans can watch Davis and White try for the gold in the ice-dancing final. And for the showdown between Kim Yu-na and her rivals, watch the ladies' final on February 20.