Sochi 2014: Does Shaun White Still Have an Edge Over His Challengers?
A guide to the ski and snowboard events at the Winter Olympics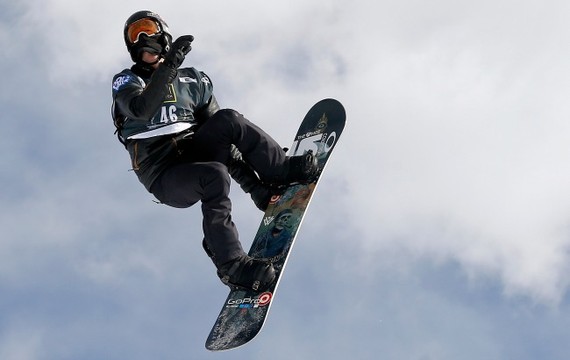 Few sports have evolved as rapidly from one Olympics to the next as skiing and snowboarding. This year is no exception, with five ski and snowboard events making their Olympic debut. Here's a predictive guide to the biggest stories of the Olympics—as well as some quietly compelling alternative storylines, the best days to tune in, and the words and phrases you should know before plunging into the sprawling media coverage of the Games.
---
People you're about to get sick of hearing about: 
There's no escaping the United States'
Shaun White.
Perhaps the most recognizable and dominant winter-sport athlete of his generation, the
ubiquitous product spokesman
and two-time gold medalist in snowboard halfpipe is back to defend his title in his third Olympic Games—and, as these things tend to happen, he now finds himself one of the older competitors in the field. Among his many hungry young challengers is the 15-year-old Japanese wunderkind Ayumu Hirano, who, last when he was 14, took second place to White at the 2013 Winter X Games.
Sports Illustrated
calls Hirano
"the biggest threat to Shaun White's Olympic dominance." White had plans to compete in the inaugural Olympic snowboard slopestyle event (more on that later), but announced on Wednesday morning that he was dropping out of the competition.*
But, speaking of athletes with a seemingly omniscient advertising presence, there's also Ted Ligety—the 28-year-old American alpine skier and part-time muse for hilarious musical JC Penney ads—who arrives in Sochi after the best season of his career. The 18-time World Cup winner earned three gold medals at the 2013 World Championships in Austria, and looks to add a few more Olympic medals to the gold he won in the combined event in 2006.
And in the absence of the injured fan favorite Lindsey Vonn, much of the focus in this year's women's events will shift to Mikaela Shiffrin, the 18-year-old Colorado native who graced one of the covers of Sports Illustrated's Olympics preview issue. Shiffrin, who specializes in slalom and giant slalom, holds a World Cup title and a world championship title in slalom.
Subplots worth noting: An ocean away from Ligety, Shifrin, and White, another intriguing story has been quietly brewing in Norway. Thirty-three-year-old cross-country skier Marit Bjoergen, a fourth-time Winter Olympian with seven medals to her name, will attempt to add more to her collection. Bjoergen said in January she was considering competing in six events in Sochi; if she gets to 11 medals, she'll become the most decorated female winter Olympian ever.
Her personal goal, however, is modest: one individual gold. "I know how hard it is," she told Reuters in January. "You have to have a good day."
But perhaps the most compelling storyline this year will center on the success or failure of a newly minted Olympic competition: the visually splendid men's and women's slopestyle events. The skiing and snowboarding forms of slopestyle—which will both appear at the Olympics this year—combine terrain and aerial elements. A winter X Games staple, the slopestyle events are just two of several new competitions added to the Olympic program this year—alongside men's and women's ski halfpipe, men's and women's snowboard parallel special slalom, and women's ski jumping.
A quick intro, by way of Shaun White's gold medal-winning snowboard slopestyle run at the 2012 X Games:
At this point, however, concerns about the events' safety have clouded the excitement. Norway's Torstein Horgmo, considered a medal contender in snowboard slopestyle, pulled out of competition after breaking his collarbone during a training run on Monday. On Tuesday, White wiped out and jammed his wrist; later that day, Finland's Marika Enne left the course on a stretcher after falling and getting a concussion. Olympic officials are reportedly revamping the course—which White calls "intimidating"—to avoid safety hazards.
Words and phrases to know:
The 1440 Triple Cork: The arrival of slopestyle brings with it all sorts of new eye-popping (and dangerous) spectacles—and one of them is the complicated snowboarding maneuver involving four complete rotations and three separate instances in which the athlete is upside down. The documentary Shaun White: Russia Calling chronicled the snowboarding champ's struggle to master the trick before the Olympics. At the time, it was a necessary measure* aimed at maintaining a competitive edge: As Transworld Snowboarding puts it, "When slopestyle makes its Olympic debut … Sochi will be the triple-cork Games."
Progression: In addition to the precision of their execution, the amplitude of their jumps, and the difficulty, variety, and amplitude of their maneuvers, slopestyle and halfpipe snowboarders are also judged in the unusual category of "progression"—that is, the extent to which they've added new tweaks or twists to existing tricks.
Best days to watch: Tune in on February 8 and 9 for the women's and men's slopestyle competitions, respectively. And on February 11, come back for the widest variety of ski and snowboard events the fortnight offers: men's and women's cross-country sprint events, women's ski slopestyle, men's snowboard halfpipe, and women's ski jumping.
*Update (9:50 a.m.): This post has been updated to reflect that Shaun White has dropped out of the snowboard slopestyle event.