Snow Day Update on Original House of Cards
What Grey Poupon mustard, Richard III, and Prince Charles have in common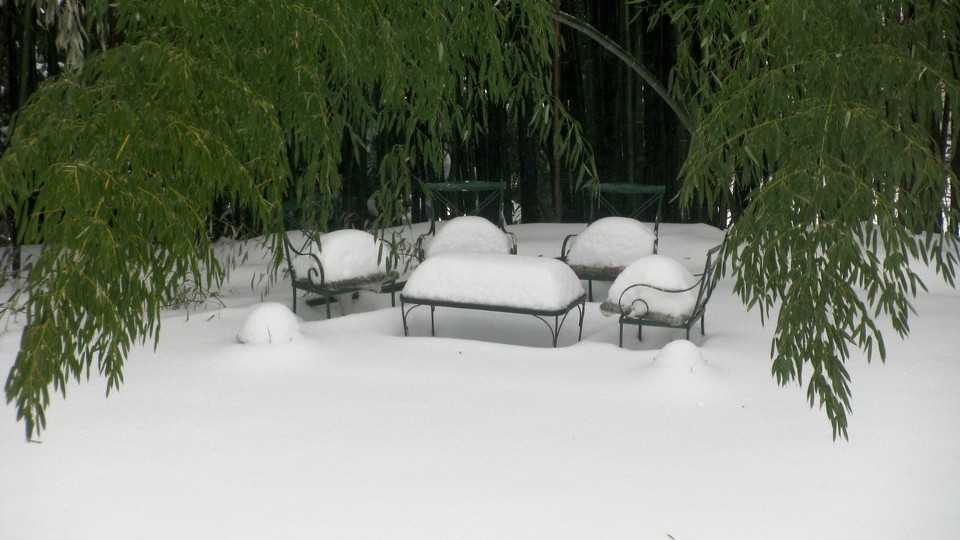 As I mentioned yesterday, you really do want to see Ian Richardson's rendering of Francis Urquhart, in the vintage-1990 original BBC version of House of Cards, before Kevin Spacey shows us what he has in store for Season Two tomorrow. Both are on Netflix. And for many people in the Eastern part of the country, external circumstances favor snow-day viewing (that's our back yard just now).
Bonus points:
1) As many people have written in to note, the original four-episode BBC series was only the first part of a trilogy.  Part two is To Play the King, and three is The Final Cut; details here. I haven't yet seen them but have them queued up.
2) From a reader who skipped the Kevin Spacey edition:
Have not watched the U.S. version because I was convinced there was no way to improve upon the UK BBC version. Have sent my copy to friends deployed in Iraq and Afghanistan so they can enjoy a great DVD you don't find in the normal collections.

You might point out that Richardson's Francis is much better known as "the Grey Poupon mustard commercial aristocrat in the limo."
 
The ad is shown below. Which is a segue to the next note.
In the ad, Ian Richardson, the one without the mustard, comes across as a feckless Lord Grantham-style twit. As Francis Urquhart he leaves a very different impression. Reader #3 points out:
In the US version, I come away somewhat bemused and amused at how they always manage to take Frank Underwood [Spacey] 2 or 3 steps farther into his intrigues than my imagination can project.  He is a master at manipulation, something that I would never be able to master, even if I tried.  

In the British version, I came away feeling queasy.  Urquhart is pure evil. 
4) I mentioned the continuity between F.U., as he is known in the original, and other figures from the British literary imagination: Iago, Uriah Heep, "Lucky Jim" Dixon. Recently James Cappio, at the Blogging Shakespeare site, made the more obvious connection: the drama is Shakespearean, and FU is Richard III (with certain grace notes to Lady Macbeth). Eg:
Any resemblance to a certain crookback King is strictly intentional. The first episode opens, like Richard III, with an extended address to the viewer; drawing us into complicity with his villainy, Urquhart's soliloquies become a signature element of the series.

Very much like Richard, Urquhart so thoroughly seduces us that we root for him in spite of ourselves. That is largely due to Ian Richardson's indelible performance. Richardson, one of the great Shakespeareans of his generation, had just played Richard III for the Royal Shakespeare Company before taking the role of Urquhart; by letting Richard influence him, he created one of the most iconic characters in all of British television. Urquhart's signature phrase—"You may think that. I couldn't possibly comment"—is still widely recognized in Britain even today.
5) Confirming Cappio's final point, this note from a reader:
I was visiting London a little over a week ago and heard the following on the BBC News TV Channel:

'You might very well think that – I couldn't possibly comment.'

What was Francis Urquhart doing on the news?

It turned out it was Prince Charles during a visit to a flooded area of the country blowing off a question asking him to comment on the government's actions.
Sure enough, if you watch the BBC video here (not embeddable, and with a long pre-roll ad), Prince Charles rattles off that famous line at time 0:15, entirely deadpan. Either he has absorbed this part of popular culture without realizing its origin or he is a more hip character than we think.
6) And, on the broader question of whether some irreducible American core of optimism and a kind of memento mori / reveling in decline on the UK side accounts for a gulf in satire, standup comedy, political rhetoric, and so on separating the Old and New Worlds, a reader I assume to be a Brit writes:
I was reminded somewhat of Stephen Fry on the difference between
American and British Comedy [below].

As a data point I'd also say that a lot of Brits actually found Ricky
Gervais' character a lot more sympathetic than Steve Carell's
precisely because he ended up as such a tragic figure, whereas
Carrell's figure just came across as very annoying after a while.
Thanks to all. That's it on this theme from me, until I see more of the old UK trilogy or the new US production.