Photographing the Beatles in 1964: Not That Memorable
Arnold Schwartzman's never-before-published images of the Fab Four may trigger a flood of memories in fans. They don't, however, have the same effect on Schwartzman.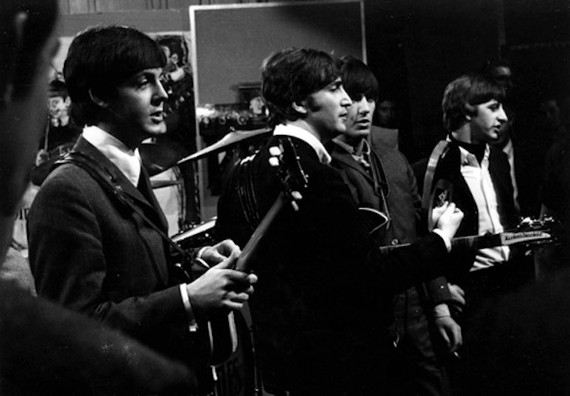 On February 1, 1964 The Beatles' "I Want To Hold Your Hand" reached the top of the American pop charts. On February 2, I became a Beatlemaniac. In short order I acquired a Beatles' haircut, pair of Beatle boots, a Beatles fan-club membership card, and a stack of Tiger Beat magazines with dozens of Beatles photographs. My single greatest ambition, to actually meet the Beatles and shake their hands, was never realized, so for much of the '60s I envied others who had the good fortune that was denied me.
Fifty years should be enough time to get over Beatlemania. But recently I was shown a collection of never-published Beatles photographs from 1964 by Arnold Schwartzman, a graphic designer and award-winning documentary film director, and it brought back all the bittersweet memories and emotions.
In 1959, as a young designer on staff at London's Associated-Rediffusion TV network, Schwartzman designed the logo and opening title sequences for the successful weekly pop show "Ready, Steady Go!", the British equivalent of American Bandstand (but much cooler). As its roving photographer, Schwartzman captured The Beatles, Rolling Stones, Dusty Springfield, The Kinks, James Brown, Peter, Paul & Mary, and others backstage and onstage. Presciently, he retained the negatives.
With the Beatles anniversary on the way, he unearthed the pictures, and I was excited to see them. But once in my possession, a wave of post-traumatic Beatlemania transported me back to when I was 13 and a slave to Beatles fashion. I wanted Schwartzman to tell me all the Beatles trivia he could recall.
"So, how tall were they?" I asked, since I always wondered if Ringo was my unimpressive height.
"As they say in Liverpool, they were middling in height," Schwartzman responded.
"Did you spend much time with them?" I asked, hoping to hear some great stories that would transport me back in time.
"I had the pleasure in 1963 of having dinner with The Beatles in our TV networks studio's canteen—one of my fellow graphic designers knew Lennon and McCartney from their art school days in Liverpool," he said. "It was the first of two appearances on Ready, Steady, Go! prior to their much-increased fame four months later on the Ed Sullivan Show." 
But he didn't have too many details to offer, noting it has been "half a century since I photographed these pictures."
"So, what do you remember," I pleaded.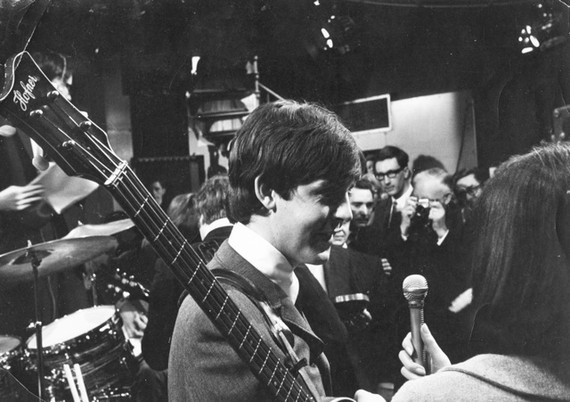 "Viewing it recently, I noticed the photographer in the background [of the above photo] shooting in my direction, I thought that perhaps I am in his photograph," he continued. "I searched The Beatles/RSG! on the internet and ..."
"...Not only did I find his reverse shot of me taking the photograph between Cathy McGowan [interviewer] and Paul, but there was another photograph of me without the camera up to my face."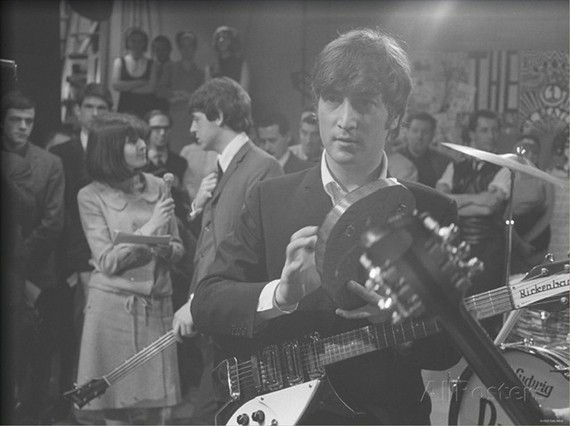 Schwartzman volunteered to send me more photos (below), but that wasn't the end of his stories. Despite the paucity of Beatles tales, he was more involved in more music history than I had expected. So, this Stones story will have suffice.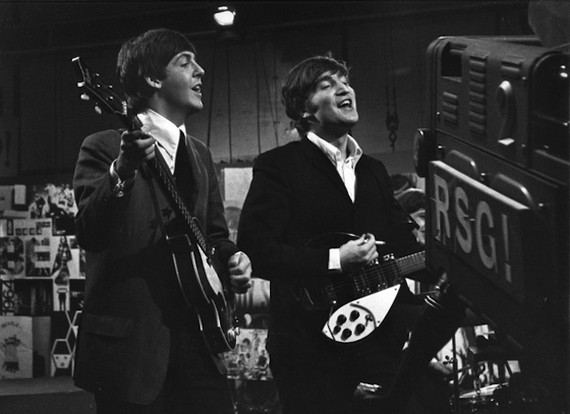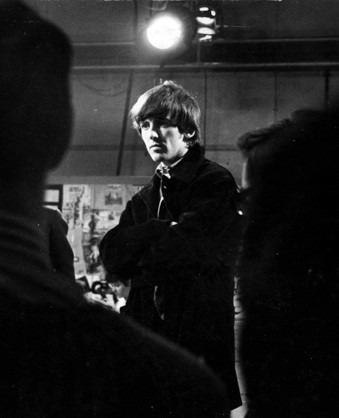 Almost every assignment Schwartzman has undertaken during his 59 working years, "have always fallen into my lap," he explained. He was introduced to Warner Brothers Records in the UK by a former secretary who went to work for Warner, which acquired the Rolling Stones' label. They commissioned him to work on a number of promotional record projects such as The Rolling Stones' Sticky Fingers campaign, a radio commercial with Mick Jagger promoting the album, and a cinema ad for the Stones' All Down The Line album.
For the Sticky Fingers print campaign, Andy Warhol had sent Schwartzman a prototype of his famous zipper album-cover design. "I had organized a number of interesting locations around London for the Rolling Stones shoot and commissioned renowned Brooklyn-born photographer David Montgomery to cover the session," Schwartzman said. "On the appointed day the Stones arrived late in the evening at Montgomery's Studio, regrettably too late for us to take advantage of the various set ups that I had arranged.
"Mick arrived last of all, rather tired. He said 'I'm bored.' Not as bored as we were waiting for him! Jagger's response was, 'What do you want me to do, take my clothes off?'" Then an idea struck. "I would have each Stone hold Warhol's zipper album over their private parts! As I only had the one album sleeve, in the pre-Photoshop days we had to have the sleeve dropped into each of the Stones photograph by photographic dye transfer." The rest is rock history.