Peyton Manning: The Sad Face of Super Bowl XLVIII
Despite a masterful performance by the Seahawks' defense, this Super Bowl will likely be remembered as a loss for Manning more than a victory for Seattle.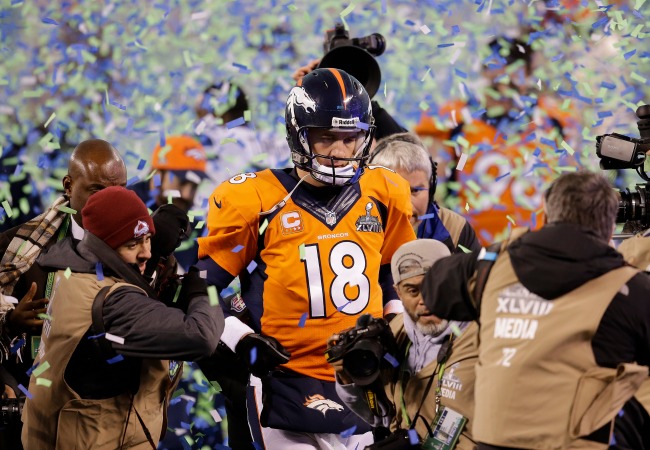 Heading into Sunday's Broncos-Seahawks Super Bowl, much of the chatter focused on the cold conditions. The fears about the weather, though, turned out to be unfounded, and Super Bowl XLVIII was to happen on an unusually mild evening in the swamps of Jersey. Peyton Manning, who famously struggles in the cold, got near-perfect playing conditions. The night seemed ripe for a classic battle between Denver's devastating offense and Seattle's brutalizing defense.
But, not so much. Seattle's defense was fast, mean, and seemed to be everywhere. They blew up screens. They tipped balls in the air and ripped them to the ground, creating four fumbles and recovering two. They got in Manning's face and danced all over the Denver backfield. 
After a record-breaking season and being named league MVP, Peyton Manning was the biggest story going into the game. For good and ill, even at 43-8 slaughter by a supremely talented and beautifully prepared Seattle club, Peyton is still the big story coming out.
In retrospect, the script of the game could have been foretold from the first play from scrimmage. A muffed snap that Seahawks linebacker Cliff Avril fell on in the endzone gave Seattle a 2-0 lead. The safety came just 12 seconds into the game, the quickest opening score in Super Bowl history. Seattle QB Russell Wilson then took his team 51 yards on the Seahawks first possession, a drive which ended in a 31-yard field goal by Steven Hauschka. After a Denver three-and-out, the Seahawks drove 58 yards to the Broncos' 15, notching another Hauschka field goal and an 8-0 lead with 2:16 left in the first quarter.
A fan could be forgiven for wondering if the Seahawks would get in trouble later, settling for field goals early. But they would not. Seattle capitalized on a Peyton Manning interception, when Marshawn Lynch pounded his way into the endzone for a 15-0 lead three minutes into the 2nd quarter. On Denver's very next possession, Manning overthrew Julius Thomas and was picked off by Seattle's Kam Chancellor.
From there, everything snowballed against Manning and the Broncos.  A Manning pick six—a 69-yard interception—was returned for a touchdown, making it 22-0 at halftime. By the time of Jermaine Kearse's TD catch with three minutes left in the 3rd, it had turned into a slaughter.
In the end, this year's Super Bowl harkened to the bad, old days when the Super Bowl meant Buffalo losing annually to an NFC team. The Puppy Bowl was more competitive. Richard Sherman, usually in single coverage, backed up his now-infamous braggadocio before being carted off the field with an ankle injury. Cliff Avril was ferocious. The Seahawk special teams were brilliant—like when Percy Harvin returned the second half opening kickoff for a touchdown. Russell Wilson, playing with a lead, was smart and careful—an unspectacular 25-18 for 206 yards. Pete Carroll and his staff called a wonderful game—especially in the first quarter. Seattle's fans, more numerous than their Rocky Mountain counterparts were in a full-throated roar.
A cursory glance through Twitter suggests that Manning and his trademark frustrated "#ManningFace" may have earned more attention on Sunday night than any individual Seahawks player. Some early analyses from Sunday night revealingly frame the story of Super Bowl XLVIII in terms of Manning's performance: "Peyton Manning, Denver can't recover from Super Bowl mistakes," read a USA Today headline, and a New York Times headline from Sunday after the game sums up the attitude by claiming that Manning's "Poor Game Seals Season but Not Debate on Legacy."
In the future, it's likely people will speak of how rushed he looked in the pocket, not of the linebackers who did the rushing. Most will remember that Manning threw two interceptions, and not the fantastic defense that forced him into it. They'll keep repeating the oft-heard narrative that Manning "can't win the big game" despite his having won so many of them. Quarterbacks—like U.S. presidents—get too much praise when they win and too much condemnation when they lose. And that's the shame of it. Seattle deserves most of the credit, but Manning will get most of the blame.