Out Athletes, Olympic Outrage: The Week's Best Pop-Culture Writing
The most intriguing articles about entertainment we've come across in the past seven days
---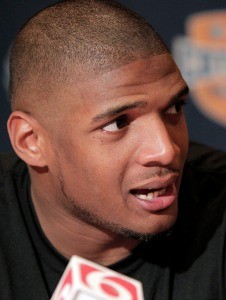 Michael Sam, who came out in interviews with the New York Times and ESPN on Sunday, is not a borderline case. The 6-foot-3, 260-pound defensive end from the University of Missouri was the defensive player of the year in the SEC, the best conference in college football. He is on the cusp of the prime of his career, not the end of it.

By declaring that he's gay before this May's draft, Sam—projected by many as a third-round pick—is making a brave statement, one that's also a challenge to the entire NFL. He will not make an announcement about his sexuality after he's already signed a contract, nor after he retires. Sam wants every pro football decision maker to know he's gay before he's even in the league. Sam, then, won't be breaking down sports' biggest barrier himself. He's placed a sledgehammer at the feet of every NFL general manager. Now, who will be brave enough to swing it?
---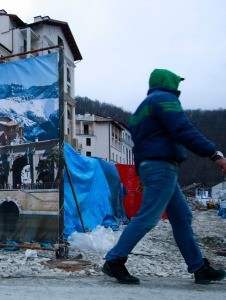 When Western writers point out Sochi Olympic blunders while also mocking the way Russians speak English, they only diminish their own street cred and fuel backlash. If Americans focus on shallow cultural differences, like what they think are funny sounds that Russians make, they'll continue to believe all Russians are like Boris and Natasha from Rocky & Bullwinkle. In turn, they will lose authority to critique real issues in Russia. Case in point: Kate McKinnon's meta-mockery of a village babushka on a Saturday Night Live "Weekend Update" in January.

So this is my plea to @SochiProblems, whining journalists and social media fiends: Have just a bit more respect for Russians, because while you might think you're just ridiculing the Olympics, for many, this is their everyday life. Their government might have just spent $51 billion on possibly the most corrupt Olympic games ever, but most of them are just along for the ride.
---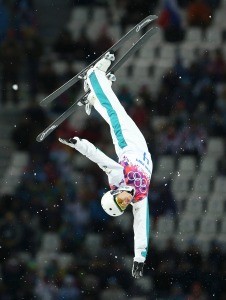 When it comes to ski jumping specifically, the idea that athletes land flat and seriously "jar" their bodies and their lady bits—to a degree beyond that of injuries sustained in other high-impact sports—is just wrong. Rules forbid any straight section whatsoever on the landing of a ski jump; instead, the part where jumpers land is typically about 35 or 36 degrees, flattening slowly to 30 degrees. If an athlete stays balanced and keeps her knees soft to absorb the impact—part of basic training 101 for any on-snow sport, not just jumping—she'll be fine. As the Women's Ski Jumping USA site points out, "Landings actually can be the easiest part of a ski jump." And just from watching jumping, the landings also seem less jarring than, I don't know, running moguls.

There are exceptional cases. In her warmups before qualification for the Olympics last week, U.S. freestyler Heidi Kloser crashed while landing a jump, tearing her ACL and sustaining both an impact bruise to her knee and an impact fracture to her femur. Her sex organs, apparently, were fine.
---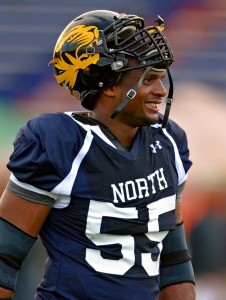 ESPN president John Skipper has said that the network doesn't have a "frat-boy culture," but there's plenty of reason to believe evidence that the contrary is true. The title alone of Those Guys Have All the Fun: Inside the World of ESPN, the recent, rowdy history of the network by James Andrew Miller and Tom Shales, suggests (and who would seriously argue otherwise?) that bros rule Bristol. Many of them are ex-athletes who have moved directly from the hallowed locker rooms to what is ostensibly a newsroom. ESPN has allowed a culture of athletics to dilute its culture of news.

Consider that the network will be discussing the NFL's first openly gay player without an openly gay anchor of its own. It does, though, employ a prominent basketball writer who, on air, called being gay "an open rebellion to God." ESPN will now spend months debating whether the NFL is ready to accept an out gay player. It will be both funny and sad if it never occurs to ESPN to turn that lens on itself.
---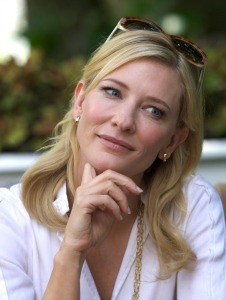 Many people complain, justifiably, that the pre-nomination viewing-and-voting season is too short; it's the September-to-March conversation that's too damn long. The only reason anyone is still talking about Blue Jasmine in its 28th week of release is an op-ed in the New York Times that essentially challenged several of its cast members by name to repudiate Woody Allen. This is what we're down to — hashing out whether Cate Blanchett's Best Actress chances will or should be adversely affected by her professional association with a man who has now re-denied doing something he had already denied doing 20 years before she signed on to make the movie for which she's nominated. Oscar voters are, ludicrously, being asked to serve as jurors in a trial by op-ed: Is a vote for Blanchett to be treated as de facto indifference about the nightmare of child molestation, since Dylan Farrow has publicly contended that for a long time, she felt that any awards for Allen's films "were a way to tell me to shut up and go away"? More to the point, is there any conceivable way to ask or answer that question without acknowledging that something horrible is being inappropriately trivialized and something trivial is being inappropriately transformed into a crisis of situational ethics? I've heard people say they think this controversy is useful because it opens up a larger discussion. I hope that who should win Best Actress isn't the discussion they mean.
---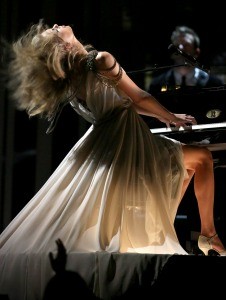 I didn't "get" Taylor Swift, really, until I had suffered an overwhelming amount of heartbreak. Last summer, I spent a few weekends in Westerly, Rhode Island, where my fiancé's friend owned a home. The buzz there over Memorial Day was all about Taylor Swift, who had bought a multimillion-dollar home in Watch Hill, right off the main strip that ran through town. Everyone I heard talking about Taylor Swift seemed to be annoyed at her presence, which was, basically, just as a specter. I never had much of an opinion about her, because, other than the few upbeat songs of hers I'd heard on the radio, I hadn't devoted much time to her. Then my fiancé broke up with me, and that's when I listened to "Dear John" for the first time.

I'm not a 19-year-old girl, nor have I ever dated John Mayer, but something resonated with me when I heard Swift's voice singing those words. Sure, I didn't leave the relationship feeling like someone had taken advantage of me, which is what the song implies, but the silly connection I had to Taylor Swift — that she lived in the town where I felt that my relationship had started to tear itself apart — was enough of a gateway drug to lead me into what would eventually be the thing that got me through the pain of my romantic disappointment.
---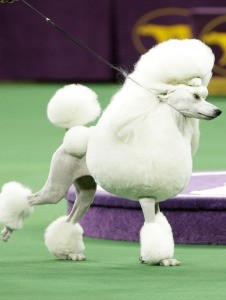 In a sense, there were two dog shows taking place in Madison Square Garden. On the floor of the Garden, I sat and watched the nation's most efficient hunters and trackers, with keen noses, powerful mandibles, and agile paws, plod across the kennel club's signature green carpet. But downstairs in the benching area, where dogs and their handlers prep for their performance, these fine specimens are nothing but soft, friendly, and loyal pals waiting for a treat and a pat on the head. Hidden from the stands of the Garden and the viewers at home watching (exclusively) on the USA Network, the dogs are just dogs as most of us know them today.

This is what I discovered while winding my way through the stadium, stinking of fur and saliva and overpriced whiskey: upstairs, the NFL draft; downstairs, the prom for man and his best friend. And people love going to prom.
---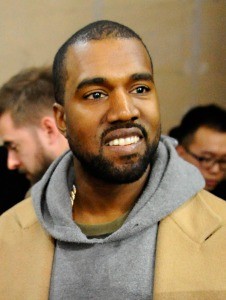 Rolling Stone
Author: Jon Caramanica, then freelance writer, now pop music critic for The New York Times (@joncaramanica)
Rating: 3.5/5 Stars

What's your take on Kanye's career now? Were you expecting him to become the artist he is today?
It's interesting because everyone wants the benefit of hindsight to say they knew all along—and 99% of the time that's a fallacy. It was very clear that he was transformative but I don't think you could've articulated the manner in which he became transformative. I think the manner in which he became transformative didn't get cemented for another three or four years afterDropout. Late Registration is obviously a great record on its own terms, but I really think it took Graduation and then obviously 808s. The Kanye of today I think you trace back to that moment. Obviously that moment relies on Dropout, but I think the jagged moves and turns and unexpected twists that he's taken feel more dependent on Graduation than on Dropout.

Dropout you can trace as part of a clear legacy. It dates back to the Native Tongues, it dates back to conscious rap, it's East Coast boom-bap and soul samples. The thing about Kanye in 2014 is, he's post-history, he's post-legacy. He's not aiming to extend the tradition, he's aiming to create a new tradition or survive tradition and that couldn't be seen on Dropout. Which is no slight on Dropout—it just means he's gotten better at a faster pace over time.