Millions of People Reading Alone, Together: The Rise of Goodreads
The founders of the social network talk about its success in 2013 and its goal of making literature a community experience.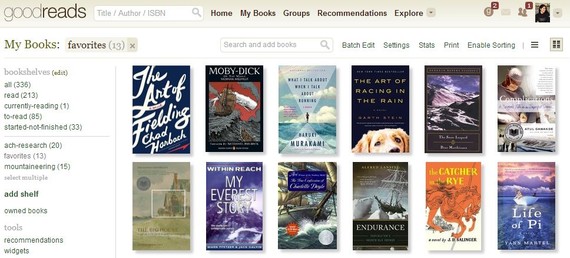 In 2007, Otis Chandler developed a social network for bookworms because, rather than relying on media reviews and bestseller lists, he wanted to get reading recommendations from friends. Goodreads.com would be a tool for discovering new books. But now that more than 25 million people have discovered Goodreads, the site offers much more than a chance to virtually peek at friends' bookshelves and compile lists of titles to read in the future.
Today, Goodreads allows users to catalogue all the books they've read or want to read, post updates on what they're currently reading, and evaluate all those books with ratings and reviews. And it's the reviews, in particular, that make the network so valuable to its members, according to Chandler. In an Atlantic article in 2012, Sarah Fay wrote: "For now, Goodreads is basically Facebook with books, but if enough contributors set the bar high with creative, funny, and smart reviews it might become a force of its own." Such reviews have certainly been forthcoming over the past 18 months. The site also has more than 20,000 book clubs, a repository of literary quotations, a Netflix-like recommendation engine that suggests new books based on the ones users have already "shelved," and an annual awards poll that's gaining influence in the larger world of publishing.
2013 was a year of growth for Goodreads. After doubling its user base between 2011 and 2012, at this time last year the site had approximately 15 million members. Shortly after, Goodreads was bought by Amazon, bringing on a Goodreads-Kindle integration that might foreshadow the future of digital reading as a distinctly social experience.
Chandler and his wife and co-founder, Elizabeth Khuri Chandler, spoke with me recently to discuss the way Goodreads facilitates unlikely friendships, the rise of literary microgenres, and "deeper" reading experiences across multiple platforms.
The interview below has been condensed and edited for clarity and length.
---
Let's flash back to seven years ago when you launched Goodreads. Can you tell me the founding story?
Otis Chandler: In 2006, I moved to Los Angeles to be closer to Elizabeth. The company I was working at before had launched an early social network called Tickle, and I had also worked on online dating sites. So I had a good understanding of online social dynamics.
The interesting thing with dating sites was that they really splintered—every niche, genre, ethnicity, and sport has a dating site! But for as long as I worked on dating sites, I didn't use them—I was not single. I wanted to build a social network around something that I loved. Elizabeth and I are both big bookworms, and my freshman project at Stanford was building a digital e-reader—so I guess I've always had an itch to scratch there.
Elizabeth Chandler: I was working as a journalist at the Los Angeles Times, and I'm a words person. I like writing, [and I was] an English major – probably the typical Goodreads user, especially in the beginning! So I got really excited when he built it, like "This is for me! Now I'm going to catalogue every book I have in my house."
OC: We found that Elizabeth and all her English major friends were our power users, and we thought, "There's something here."
But if there was an epiphany moment, it was when I was in my friend's room, and he had a bookshelf of all the books he'd ever read, and I just kind of grilled him: "Well, what did you think of this book, what did you think of that book?" And I came away with a long list of five or 10 books I was excited to read.
Putting my social networking hat [on], I thought, if I could only get my all friends to put their bookshelves online and say what they thought of them. That seemed like it would just be a really good way to find good books. And I think that's been proven true.
EC: People of all types who read all sorts of books really gravitated to the product and loved it. People started making connections over their shared love of, you know, sci-fi or paranormal romance or steampunk.
OC: I think between all our friends and friends of friends, it got up to maybe 800 people. And then it got a little bit of press, Mashable picked it up, and then the blogosphere found it. It turned out there was a massive community of people who had book blogs, and were blogging [as they read books and writing reviews after they finished them], and they each had 10 friends on their blogroll who did the same thing. Goodreads was just a better way of doing what they already wanted to do, and they adopted us in droves.
What has surprised you guys the most about the evolution of the Goodreads community?
OC: We launched the site thinking it would be a good way to find books through your friends. We didn't fully anticipate the strength of the communities that cropped up, where people were friending not just people they knew in real life but people they had been meeting on the site. And they were writing reviews. The reviews are hands down the most amazing thing of Goodreads; some people are just writing amazing, poignant, deep, funny reviews of books and sharing them with the wider community.
EC: For example, we have a family friend in Switzerland who's obsessively following the reviews of this person in Brooklyn. They've never met in real life.
And I remember in the early years of the site, there was this guy Rolls, who wrote this review of Pride and Prejudice that made me laugh. I think if you look on my profile you can see I "liked" it and I said, "This is the best review on Goodreads." And I think he's also in New York, and I've followed him [on Goodreads] for six years. I highly doubt we would ever have connected in the real world, but his reviews are funny and he reads stuff that's all over the map. There are a lot of examples of that where people really connect—their minds connect.
There's a lot going on on the site these days: the Never-Ending Book Quiz, the quotes, the author pages, the giveaways, the annual Goodreads Choice Awards. Which of those features are your personal favorites?
OC: I love some of the groups we have. We have, I think, 20,000 book clubs on Goodreads. I personally love the Sword and Laser one: They read a sci-fi and a fantasy book each month, and they do a video podcast at the end, often interviewing the author. And then I love the recommendations engine that we launched two years ago. We're actually looking at your taste and looking for patterns among who else in the community read those books and using how the book is categorized and tagged to recommend similar books back to you. I often find really interesting gems that way.
EC: I don't know how popular this is, but I love the quotes. I was that person growing up who had Post-Its all over my house—when I liked them, I'd write them down to remind me. I like having a repository of my favorites.
You've hit 100,000 authors in the Goodreads Author Program. Do you actively recruit authors for this? Do they come to you?
OC: Our business is in working with publishers today. We work with Random House and all the big publishers to help them promote their titles, so we often end up working with authors too. We can bring them on the site for a Q&A or a chat or do an interview in conjunction with a promotion. So that's the way we get people like James Patterson to the site—you know, you have to go chase him. But by and large, most of the authors are coming to us. And of those hundred thousand, the vast majority are smaller authors who are looking for a fan base.
EC: We don't want to spam our users. We're only at the tip of the iceberg of what we can do for authors in terms of helping them connect to fans. I was once having drinks with the author Tim Ferris, and we looked at the site together and saw that [tens of thousands of members] had read his books. And he was like, "Great! How can I email them all?" And I was like, "No, we don't have that."
OC: Right. But that shows you the opportunity—if every author could actually reach out to all their fans. And that's something that's never been possible before. Usually they're kind of starting over with every book and hoping their fans from the last book find it.
Any books that were helped enormously by being on Goodreads?
EC: One book that was really popular last year was Slammed, by Colleen Hoover. It also marked the beginning of a new genre that emerged, and that we noticed on Goodreads pretty early, called New Adult. The protagonists are usually between the ages of 18 and 22, there's low parental involvement, and they're slightly more explicit than YA books. Colleen Hoover did a series of giveaways, and her book got a ton of early buzz. She credits the book's success widely to Goodreads.
OC: And, of course, the year before that there was Fifty Shades of Grey, and the author also gives us credit for being initially discovered on Goodreads. So much so that if you look on the back cover of the first installment, it says, "Goodreads Choice Award Winner" in, like, 40-point font.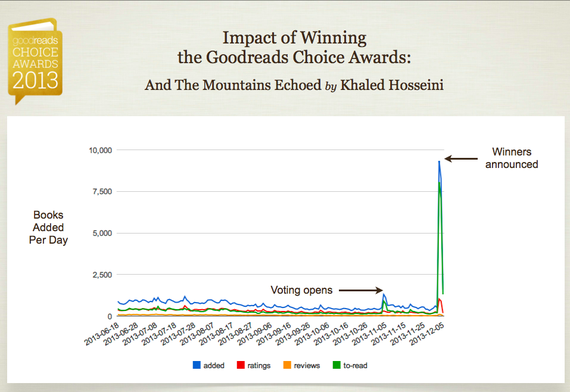 How much did you know about the book business when you started? And what have you learned?
OC: We've had to learn a lot about the publishing space. We're firmly convinced that in the next five years, social is going to be one of the biggest changes in publishing. And we're convinced of that because we see it working on Goodreads. It already is the way people find books, right? It's generally through your friends. It's just we don't have time to go to all our friends' houses, knock on their doors, and check out their bookshelves.
Can Goodreads ever replace the experience of just going into a bookstore and browsing the shelves?
OC: One of the most popular things people are doing is keeping track of "here are books I want to read," "here are books I am reading," "here are books I have read." And often when I walk into a bookstore I'm like, "What books did I want to read? Oh, yeah, let me pull out my Goodreads app and see what they were and then I can go find them."
EC: It can augment the bookstore visit, I think.
OC: And when you find a book and you're not sure what it's about, that's where the reviews are most useful. That's the other thing we find ourselves doing in bookstores: "This looks cool, what does Goodreads say about it? What do my friends say about it, what does the community say about it?" I'm to the point where I have to look at the Goodreads reviews before making a new purchase.
In 2013, Amazon bought Goodreads. I know there was a little bit of backlash–and some users even shut down their Goodreads accounts because of the Amazon purchase. People liked that Goodreads was crowdsourced, that you couldn't buy reviews on the site—and they worried Amazon's ownership would change that. It looks like that hasn't happened, but what has joining Amazon changed for you guys?
OC: The notion of putting the world's largest e-reading platform together with the world's largest social platform just made sense on so many levels, both to us and to the people at Kindle. We're at the beginning of what I expect to be dozens of years of effort. In November, we launched the first Goodreads on Kindle apps on the Paperwhite and the Fire, making it easier for people to go from reading to discussing and discovering and back. It's making our product and Kindle's product, to the extent that we integrate, better for readers.
EC: I think all those things you said haven't changed. You can't buy reviews on Goodreads. It's still crowdsourced. [Amazon]'s not involved in the way we run Goodreads. Just to allay your fears!
OC: Yeah, they sat us down and said, "Guys, how can we help make Goodreads bigger and better? What resources at Amazon can do that?" And you know there's a couple obvious answers—like they have metadata in other languages, and that'll help us grow our catalogue. And they have a large server called Amazon web services that will help us scale bigger in the future.
Do you attribute the continued 2013 growth—the fact that Goodreads has almost doubled in size again—to the Amazon partnership?
OC: Not at all, actually. I think the first fruits of the Amazon partnership were the Goodreads on Kindle apps, which launched in November and got their first light of day Christmas morning, mostly, when the new devices were opened. Christmas was big for us.
It's funny that reading books is still considered to be one of the last forms of entertainment that isn't online. You can say, "I'm not going to be on the computer, I'm not going to look at my cell phone, I'm just reading this book." But making Goodreads more Kindle-accessible and letting people post excerpts and reviews online as they're reading books—that blurs that boundary a little bit.
OC: It does, and I think that's one of the exciting challenges of the future. Kindle has built an amazing reading ecosystem. And Goodreads has built, in my opinion, an amazing social ecosystem where people are finding books and discussing them. People have been reading books and then going to discuss them with friends with book clubs, you know, for as long as books have existed. That's kind of what you do.
So how do we take those two experiences, which are different experiences—you want to read books alone, you want to discuss them with other people—and put them not necessarily together? I don't think you want to be discussing while you're reading, but you want to make it easy to get from reading to discussing. You want to make it one seamless experience so that people can get more out of the book. That's how we're trying to think about what we might build in the future with Kindle integration. But it's important to also point out that that's just for Kindle readers, and Goodreads is for all readers.
EC: And we're committed to keeping it that way.
OC: Once we know more about books from Kindle integration, I think we can make a richer experience for everybody.