Bruno Mars's Solid-'Meh' Halftime
He put on a good concert, but without the flair that makes for a memorable Super Bowl show.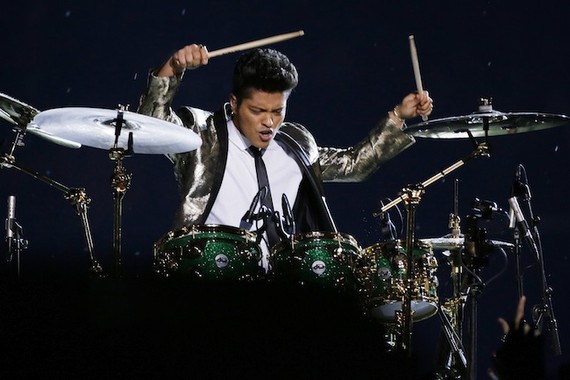 It felt like a statement for Bruno Mars to open his halftime show alone, behind a drum set. After two years of pop divas writhing in front of super-artificial sets—chariots, tightropes, pyrotechnics, LCD body doubles—2014 was heading back to basics, a la Mars's Motown revival sound. It wasn't the spectacle that mattered, Mars seemed to say. It was the music.
But after a few seconds of this gutsy display of instrumental prowess—rhythms mutated from pogo-punk to reggae to a raucous solo—someone at my Super Bowl party offered an evaluation: "I'm bored already."
Except for a few moments of startled confusion when the bros of Red Hot Chili Peppers first showed up, a certain level of boredom at Mars's set was warranted. USA Today's review probably got it right by calling the show "forgettable." It's not that Mars and RHCP were bad, though. They put on a good concert—but a good concert doesn't make a great Super Bowl show.
Musically, all was right at MetLife stadium. The randy, Police-aping "Locked Out of Heaven" works as a more reliable mood enhancer than any antidepressant on the market, and Mars wisely started with it. The Chili Peppers' "Give It Away" came off as springy and savage as it first sounded in the '90s. Bridging Mars's set with RHCP's by covering a bit of the Isley Brothers' "Shout" was a nice touch—a reminder of the shared lineage between the two seemingly very different acts on stage. At all points, Mars seemed totally, endearingly committed.
But when Buzzfeed, voice of the millennial hive mind, tweeted "The 33 Greatest Moments From The Only Super Bowl Halftime Show That Really Matters" and linked to a GIF set from Beyonce's 2013 show, it was a reminder that the halftime show isn't a concert. It's an audiovisual event, and Mars's visuals got repetitive quickly. The camera cycled again and again between the guys on stage in gold lamé shuffling gamely, the girls in the front row yelling along to the lyrics, and the stadium's zillion-watt light show that must have been more impressive in person than it was on screen. The montage of soldiers dedicating "Just the Way You Are" to loved ones was moving and admirable; it also was an all-too-needed change of scenery.
You might argue that Mars could have pulled off a pure-bandstand performance like this if he had a few decades of beloved music to his name, rather than just two albums and a few big hits. After all, the period between Janet Jackson and Justin Timberlake's infamous, all-too-visual halftime spectacle and the Black Eyed Peas' in 2011 was basically an uninterrupted string of rock-and-roll hall of famers. Some of those shows were great. But thinking back, the cultural moments that have endured were visual. If anyone references things from the aughts' guitar-dudes-at-halftime era, they're likely to bring up Bruce Springsteen's awkward stage slide and Prince's phallic instrumental silhouette.
Of course, it feels a little wrong to complain about a Super Bowl performer focusing on music, not stagecraft—what, is the Annual Budweiser and Pepsi Advertising Marathon not superficial enough already? Is your Internet-induced attention deficit disorder that bad?
But the fact remains that Mars's show was more "meh" than it needed to be. You have the biggest platform in the world for a few minutes. Why not use it for all it's worth?