As House of Cards Resumes
The sun never sets on the empire of British political drama/satire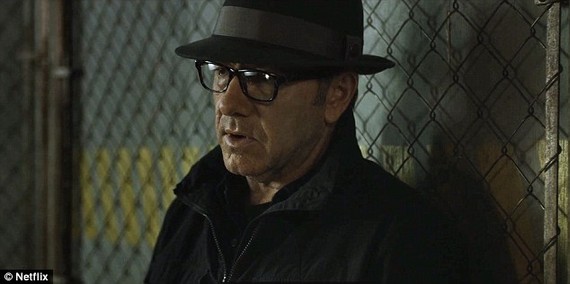 I've seen only Episode One of Season Two of the U.S. version. So no spoilers from me about that first hour, and I'll try to avoid them from others about the 12 hours still to come. I will say that the beginning of this new season underscores my earlier tip that it's worth checking out the original 1990 version from the BBC.
Two followups for now. First, about the well-known Gray Poupon mustard ad which, as mentioned earlier, features the same Ian Richardson who portrays the Iago/Richard III-like Francis Urquhart of the BBC series. Many readers wrote to fill in part of the background I hadn't been aware of. For instance:
I remember the Grey Poupon commercial but was struck watching the embed in your column that this was actually an encounter between two quite celebrated fictional PM's - Francis Urquhart meets Jim Hacker of Yes, Prime Minister fame (Paul Eddington).

Now if only there were some way for the two of them to have an encounter with that other great PM, Harry Perkins (the incomparable Ray McAnally in A Very British Coup).  [below] Mind you, he was a committed socialist, so probably no fancy cars, but that encounter would be something to relish!
 

If you haven't seen A Very British Coup, see if you can find it - I think it's a brilliant take on British politics. A bit dated today (it's from 1988) but  well worth watching. It's based on a novel of the same name which is also worth reading, though (quasi-spoiler) the book and the TV versions end very differently.  And if you happen to be a Downton Abbey fan, then you'll enjoy seeing the butler, Mr. Carson, playing one of the cabinet ministers.) 
Here is another Gray Poupon ad, with the two as-seen-on-TV PMs:
Similarly:
You didn't mention that the other actor in the Grey Poupon ad is Paul Eddington, who played Jim Hacker in the classic comedy series Yes, Minister and Yes, Prime Minister -- another terrific British take on the political process.

BTW, most Grey Poupon ads portray a brotherhood of the one percent ("but of course"), but these two former pretend PMs talk right past each other. 
And just for completeness, here is Eddington in a well-known Yes, Prime Minister clip:
The other followup is about the political content of the UK and US versions of House of Cards. A reader makes this astute point:
I heartily endorse your comments on the original House of Cards. Here's one more belated thought...
 
I think another big difference is the political context. It's a decade or so since I watched it, so take this with a grain of salt, but as I recall the original FU was a Thatcherite careerist, and the policies he forced through were all typical of that (privatizing public resources, cutting off aid to poor people, that sort of thing). My impression was that this was essential to the satire: FU was, in a sense, a personification of post-Thatcher conservatism--sociopathic policy represented as an individual sociopath. (As I said, it's been a long time; I could well be overstating or even imagining this point.)
 
While I enjoy the American version, it seems kind of toothless to me, because it's untethered from any broader political commentary. The bills Kevin Spacey is pushing may be fatally compromised, and he may be pushing them purely to reinforce & expand his own power base, but they aren't really *malignant*. Spacey's character happens to be a Democrat, but he isn't presented as a commentary on his party or his politics; his party is just kind of an arbitrary part of the plot.
 
IMO, they could have made a much more interesting series by focusing on someone more like Ted Cruz, whose personal nihilism matched the nihilism of his politics. But that's not generally how American mass media approach politics (false equivalence isn't just the province of the press corps). Seems to me the British are much less reluctant to take sides in their fictional depictions of politics. (For another excellent example of this, see A Very British Coup.)
I hadn't even known of A Very British Coup, but it moves up on the to-view list.