A Whole New Way to Think About House of Cards: 'Throwing Like a Girl'
What "The West Wing for werewolves" tells us about political satire
This post will end with the significance of how Kevin Spacey throws a baseball --in real life, and on screen (above). But it will take a little while to get there, and I hope you'll bear with me along a twisty trail.
1) A contrast in styles: drama versus melodrama. I'm watching the original U.K.-BBC version of House of Cards, and its U.S.-Netflix remake, more or less in sync. Right now I've seen about half of Season Two of the U.S. version, and three of the four episodes of To Play the King, which was Season Two for the BBC.
I like them and recommend them both and will be sorry when I reach the end of either. But as time goes on, the contrasts between them become more evident.) For previous comparisons, see installments one, two, and three.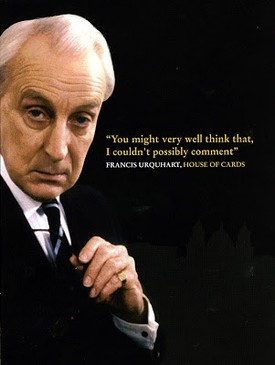 One difference is simply scale: Netflix offers more than three times as many episodes per season, 13 versus 4, and about ten times as many plot twists, sub-characters, shifts of scene, and so on. It's just bigger in every way, symbolized by the modern HD color that makes the original seem like black-and-white. The sex scenes are far more numerous and explicit. (Which is also a 1990s-broadcast vs 2014-non-broadcast shift.) The characters are louder, broader, and less subtle. Michael Dobbs, who wrote the British novel that begat this whole dramatic lineage, and who worked as a consultant on both renditions of the shows, has described the Netflix version as "The West Wing for werewolves." If you've seen them both you know what he means.
Which leads to the other, related difference, that of tone. If I say it's drama (BBC) versus melodrama (Netflix), that sounds like a put-down but isn't. And remember, I am the farthest thing from a knee-jerk "Oh, the Brits are so classy!" guy. It's a difference in the palette with which the characters are drawn. Ian Richardson, as the British politician FU—Francis Urquhart—is a study in cold, controlled malice. As Frank Underwood, the American FU, Kevin Spacey is by comparison hamming it up and camping it up in every scene. For me, he is too obviously having fun—or so I thought until last night.
2) A weak character: defect, or diabolically clever design? By a million miles, the least convincing character in the American House of Cards is the supposed President, Garrett Walker (played by Michael Gill—a capable actor who I assume is taking direction). Movie-and-TV presidents have varied widely, like their real-life models, but except in farces all of them have projected a sense of there-ness, in the Gertrude Stein definition. Martin Sheen's President Bartlet in West Wing and Dennis Haysbert's President Palmer in 24 are the clearest examples: you see these characters and think, OK, I understand how he got elected, and why the people around him defer to his judgment. Garrett Walker? Unt-uh. This guy is a peevish assistant-secretary type.
I had considered that this was a weakness in the show, or a sign of its melodrama-rather-than-drama aspirations. But I have begun wondering whether I'm selling their producers short. It's all because of the "Frank Underwood Learns to Throw" sequence midway through Season Two, which I've just seen and is where the picture at the top of this post comes from.
3) "Throwing Like a Girl," redux. Back during Bill Clinton's first term, I wrote an Atlantic article called "Throwing Like a Girl." I had a wonderful time reporting it, since that involved: interviewing the actor John Goodman (a former athlete who had learned to throw with his left had for his movie role as Babe Ruth); sitting with the tennis coach Vic Braden to watch bio-mechanics videos about the "kinetic chain" that leads to a proper throwing motion; and learning the simple trick that can make almost anyone "throw like a girl." You'll have to check out the article to see what that was.
The article began when I saw side-by-side front-page photos of Bill and Hillary Clinton throwing out the first pitch at season-opening baseball games and wondered why they threw so differently. The obvious-when-you-think-about-it conclusion I came to was this:
Throwing is a motion nearly anyone can do, but that no one starts out knowing how to do. That is, it is not like crawling or walking -- which children innately figure out -- and is like riding a bike, which anyone can do but only with opportunity and practice. (If you've never seen a bike, you're not going to be able to ride one. The first dozen times you try, you are going to fall down.) For whatever reason, the typical 12-year-old boy has spent more of his life throwing balls, stones, and sticks than the typical 12-year-old girl. Thus more boys than girls learn how to throw, and more girls than boys throw the way you do if you don't know how.
(If you've read this far, I'll reward you with the secret: the way to prove this to yourself is to throw a ball or stone with your "off" hand -- the left, if you're right- handed. Most people have no practice throwing that way, so generally they will "throw like a girl." That's what John Goodman did when he practiced throwing leftie -- it took him a year to get ready to do it in front of the camera -- and is what I did when "researching" my article.)
Update! Thanks to reader KG, here is a fabulous video, via Kottke.org, of men throwing with the "off" hand. The French music background makes it special.
Men Throwing Rocks With The Other Hand from Juan Etchegaray on Vimeo.
4) Which brings us back to Kevin Spacey. In a Season Two episode I've just seen, Kevin Spacey throws on-screen, and he is terrible. I would use a video clip if I saw one from Netflix online, but take it from me.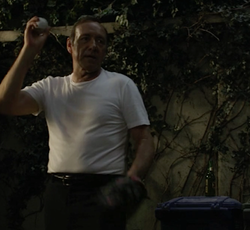 "Bad" throwing means: having your torso face the target head on, rather than being turned at an angle; having your elbow below your shoulder as the throw comes through; pushing the ball, with bent elbow as you release it, rather than hurling the ball with your elbow whipping to a straight position as you let go; and so on. Every one of them you see from Spacey's Frank Underwood. The muddy little screen grab at right understates the problem.
When I first saw this I thought: Spacey's kidding himself! He in inside his own information bubble and doesn't realize how bad this looks on screen, just as he hasn't realized how weakly written or weakly acted the saga's President Walker is, and how overdrawn some of the others are. To be fair, I gave the writers credit for the ball-throwing homage to the brilliant opening passages of Richard Ben Cramer's What It Takes (a very mild spoiler on my part).
Then, through the magic of the Internet, I started prowling around for other pictures of Kevin Spacey engaged in ball sports. And I discovered that the real-life Spacey had thrown out a first pitch at a real-world major league ball game. He did so last summer at Camden Yards, before an Orioles game. And—well, read the Charm City headline for yourself: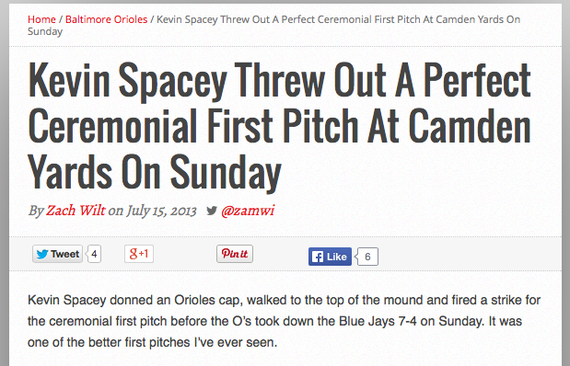 So a person who in real life can throw perfectly well, is for dramatic purposes all-too-convincingly pretending that he can't. And what if ...  this means something about the series as a whole?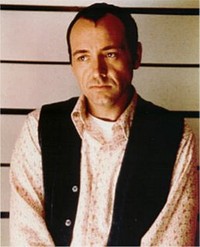 5) Which really means coming back to Verbal Kint. Suddenly I was thinking of Spacey in the final few minutes of his breakthrough role in The Usual Suspects—when we see that pitiful Verbal Kint, shuffling and stuttering, is capable of a whole lot more than he has let us know. And suddenly, with this TV series as in that movie, you're looking back at the old evidence through a different lens.
Maybe the President and other politicians come across as two-dimensional figures not because the writing and acting are bad—but because they're good, and the impression of two-dimensionality is what the series means to convey. Maybe Spacey's FU, unlike Ian Richardson's FU in England, is an exaggerated hambone villain not because he's self-indulgent but because he's being precise. That's how he sees, or wants to present, political leaders—and their consorts, like Robin Wright, and before her Kate Mara, as soap-opera villainesses?
That's as far into the weeds as I can go right now. Any TV series that can make you wonder what it means has done something valuable, and by that standard both FUs have proved their work. On to more episodes this evening.