A Sochi Opening-Ceremony Malfunction: It's the Olympics*
A beautiful start to the games, with some fine print
The Olympic opening ceremony kicked off at 8:14 p.m. Sochi time but won't be broadcast in America until 7:30 Eastern tonight. Spoiler: It's a gorgeous show. But there's one snafu that's at least seems symbolic given the controversy-laden run up to the games.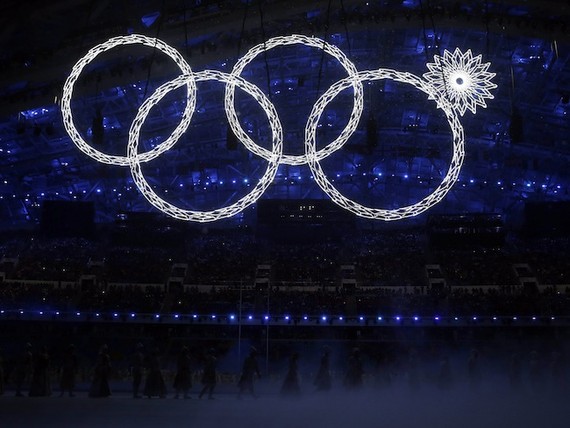 Above is what's supposed to be the five rings of the Olympic logo. As part of the pageantry in Fisht Olympic Stadium, the rings began as large, glowing snowflakes. Four of those snowflakes bloomed into circles. One of them, in what the BBC2 announcers say is a malfunction, didn't.
At previous opening ceremonies, the displaying of the rings has been a big moment. In 2010 in Vancouver, a snowboarder jumped through the middle circle. In London in 2012, the rings appeared to be smelted from liquid metal live. In Sochi, it came as the climax of a stately, ethereal display during which Russia's various regions were shown off as floating islands.
The Olympic rings logo doesn't come imbued with a whole lot of symbolism—it's not like each ring stands in for some abstract virtue—beyond representing the countries of the world, united. Designer Baron Pierre de Coubertin intended for all the colors shown on world flags to be featured. The ring that didn't open in Sochi is traditionally red one.
Screw-ups have happened at opening ceremonies before. But given all the chatter in recent days about the last-minute scramble to prepare for the festivities, the comically unfinished accommodations, the fact that these are the most expensive games—summer or winter—in history, the protests against Russia's policies towards LGBT people, and the concerns about security, it's hard not to read into Sochi's rings mishap. Let's hope this is the last asterisk that'll need to be affixed to these Olympics.