2 Reasons to Have Watched the Pre-Opening Night Sochi Broadcast
"For Russians, if our hockey team wins, nothing else will matter. And if they lose, nothing else will matter."
I never think I'll end up watching these oddball winter events, and yet... The payoff last night:
1) Jun Miyake. If you watched, you know that American figure skating champion Jeremy Abbott had a rough night. It was the more painful because, when not falling, he is so obviously elegant in carriage and movement. Silver lining of his heartbreak: if you watched, you heard him skate to this music, "Lillies of the Valley," from Jun Miyake, which was new at least to me. The video below is a different kind of elegance, more David Lynch-hypnotic, but the music is the same.
2) Vladimir Pozner! Here is the only thing that's been missing in Reagan-era verisimilitude, from the otherwise delectable FX series The Americans: No cameos of Vladimir Pozner. For those who weren't around in the 1980s, it is difficult to convey how weird it seemed to have this urbane character smoothly laying out official Soviet agitprop on Nightline and other programs -- and sounding as if he'd grown up in New York City, because in fact he had. The picture below is how he looked back in the day. (You can see him, circa 2000, talking with a surprising young-ish and less tedious Rush Limbaugh, here.)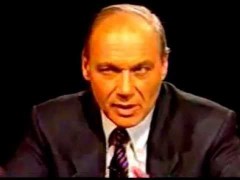 I tell myself that native-sounding accents shouldn't really matter in our assessment of people; that it's all about the accident of where you happened to be during those crucial phoneme-developing elementary-school years; and that actors, if they're good enough, can pass themselves off as almost native. (Hugh Laurie of House, Dominic West of The Wire, both Brits passing as Americans; Meryl Streep passing as anything.) Still, listening to Pozner during the Cold War was truly strange.
And now, thanks to the Sochi Olympics, he is back! Apparently in Russia he's never gone away. But last night he was on NBC, in an improbable segment with David Remnick (yes) and Bob Costas, on Russia, sport, resentment, and more. Among other things, Pozner let us know that for the host country, it was all about the national hockey team. "If we win, nothing else [that goes wrong in Sochi] will matter. And if we lose, nothing else will matter." On homophobia: "I would say that 85% of Russians are homophobic, not just in disapproval but to the point of physical violence. This is a very homophobic country."
I'll be watching for him, and will be disappointed if the next season of The Americans doesn't work him in.
Olympic bonus point #3, following on Pozner's observation: yesterday's Google Doodle. Understated in design but unmistakable in its stand.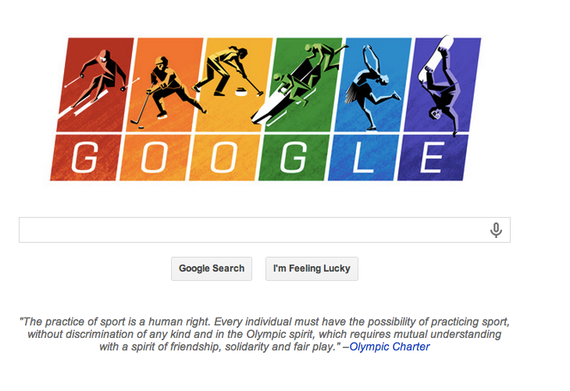 And the logo on the Google Chrome search box: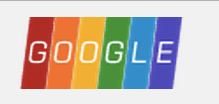 Let the games begin.