1book140's February Read: Diana Gabaldon's Outlander
Discuss an acclaimed romance with our Twitter book club all this month.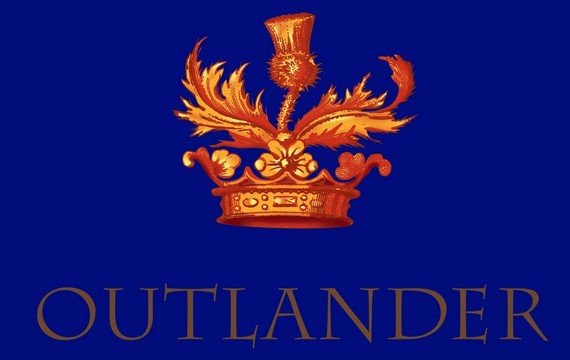 If our Twitter book club ever wrote a list of values, two ideas near the top would be democracy and diversity. Almost every choice is a vote, and readers often vote on books that extend into genres and topics we don't know as well. This month, bookies voted to read a romance novel, Outlander by Diana Gabaldon.
Conversation and cooperation would also be near the top of the list of values for #1book140. While I was out with an illness last week,  Connie Donoghue coordinated nominations, organized a poll, and announced the winner. Bookies have also been holding hour-long real-time discussions on Twitter every other weekend. Thanks everyone!
About Outlander
In Outlander, the British army nurse Claire Randall is transported from an unsatisfied married life in 1945 to 18th-century Scotland when she encounters a stone circle. Claire finds herself caught between the English and Jacobites and taken back to a Scottish castle. To protect her from the British, she is married off to the Scottish rebel Jamie. As she falls in love with him, Claire must choose between her new life and the one she left behind.
Outlander won the Romance Writer's of America RITA award for best romance in 1991. Although bloggers do take time to discuss the novel's historical setting, genre-bending tendencies, and literary style, they mostly gush about Jamie, the hunky hero with a sensitive soul who marries Claire. Jessica Gelt of the LA Times puts it bluntly, quoting Gabaldon: readers "want to lick him." Most reviews of Outlander appear on sites that have point ratings for "spice" and "sexy scenes." This book always gets five out of five.
Outlander's success was a surprise to Gabaldon, who first imagined it as a way to practice writing. More than 20 years later, with an enthusiastic fan base, an eighth novel in the Outlander series coming out this June, a graphic novel, fan musical, and a TV miniseries due to air on Starz, the story has grown well beyond Gabaldon's early ideas. Here's a preview of the Starz show, which airs later this year.
Join the Conversation at #1book140
Share favorite quotes, share links, ask questions, and read along at @1book140, our Twitter book club. We're just finishing up The Luminaries by Eleanor Catton. Our hashtag #1book140 is a great place to share about what else you're reading.
To join the conversation on Outlander, follow us at @1book140 and tweet to join the conversation so we know that you're reading along. To avoid spoilers, we spread the conversation across one hashtag per week. Click on each hashtag to see the conversation at that point in the book.