Click the links in the article titles to read the full pieces, and let us know what we've missed:
BuzzFeed
What Is Virgin-Shaming?
Hunter Schwarz
Virgin-shaming often occurs with public figures who are open about their religious beliefs. At a 2009 SEC press conference, then-21-year-old University of Florida quarterback Tim Tebow was asked if he was "saving himself for marriage." The room nervously laughed before Tebow answered that he was. It's a question other athletes are not asked.

"I think it's totally unfair," Craig Gross, founder of XXXchurch, a Christian group that helps people overcome addictions to pornography said. "If you say, 'I'm not religious and I'm single,' people aren't going to ask you if you sleep around."

Public figures have also been asked how they "deal with temptation," as the Jonas Brothers and Jordin Sparks were in separate interviews following the 2008 MTV Video Music Awards where comedian Russell Brand made light of the band's promise rings symbolizing abstinence until marriage. It's a question that typically invites awkward answers ("Isn't it hard?" Barbara Walters asked the Jonas Brothers. "Of course, um … it's hard … doing that … for sure," Kevin responded) and again, is not something that would be asked of someone who chose to have sex before marriage.
The King in Yellow is a fictional play within a collection of short stories—a metafictional dramatic work that brings despair, depravity, and insanity to anyone who reads it or sees it performed. Chambers inserts only a few selected scenes from the play into his story collection, and all of them are from the first act. This act, we are told, is a bit of a honeypot, luring readers into the cursed text. If they read even the first few words of Act II they are driven insane by the revelation of horrible, decadent, incomprehensible truths about the universe.

Anyone familiar with Lovecraft's "cosmic horrors" should see the thematic similarity. For his unfortunate protagonists, the ultimate truths of the universe are too much for their overloaded minds to handle. It should not be surprising that Lovecraft incorporated Chambers's The King in Yellow into his overarching Cthulhu mythos, embellishing the elements of the story and adding the fictitious play to his growing bookshelf of equally fictional mythos tomes.
---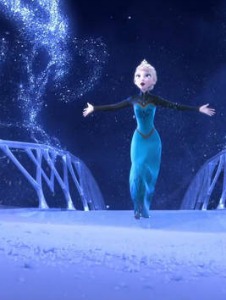 The New York Times
How Tina Fey and Amy Poehler Inspired a Disney Princess
Melena Ryzik
To reconfigure Elsa from her villain role, they wrote "Let It Go." "When we first penciled it in," Mr. Lopez said, they called it something which, to our chagrin, we cannot print here. "Elsa's song of empowerment," Mr. Lopez suggested as a replacement. "Elsa's fierce song," his wife added. Mr. Lopez: "Elsa's kick-butt song."

(Especially accurate since the script at the time called for Elsa to come down from her mountain hideaway and attack her village, Mr. Lopez said, "with her army of snowmen.") But the Lopezes saw the sisters – a Disney first, in terms of lead heroines – in a different way.

"I said, 'You have a chance to make the first really funny Disney princess,'" Ms. Anderson-Lopez said. "I'm so exited about the potential that Anna has to sort of bring in the world of Amy Poehler and Tina Fey, the goofy self-deprecating female heroines that are in our culture" now.
---
Anti-Barbie arguments have a tired ring to them — even among feminists, we're in backlash-to-the-backlash mode. There's also some research to back up the claim that Barbie affects girls' body imageand their views on gender roles. Yet when I look back at my own Barbie-influenced youth, I have a hard time pointing to anything but positive effects. "The feminist perspective is she has this unattainable figure," McFadden says. "But Barbie was the only doll that had breasts, the only one to create a space where girls could start to fantasize about that."

And fantasize we did. "My Barbie was a WHORE," one friend told me. Another said her dolls "had the most active sex life ever. I rubbed their little flat fronts together almost every time I played." Like the spectrum of adult sexuality, there was a lot of variety in Barbie's sex life. "I definitely remember making them lay-down make-out," said another friend. "I don't know if full sex was on my mind yet." Just like real sexuality doesn't exist in a vacuum (or in a perfectly posed photo on a magazine cover), it's usually just one aspect of how girls are playing with Barbies. McFadden explains, "You have a little girl who's starting to, step by step, day by day, grow into herself. The way that girls grow into themselves sexually is no different than the way they grow into themselves academically or creatively."