The Oscars' Hidden, Pro-Youth Agenda
The Academy Awards have never been about celebrating cinema, they're about making the film industry look good. This year's mission: Crown young talents as bona fide stars.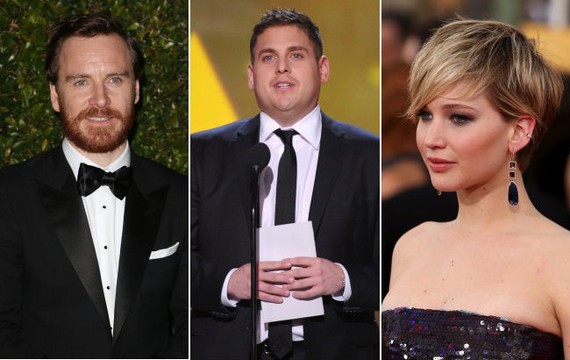 The day that the Oscar nominations are announced each year is something like a holiday for movie buffs, except there are more tantrums thrown than parties. Grumbling about Oscar snubs has become a national pastime all its own, and this year was certainly no exception. But those who gripe that their favorite performance or film was not recognized by the Academy are missing this point: The Oscars aren't about actual merit. They're about propaganda.
To understand the purpose of the Academy Awards—and why the best movies never win—you have to go back to the very first ceremony in 1929. Back then, Hollywood was under siege. The Catholic League and its Legion of Decency decried the burgeoning film industry for its immorality, both onscreen and off. High-profile celebrity scandals like the manslaughter trial of comic actor Fatty Arbuckle's and unsolved murder of director William Desmond Taylor became mascots for the notion that Hollywood's loose morals were poisoning society. In response to the outcry from concerned citizens, legislators in 37 states introduced more than 100 bills to set up state film censorship boards. 
Hollywood was getting nervous. Industry leaders would take their most significant step to avoid regulation by hiring former postmaster general William Hays to create and implement the famous Production Code, a list of subjects that studios were urged to avoid. But in 1929, Hollywood tried a different tack. It would hold an awards show.
The plan was simple. The newly formed Academy of Motion Pictures of Arts and Sciences gave out 12 awards at a high-profile ceremony hosted by Douglas Fairbanks. The show was not broadcast on television or radio, but journalists attended and reported on the ceremony. The Academy's hope was that the very concept of an awards gala would raise the stature of the medium in the eyes of the public. After all, if there could be a "Best Picture," then the medium couldn't be all bad. As film historian David Thomson put it, the industry wanted the public to think, "Look, an Academy. They must be respectable."
To this day, Oscars serve much the same purpose: to make the movie industry look good. It is, as Academy Award-winning director and former producer of the awards show William Friedkin in 2009 publicly referred to it, "the greatest promotion scheme that any industry ever devised for itself."
So if we consider this year's Oscar nominations as a reflection of Hollywood's self interest, what do we see? It seems clear that the industry is starting to move on from the aging crop of Oscar stalwarts and looking to create some new legends. Which brings us to the surprise snubs for 2013. Tom Hanks, Robert Redford, Emma Thompson, Forest Whittaker, Oprah Winfrey: All of them were previous winners, and all were shut of the awards this year.
Instead, Oscar seems to be pushing a new breed of stars into the spotlight. Oscar pundits often claim the existence of a youth movement (as they did when James Franco and Anne Hathaway hosted in 2011), but this year, the nominees tell the story: Michael Fassbender (36 years old) received his first nomination. Bradley Cooper (39), his second. Christian Bale (39), recognized for his performance in American Hustle, took the spot in the Best Actor category that would have otherwise gone to Hanks, Redford, or Whittaker. Jennifer Lawrence was nominated again, and is probably the odds-on favorite to win her second Oscar at the ripe old age of 24. In fact, she is currently the youngest actor ever to be nominated for three Oscars. Jonah Hill was another surprise nominee; the 30-year-old comic actor's nomination is his second, after 2011's Moneyball.
There were exceptions to the rule, of course. The Academy made room to celebrate a few of its senior members, although most of them were from a single film, Nebraska; Bruce Dern and June Squibb both got the nod there. And, of course, nobody keeps Judi Dench and Meryl Streep away from Oscar night.
But overwhelmingly, it is a youth movement at the Academy this year, and you can understand why. For the last several years, there has been considerable anxiety in Hollywood about the lack of young movie stars. J. Hoberman argued in Esquire in 2012 that "the star-making machine has stalled," citing the careers of Ryan Reynolds, Shia LaBeouf, and Jake Gyllenhaal as examples of actors who were primed for mega-stardom but never achieved true liftoff. These days, it's the fictional characters, like Harry Potter or Batman, who sell movies—not the actors who play them.
But Hollywood is still an industry that wants to promote an image of itself as one of kings and queens, and that's why the Academy Awards are so important. If you can't coronate royalty at the box office anymore, Oscar night is the next best thing. The only catch is that, in a year of such strong performances, you have to push some of the old folks out of the way to make room.