The Endearingly Sloppy 2014 Golden Globes
This year's spectacularly awkward ceremony lent credence to the popular tabloid refrain that celebrities (and the people who run their events) are human—"just like us."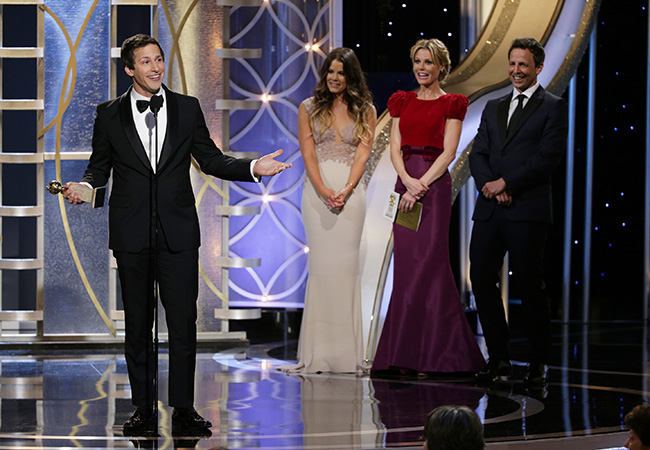 Jennifer Lawrence didn't trip on her way up to the stage last night when she accepted a Best Supporting Actress award for American Hustle, nor did she inadvertently diss Meryl Streep. But she still managed to kick off the awards portion of the 71st Annual Golden Globes with her signature good-natured humanness.
"I'm sorry I'm shaking so much," Lawrence muttered at the end of her acceptance speech. "Don't ever do this again!"
It was a fitting way to open one of the most gloriously sloppy awards shows in a while—one that, three hours later, show host Tina Fey closed out by drolly declaring, "This was the beautiful mess we hoped it would be," while her co-host Amy Poehler added, "I made out with Bono!"
Last year, Kevin Fallon wrote that the 2013 Golden Globes—also hosted by Fey and Poehler—were potentially the greatest awards show ever. According to Fallon,
No matter who hosts the ceremony, what artists perform, which films are nominated, and how long it goes, critics and viewers are all too happy to call the Oscars, the Golden Globes, the Grammys, the Emmys, and the Blockbuster Entertainment Awards—what have you—too mean, too boring, too stodgy, too edgy, too reverent, too irreverent, and millions of other damning adjectives. So it's worth marveling at how, against odds, Sunday night's Golden Globes somehow managed to stage what might be the most perfect awards show ever.
Fallon went on to write that "They were fun, they were fast, they were credible, and they were just the right amount of weird," and praised Fey and Poehler's smart spoofing of award shows' self-importance. "Not only were they hosting a big party," he wrote, "they were the party's most fun guests."
The 2014 Golden Globes ceremony was not without its problems. Like many awards shows before it, it probably deserved a "too hegemonic" label: Jared Leto's and Michael Douglas's homophobic acceptance-speech jokes and the uncomfortable under-representation of people of color throughout most of the ceremony both worked against what could have been a much more inclusive event. But this year, as my colleague Chris Orr noted, the prizes again went to a wide array of worthy winners, and Fey and Poehler brought the same smirking enthusiasm to their hosting gig. (Perhaps the best one-liner of the evening came from Fey: "Gravity is nominated for best film: It's the story about how George Clooney would rather float away into space and die than spend one more minute with a woman his own age.")
During last night's telecast, it seemed everybody came ready to party. Between the hosts, presenters, production crew, and honorees, an earnest team effort pushed the awards show a bit further in the "weird" direction and in the "let's-not-take-ourselves-so-seriously" direction. An NBC censor probably got fired after a bizarre acceptance speech by Dancing on the Edge's Jacqueline Bisset. Emma Thompson sauntered up to present the Best Screenplay award barefoot, with her uncomfortable Louboutin heels in one hand and a martini in the other. Diane Keaton sang a solo a cappella rendition of the famous Girl Scouts anthem "Make New Friends" in a tribute to Woody Allen. Diddy hug-ambushed Alexander Ebert, composer of the All Is Lost score, and giddily told the audience they'd just bumped into each other on vacation in St. Barths. Cate Blanchett, after proudly announcing that she had "three vodkas under her belt," scolded the wrap-up music as it began to swell under her speech. And Poehler did, indeed, make out with Bono.
For some, that might add a new item to the catalogue of potential awards-show complaints: too silly. But the event's relaxed atmosphere gave the show and its stars the gift of forgivable fallibility; for one night, the Golden Globes lent credence to the old tabloid notion that celebrities are "just like us." Presenters laughed good-naturedly as their teleprompters failed them (The Wolf of Wall Street's Margot Robbie and Jonah Hill swiftly received paper copies of their lines) and presenter Drew Barrymore handed out the wrong award ("I know, they sent me out wrong!" Barrymore laughed before gamely presenting an award she wasn't assigned to present).
And last night's show also served as a reminder that, just like the rest of us, famous people can be pretty awful at public speaking when they're not prepared. Matt Damon was a notable exception, going impressively impromptu after admitting that he'd forgotten to bring his glasses onstage to present an award. But Andy Samberg looked genuinely, uncharacteristically caught-off guard accepting his acting award for Brooklyn Nine Nine. Leo DiCaprio used part of his time presenting the Best Actress, Drama award to finish up what he'd forgotten to say in his Best Actor, Drama acceptance speech. Winners Elisabeth Moss (Top of the Lake) and Spike Jonze (Her) looked—and admitted to being—truly flabbergasted at the podium.
"I'm bad at English," Jonze stammered. "And it's the only language I know."
And Jacqueline Bisset … well, Jacqueline Bisset.
The 71st edition of the Golden Globe Awards ceremony was, at best, gleefully fast and loose and, at worst, an undercooked effort with some glaring representation problems. But it's refreshing to see hosts find a middle ground between blandly honoring the establishment (a la Billy Crystal's Oscar hosting gig in 2012) and bawdily sabotaging it (a la Seth McFarlane's in 2013). And it's an amusing change of pace to see the honorees and guests un-self-consciously join in the fun, too. This year's hosts and attendees seized the opportunity to laugh gently at their industry's shortcomings and oversights; offer a snicker, a shrug, and a raised glass or five (in that order) to its quirky personalities and over-the-top weirdnesses; and ultimately pull it in close—Amy Poehler-style—for a big, messy display of affection.