The Brooklyn Nets: How to Build a Disappointing NBA Team, Exhibit A
Some blame rookie coach Jason Kidd for the Nets' poor season, but there's not much any coach can do about a roster full of aging players or an unproductive combination of skills.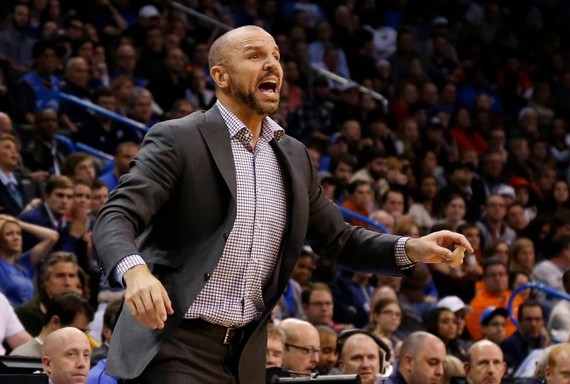 Once upon a time, there was a pro basketball team in New York called the Nets.
Led by the superlative Julius "Dr. J." Erving, it consistently made the playoffs in the old American Basketball Association (the ABA), and even won championships, in 1974 and 1976. But then, the team joined the NBA and—reneging on a promise to give Dr. J a raise—instead sold him to the Philadelphia 76ers before the start of the 1976-77 season. Then the team moved to New Jersey in 1977. After those two events, the Nets stopped contending. The franchise—which had won more than 65 percent of its regular-season games in three straight seasons just prior to the ABA's merger with the NBA—never again hit that mark in any of its 35 seasons in New Jersey.
Of the two moves, losing Dr. J. was clearly the more important. He immediately became the 76ers' most productive player and eventually delivered them a championship. But long after Dr. J. had left the game, the Nets in New Jersey continued to struggle. Life was especially bad in 2009-10, when the team lost their first 18 games, on the way to a record of 12-70.
Here, the story seemed about to turn, for when this dreadful season ended, hope appeared on the horizon. After the 2009-10 season, the NBA approved the sale of the Nets to the Russian billionaire Mikhail Prokhorov. Prokhorov, it seemed clear, would not be selling off players to avoid raises.
The first two seasons of Prokhorov's ownership were not especially inspiring; the team continued to lose with regularity. But in 2012, the Nets finally returned to New York. Not only did the team change its address, the Nets also changed its roster.
Not surprisingly, the 2009-10 team did not have a single player who had ever appeared in an All-Star game. But in February of 2011, the Nets traded for All-Star point guard Deron Williams, and in July of 2012 the Nets traded for All-Star shooting guard Joe Johnson. With Williams and Johnson on board, the Nets managed to win 49 games in 2012-13. And if two All-Stars gets you to 49 wins, Prokhorov might have thought, what will you get if you add three more?
This past summer the Nets traded for Kevin Garnett and Paul Pierce, future Hall of Famers who had previously led the Boston Celtics to a championship. The team also signed Prokhorov's countryman, the forward Andrei Kirilenko. The resulting quintet entered the 2013-14 season with 34 All-Star game appearances between them, and Prokhorov spoke of victory parades.
All these All-Stars, though, came at a cost. Back in 2009-10, the New Jersey Nets spent less on payroll than all but four of the NBA's 30 teams. This year, the Brooklyn Nets—with a payroll beyond $100 million—are spending more than anyone. Indeed, once you figure in the penalties for going above the league's salary cap, the Nets are the most expensive basketball team ever (and by a very large margin).
All this spending on all these All-Stars led Brooklyn fans to expect something wonderful to happen—a storybook ending, if you will. But with more than 35 percent of the season now in the books, the Nets are not even in playoff contention, despite playing in the Eastern Conference, which is woefully bad. With all this spending, the Brooklyn fans expected a return to the glory days of Dr. J. What they got was a typical team from New Jersey.
So what happened?
Some may want to blame Jason Kidd, the Nets' rookie coach. Kidd, last year a point guard with the Knicks, demoted his lead assistant (Lawrence Frank) 20 games into the season. And this past week, media reports suggested Kidd has already lost his team.  The inexperience of the coach certainly looks like a problem. Yet academic research indicates that most NBA coaches have no statistical impact on player performance. And the early returns from Brooklyn in 2013-14 suggest that Kidd does not appear to be an exception.
Although coaching is often blamed when a team falls short of expectations, what could help more effectively explain the real problem in Brooklyn is to examine why Dr. J. was able to win so much with the Nets in the 1970s.
Why teams win in basketball should be easy to understand. Teams win because they:
acquire the ball before the other team scores (by generating turnovers or  securing the rebounds on missed shots);
keep the ball so they can take shots (by avoiding turnovers and grabbing offensive rebounds); and
get those shots to go in the basket (by shooting efficiently). Once we understand what drives a team's success, we can understand how a player contributes to team wins. To wit, a player helps his team win when the player shoots efficiently, grabs rebounds, generates steals, and avoids turnovers.
You should note what is missing from this list. The number of points a player scores in a game is not a big part of the story. In fact, scoring totals can be very deceptive. Players can certainly score points by shooting efficiently (and that definitely helps their team win). But players can also boost their scoring totals by just taking more shots. And the operative word is "takes": When a player takes more shots, someone else on his team gets to take fewer shots. So a player's shots are really just taken from his teammates.
Since shots are just "taken," the key to evaluating shooters is efficiency. And when an inefficient scorer takes shots from his teammates, that most definitely does not help a team win more games.
With all this in mind, let's look back at Julius Erving. The factors that explain wins can all be quantified. And that means how many wins a player produces can be statistically measured. This is done simply by taking the box-score statistics (which were first completely tracked by the ABA) and connecting these to team wins (via standard statistical techniques employed by economists).  This allows us to translate such diverse player statistics as points scored, field goal attempts, rebounds, and turnovers into a single number capturing how many wins a player produces.  The steps in this calculation—detailed in various academic papers and online—make it clear that Dr. J. was an amazingly productive player for the New York Nets. Specifically, from 1973-74 to 1975-76 he produced 70.3 wins for the New York Nets (more than 40 percent of the team's total regular season wins).
When we think back on Dr. J., we might think about scoring. After all, he led the ABA in scoring in both 1973-74 and 1975-76. But it wasn't his scoring totals that produced all those wins. Relative to an average small forward in the ABA, Dr. J. was a more efficient shooter, a better rebounder, and more apt to steal the ball. So Erving's impressive production of wins was specifically about his ability to get possession of the ball and convert those possessions into points.
Now let's think about a player like current Nets guard Joe Johnson. Like Dr. J., Johnson has been an All-Star and he scores many points. But Johnson is no better than the average NBA small forward or shooting guard at gaining possession of the ball, through rebounds and steals. And throughout his career, he has generally only been slightly above average with respect to shooting efficiency. As a consequence, Johnson has never been far removed from the average NBA player with respect to his production of wins. In the 12 seasons Johnson played before this season, he only produced 65 career wins (or a number less than what Erving produced in three seasons in the 1970s).
A similar story can be told about the Nets' center, Brook Lopez. In July of 2012, Lopez was signed by the Nets to a $60 million contract. NBA teams typically reward players with high scoring totals with rich contracts, whether all that scoring produces wins or not. So the contract was not surprising for an above average scorer like Lopez. But when we consider the factors that drive wins, we see that Lopez is below average (for a center) across his career with respect to rebounds and steals and only slightly above average with respect to shooting efficiency. And obviously, Lopez—who will miss most of an NBA season for the second time in three years—has trouble staying on the floor.
In essence, both Johnson and Lopez are pseudo-stars when compared to Erving. Each scores like a star. Each is paid like a star. But neither contributes to wins like a star.
Of course, not every one of the Nets' current high-priced players has always been an average player masquerading as a star. In the past, players like Garnett, Kirilenko, Pierce, and Williams have been quite productive. For example, back in 2002-03—when he was 26 years old—Garnett had his best season; producing 21.5 wins for the Minnesota Timberwolves. One year later, Kirilenko—at 22 years of age—had his best season, producing 16.8 wins for the Utah Jazz. The next season—when Pierce was 27 years old—he produced 12.8 wins (his best season) for the Boston Celtics. Finally, in 2007-08, Williams at 23 years of age had his best season, creating 13.6 wins for the Utah Jazz.
Last year, though, was 2012-13. These players are now past the age where players tend to offer their highest production (academic research shows a peak somewhere around a player's mid-20s). Kirilenko (who has been hurt for much this year) did manage to produce 10.6 wins for the Minnesota Timberwolves last year, and Williams was still somewhat productive, producing an even nine wins for the Nets. Pierce and Garnett, though, combined to produce only 11.2 wins for the Celtics last season. So the Nets agreed to acquire two players—guaranteed more than $27 million this next year (and even more when we consider the luxury tax implications)—who were once very, very good. But today—in basketball terms—they are just very, very old.
All of this illustrates another lesson from Dr. J.'s career. When Erving was producing more than 20 wins per season for the ABA Nets he was in his early 20s. Although Dr. J. went on to produce nearly 119 wins in the NBA, his productivity in later years never matched what he did in the mid-1970s (and the most productive player on Erving's 76ers title team in 1983 was Moses Malone).
So the Nets appear to be learning the lesson of Dr. J's career the hard way in the 2013-14 season. Scorers who are not above average with respect to efficiency—and don't do much else—are not going to help a team win many games. And basketball players tend to be productive when they are young. Once age has taken its toll, the productivity we once observed tends to go away forever.
When fans look at Brooklyn they see a collection of "stars" that should be worth the money the Nets are paying. But once we understand why Dr. J. was so good in New York we see that the Nets are actually just a collection of pseudo-stars and players past their prime.
Given what this collection did last year, we never should have expected the Nets to contend in 2014. If these players all played as well this year as they did last year, the Nets—given their allocation of minutes in 2013-14—should still only be on pace to win about half their games. But the team is not quite reaching that pace. Although most players on the Nets are producing at a level similar to what we saw last year (again, suggesting that coaching doesn't matter much), there are three players—Kevin Garnett, Paul Pierce, and Reggie Evans—who have caused the Nets to fall short of even the meager record we might expect. What does this trio have in common? These are three of the four oldest players on the roster. So it appears that the Nets are being done in by aging stars and a predilection for unproductive "scorers," not bad coaching.
Once we understand how teams win and how aging impacts performance, we then understand that the Nets effort to build a championship team in 2014 was not likely to work. And certainly one doesn't need advanced metrics to know that what the Nets tried to do certainly hasn't worked.
One might still think this failed effort could have made good business sense. After all, these Nets do have "star power." Perhaps even though the team isn't winning, these stars can still get fans in the seats. And given the Nets need to make a big splash in their new arena in Brooklyn, maybe these moves—despite the stunning lack of wins—could still make sense.
Unfortunately—as academic research indicates—fans in the NBA care less about stars and scoring and more about actual wins. At the end of December, the Nets rank 16th in the NBA in attendance. And given how wins drive attendance, one can expect Brooklyn's affection for the Nets to decline if this team keeps losing.
And Jason Kidd may look overmatched on the sideline, but there was never much he or any other coach could do. Aging ultimately reduces the productivity of all athletes. Kidd's own career as a player ended because of aging. Just as he could not stop the effects of aging in his own life, he does not have the power to return Garnett, Pierce, or any of the other aging stars this team employs to what we saw in the past.
So the Nets have essentially gambled a large sum of money on a plan that would only work if many of these aging players returned to the level of production we saw years ago—or if some of the high-scoring, big-name stars they'd acquired suddenly revamped the way they played the game. Certainly this was possible. It just wasn't very likely.