The AFC and NFC Championships: A Guide to the Year's Best Football Day
Broncos vs. Patriots, Niners vs. Seahawks—what to watch for on Sunday, whose legacies are at stake, and why it could start raining candy in Washington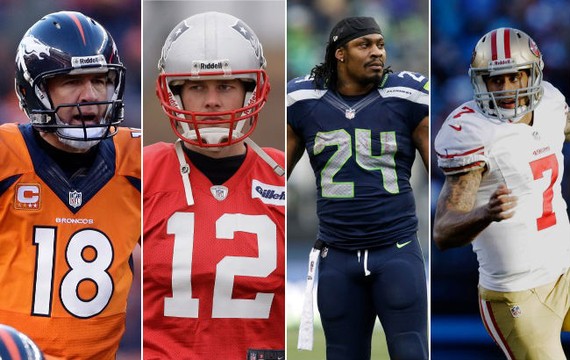 I've said it before (two years ago this week, in fact), and I'll say it again:
For my money, the best football day is conference championship Sunday—two games instead of one, each with huge stakes, without all the distracting pageantry of the Super Bowl.
It was true at the time, but I'd say it's especially true this year. The football gods have gifted fans with the two best matchups in the NFL on the same day, with a trip to the Meadowlands and Super Bowl glory on the line.
Even if you're a casual football fan who only ever watches the Super Bowl, this is one additional day you should park yourself in front of the television and enjoy. Whom should you watch? What's at stake? And why might it rain candy in Seattle? We've got all the answers in this primer for Sunday's conference championship games.
---
AFC Championship Game: New England Patriots (13-4) at Denver Broncos (14-3), 3PM ET, CBS
The Line: Broncos by 5.5 points.
The Big Story: Manning-Brady XV. Denver's Peyton Manning and New England's Tom Brady—two of the five greatest quarterbacks of all time, still in their primes after more than a decade in the league—will meet for the 15th time in their illustrious careers and the fourth time in the playoffs.
Both QBs are Hall of Fame locks at this point, and a win in this game would advance either player's case in the Greatest QB of All Time discussion. Manning put up single-season records for touchdown passes (55!) and passing yards (5,477) while leading the Broncos to the highest single-season point total in NFL history (606). But the elder Manning brother is just 4-10 against Brady in his career, including a heartbreaking loss in Week 12…
Rematch Factor: … and that loss back in November doubled as the NFL's game of the year. After Manning powered the Broncos to a 24-0 halftime lead, Brady and the Pats stormed back with 31 unanswered second-half points in front of a rabid home crowd. Denver scored a late TD to force overtime, but a fumbled punt late in OT sealed the Broncos' fate. It was the largest comeback win in Pats' history.
Player to Watch: Manning or Brady would be too obvious, so let's go with Wes Welker. My father has taken to calling the Broncos' pesky wide receiver "The Vantz," and it's an apt description. Welker has a knack for worming his way open and getting the necessary yards on Big Plays—third downs and goal-to-go situations (like his second-quarter touchdown against the Chargers last weekend). And Welker has an intimate understanding of the Patriot Way after being Tom Brady's security blanket for the past half-decade (672 receptions in six seasons with New England). The Pats held Welker to just 31 yards on four catches in the Week 12 matchup, but look for The Vantz to have a big game Sunday.
Coaching Mojo: Advantage, Pats. What else can you say when one of the best coaches of all time has his greatest season ever? Bill Belichick has overcome the loss of numerous key players (Rob Gronkowski, Vince Wilfork, Jerrod Mayo, and alleged murderer Aaron Hernandez) and basically re-invented New England's offense on the fly. What other coach could get a franchise-record playoff performance from LeGarrette Blount (166 rushing yards, 4 TDs)—who, at this time last year, was on the Tampa Bay Buccaneers scrap heap? Denver's John Fox has a track record of success, but Belichick is Belichick.
Fun Commercial-Break Fact: Peyton Manning's incessant use of the phrase "Omaha!" in his snap counts in the divisional round got a shout-out from the marketing Twitter account of Omaha, Neb.
What to Expect: Denver 38, New England 35. The home-field advantage and the presence of elite tight end Julius Thomas (who was injured in the regular-season matchup) will give Manning just enough firepower to beat back the Pats and advance to his third Super Bowl.
---
NFC Championship Game: San Francisco 49ers (14-4) at Seattle Seahawks (14-3), 630PM ET, FOX
The Line: Seahawks by 3.5 points.
The Big Story: Ever since Jim Harbaugh and Pete Carroll took the head coaching jobs in San Francisco and Seattle, respectively, this has become the best rivalry in the NFL. Harbaugh and Carroll have hated each other since they were rival college coaches in the old Pac-10, and their enmity has spread to their players. Seattle and San Fran have signed players off each other's practice squads, woofed at each other in the media, and generally played the league's nastiest, grittiest games over the past two seasons.
The talent level on both teams combined with the overwhelming mutual animosity could make this one of the greatest games in NFL history. San Francisco is one of the most complete teams in recent memory and is still a 3.5-point underdog, and barring a Niners rout, the notoriously deafening Seattle fans will probably register a couple of earthquakes during the game.
Rematch Factor: Each of the NFC West juggernauts won their home matchup against their rival this season, with the Seahawks cruising to a 29-3 win in Week 2 and the 49ers eking out a last-second 19-17 victory at now-defunct Candlestick Park in December.
Seattle residents will point to their September shellacking of the Niners and the fact that Seahawks' QB Russell Wilson is a career 16-1 at home. Bay Area fans will counter that the Niners playoff experience (a third straight NFC Championship Game appearance) and current eight-game winning streak give them the edge. In reality, it could go either way—though Seattle's much-vaunted home-field advantage is no joke.
Player to Watch: Marshawn Lynch. Sure, the two stud quarterbacks (Wilson and San Fran's Colin Kaepernick) will get most of the pregame attention. But there are few things scarier for an opposing defense than the Seattle running back in Beast Mode. Just ask the Saints. The 49ers' elite defense has not allowed a 100-yard rusher all season, but Lynch came the closest with 98 yards in Seattle's Week 2 victory. This is strength against strength, and a 100-yard day from Beast Mode will probably send the Seahawks to the Super Bowl.
Coaching Mojo: Advantage, San Francisco. Though he's been an NFL coach for only three years, Jim Harbaugh has established himself as one of the best in the game. His offensive wizardry is well-documented: San Fran's three victories over the Green Bay Packers in the last 13 months are a testament to zigging when your opponent thinks you're going to zag. Perhaps more importantly, Harbaugh has instilled a nasty streak in his players reminiscent of Chuck Daly's Bad Boy Pistons or the 1985 Chicago Bears. Pete Carroll has been a game-changing coach for Seattle, but he doesn't have the innate motivational skills Harbaugh possesses.
Fun commercial-break fact: Seattle fans pelted Lynch with congratulatory Skittles after his game-breaking TD run in Seattle's divisional round win over New Orleans on Saturday. Lynch's love affair with the candy is well-documented, and now the team is selling a Beast Mode burger in his honor at its concession stands—with a side of Skittles, of course.
What to expect: San Francisco 24, Seattle 23. This has the feel of an instant classic, and the game will come down to big plays (or big mistakes) in the fourth quarter. I'm going with the NFC Championship Game mainstay: Niners on a last-second field goal.