The 2014 Golden Globes: Winners Deserving and Otherwise
The Hollywood Foreign Press Association spreads the wealth in a strong movie year.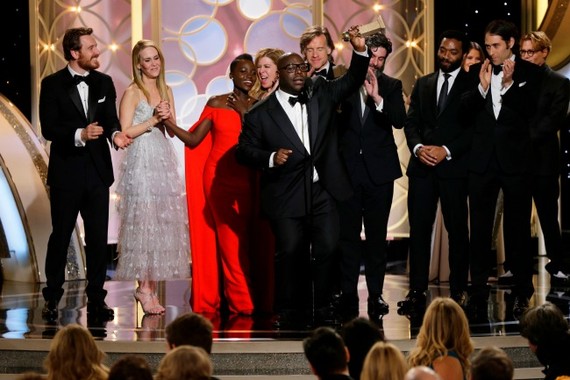 The Golden Globe Awards handed out for film last night suffered, as usual, from a fair amount of category confusion. The insistence by the Hollywood Foreign Press Association on dividing films into "drama" and "musical or comedy" (and their corollary desire that the former not utterly eclipse the latter) always results in a few head scratchers. But this year the categories seemed almost entirely arbitrary. Her, American Hustle, Inside Llewyn Davis, and August: Osage County are "comedies," but Blue Jasmine and Saving Mr. Banks are "dramas"? If you say so.
But given the inevitable givens, the Globes did a pretty good job overall, particularly when it came to spreading around the wealth in a year teeming with worthy films. Seven of my top nine movies of the year came away with at least one prize: Her, 12 Years a Slave, The Wolf of Wall Street, Gravity, All Is Lost, The Dallas Buyers Club, and American Hustle. Now it's true that the last two entrants on the list won as many awards as all the others combined, but these things happen.
The screenplay nod for Spike Jonze's magnificent Her was a pleasant surprise, as was Matthew McConaughey's best actor win for Dallas Buyers Club. (You know the voters—quite reasonably—wanted to see what he'd do on that stage.) I feel a touch sad for the also-deserving Chiwetel Ejiofor, of whom I've been a fan since Dirty Pretty Things. But 12 Years a Slave ultimately belonged to its director, Steve McQueen (will typing that name ever cease to feel strange?), while Dallas Buyers Club was all McConaughey.
Which brings me to his costar, Jared Leto, who won the supporting actor award at last night's ceremony. There's no question that Leto delivered a strong performance in the film. But it was a familiar enough role that I've been a touch baffled by the magnitude of the accolades being thrown his way. Had it been up to me, I would have given the nod to Barkhad Abdi or Daniel Bruhl.
American Hustle, likewise, felt overpraised at the Globes. Yes to Jennifer Lawrence for supporting actress (though here, too, 12 Years put up a worthy contender in Lupita Nyong'o), but David O. Russell's messy narrative didn't merit its "best comedy" win over Her, The Wolf of Wall Street, and perhaps Inside Llewyn Davis. Amy Adams was a perfectly good winner in a weak category (best actress, comedy), but I would have been delighted if Julia Louis-Dreyfus had won for Enough Said—in part because she was terrific, and in part because her film was one of the very few actual comedies nominated in any of the comedy categories.
Gravity's Alfonso Cuaron winning best director seemed entirely reasonable, especially given that the Globes don't have a cinematography award. Leonardo DiCaprio beat a strong field in the "actor, comedy" category with his speed-trip performance in The Wolf of Wall Street. And Cate Blanchett's turn in Blue Jasmine, to my moderate dismay, has long seemed a lock for this—and every other—dramatic actress prize. (Woody Allen declining to show up for his Cecil B. DeMille award last night seemed an apt metaphor for his directorial absence in Blue Jasmine, and over the last several years generally.)
Finally, the Globes redeemed themselves at the last moment by awarding the top prize to 12 Years a Slave, after passing it over for director, score, actor, and supporting actress. It would have been a genuine embarrassment if McQueen's film had left the ceremony without a trophy.
What does this all tell us with the Academy Award nominations just around the corner? Well, literally nothing, given that Oscar voting closed last Wednesday. We know now what we knew yesterday, although perhaps a touch more confidently: Blanchett and Leto are near-locks; 12 Years a Slave is the best picture frontrunner, though a vulnerable one; McConaughey and Lawrence may have a slight edge in their categories; and American Hustle is probably the best positioned of the dark horses. We'll see what the Academy has to say on the subject Thursday morning.