'Rubbish,' 'Tiresome,' 'Whoa-Yuk!': The Beatles' Early Haters
A recent history of the Beatles' BBC appearances points out an oft-forgotten fact: 50 years ago, most people didn't like them.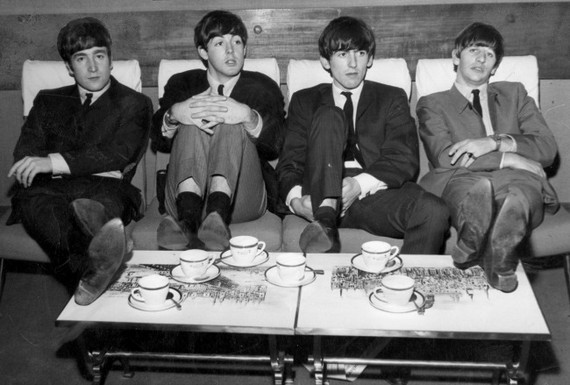 The Beatles' "I Want To Hold Your Hand" came out in America on December 26, 1963, almost exactly 50 years ago. That anniversary marks the expiration of some copyright laws in Europe, spurring a slew of new releases of previously unreleased Beatles material in an effort to prevent these songs from entering the public domain in 2014.
New discs have been accompanied by some impressively researched books, including the The Beatles BBC Archives 1962 – 1970, which looks to reclaim the forgotten history of the Beatles as interview subjects on England's main radio station. The volume serves to remind us that the Beatles, enshrined by history as cute, beloved pop geniuses, were viewed by many as downright terrible—not only when they started, but throughout their illustrious career.
In the early '60s, many bands were exposed to a wider audience by playing for the BBC, which regularly attracted millions of listeners. "[T]he BBC was at the core of daily life," author Kevin Howlett writes. "In the daytime, there was nothing else to listen to … during the limited hours that TV was broadcast its only competitor was the young commercial upstart, Independent Television." The Beatles, fresh off their hard-partying, hard-rocking days in Hamburg—another recently published book, Beatles Vs. Stones, delves deeply into the wildness of that early period—were competing for increased exposure just like everybody else.
"In those days," said BBC representative Peter Pilbeam, "we were spending two or three evenings a week going round the North [of England] hearing groups of a similar size and there was masses of rubbish. Then out of the blue this group turned up at one of our audition sessions, called The Beatles—a weird name and everybody said, 'Whoa-yuk!'"
Pilbeam kept his yuks to himself, and he ended up giving the group a pass, but not without reservations. He liked some members of the band better than others, stating in his summary of the audition: "An unusual group, not as 'Rocky' as most, more C&W [country & western], with a tendency to play music … John Lennon: yes, Paul McCartney: no." (What band tends not to play music?)
With the green light from Pilbeam, the Beatles appeared on 53 separate radio shows between March of 1962 and June of 1965. And then they rocketed into unanimous acclaim, right? Wrong. An audience research report for the Beatles June 4th, 1963 performance—they played early classics like "From Me To You" and "Misery"—shows a divided audience: 34 percent of fans surveyed gave the Beatles an A+ or an A, but nearly as many (31 percent) gave them a grade in the C range. (The BBC grading scheme suffered from grade inflation; it only went down to C-, and "yuk" wasn't an option.) The report goes into more detail. "According to a few particularly enthusiastic under-twenties, they were 'really with it' … Other pop fans were unimpressed … complaining that their singing was noisy, harsh and untuneful, and their choice of music lacking in variety."
The periodic research reports allow readers to track the swings in pro-Beatles sentiment. In 1964, several months before the release of the album Hard Days Night, the group was still far from a sure thing. Only 29 percent of respondents gave their performance an A grade—less than the 33 percent who handed out C's: "A considerable number of those reporting clearly regarded it as noisy, boring and a waste of time, and several who 'listened out of curiosity,' failed to see any reason for the Beatles' popularity.'"
Even in 1967, when the Beatles had released Revolver and Sergeant Peppers Lonely Hearts Club Band, much of the BBC audience remained skeptical. The band provoked the most backlash when it aired the self-indulgent film Magical Mystery Tour in December of 1967, which earned only 12 percent A's, while 74 percent of those surveyed gave it a C or lower. "The following are just a few of the many outraged comments: 'The biggest waste of public money since the Ground Nut Scheme … Positively the worst program I can remember seeing … A load of RUBBISH … unspeakably tiresome."
It wasn't only the audience that thought the group had gone crazy in 1967. BBC's director of sound broadcasting wrote to the Beatles' record company, EMI, about the final song from Sergeant Pepper's, "A Day In The Life." He noted that "We have listened to it over and over again with great care, and we cannot avoid coming to the conclusion that words 'I'd love to turn you on,' followed by that mounting montage of sound, could have a rather sinister meaning. … 'Turned on' is a phrase which… is currently much in vogue in the jargon of the drug-addicts."
Nowadays, questioning the Beatles' greatness is such a transgressive act that there are tongue-in-cheek guides for how to do it "correctly." The BBC Archives reminds us that McCartney et al. didn't always exist in a bubble of privilege—their beginnings were rocky, and they faced robust criticism from their home crowd throughout the '60s. Obviously, though, the band's boosters at the BBC and elsewhere won out. An interviewer ends a 1964 conversation with the band by remarking, "It will be a great pleasure to watch Paul McCartney in retirement, but it'll probably be in the year about 2010." Undoubtedly, these days McCartney's getting better grades on his audience reports.