Reminder: Most People Endangered by Football Don't Play in the NFL
President Obama says it's OK to enjoy events like the Super Bowl because the players are consenting adults. But most of the country's players are kids and teens who don't know better.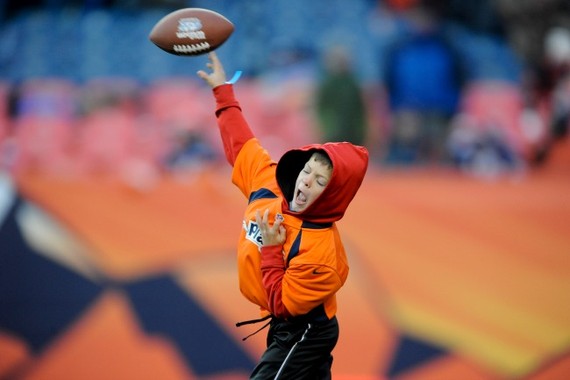 On Sunday evening, the 48th Super Bowl will kick off, and millions of Americans will tune in—the Super Bowl has been the most-watched television broadcast for 20 of the last 20 years. Americans need not view the controlled violence of the professional football as a guilty pleasure: The president says it's okay to watch NFL games.
"These guys, they know what they're doing. They know what they are buying into," in terms of risk, the president told David Remnick of The New Yorker.
Obama is correct—there is no reason not to enjoy the Super Bowl. I'll be at the game, and anticipate having a great time. I like Seattle by a field goal.
But Remnick and Obama spoke only of the NFL. Most attention to football focuses on its professional level, where "they know what they're doing" is a common theme. For instance, a few days after the president's remarks were published, Mike Florio, a football analyst for NBC, denounced "incessant hand wringing" about football's neurological harm—the players are highly paid "grown men."
Focusing on the grown men of the NFL is the wrong way to think about this sport's impact on society. Ninety-eight percent of football players are tykes, tweens, and teens who, legally, are children; who assume all the risks for none of the gain; who emphatically do not "know what they are buying into."
In The New Yorker interview, Obama compared football to prizefighting, a sport of which Remnick has written admiringly. In reference to adults who play in the NFL despite knowing its dangers, the president added, "It's sort of the feeling I have about smokers, you know?"
By this logic, children should be allowed to smoke. Eight-year-olds should be able to smoke, since they play full-pads tackle in many leagues. Middle schools should sponsor cigarette clubs. High schools should get the student body together for smokers' pep rallies.
Or if boxing is the correct analogy, it's as if every high school had 100 boys in a prizefighting society that stages a dozen public battles-royal each fall in front of the entire school. It's as if public universities spent more on the boxing program than the English Department. (Ohio State football budget for 85 players: $23 million. Ohio State writing center budget for 43,000 undergraduates: $800,000.) It's as if large public universities spent $13,736 on academics per student and $138,424 per member of the boxing team—the actual latest numbers for education versus football. (Check this tool created by the Knight Commission on Intercollegiate Athletics, which is the good twin to the NCAA's evil twin.)
Pro football is the No. 1 sport of the No. 1 nation, so it's only natural the NFL is the focal point when football is mentioned. It's fine to love this fabulous game. I played in high school and college, have attended way too many NFL contests including many Super Bowls, and look forward to attending more. I wince whenever an NFL player is injured, though understand that risk is part of producing great athletics—just as dancers may ruin their knees or lower backs in producing great ballet.
But there are only 1,700 NFL players, compared to 50,000 in helmets in college and four million youth and prep. Nearly all the social impact of football occurs outside the NFL. It's youth, high school, and college players society should worry about.
Big college football programs graduate just 55 percent of players, compared a to 68-percent graduation rate for male students overall at the same universities. Florida State, this season's champion, graduates 58 percent of its football players, versus 71 percent for male Florida State students overall. Football players typically get five years instead of four, and don't pay for college; meanwhile, running out of money is the most common reason non-athlete undergraduates fail to complete degrees. So college players ought to graduate at a higher rate than students as a whole. Instead, nearly half are used up and thrown away—sold by their coaches a daydream of the NFL, when just three percent of big-college players ever take a snap in the pros.
Lack of diplomas is a greater problem in college football than lack of pay. A bachelor's degree adds $1 million to lifetime earnings, more than the typical college player could receive under any pay scheme. And the diploma confers on its recipients social mobility, which no proposed college football pay scheme addresses.
Big-college football with strong graduation rates is not pie-in-the-sky. My new book The King of Sports spends two chapters detailing how Virginia Tech has posted 20 consecutive winning seasons and played in the top bowl games, yet graduates 77 percent of its players. Virginia Tech caters to typical students, not the rare person who can both play football and be accepted by the admissions department at Notre Dame or Stanford. The Virginia Tech example shows big-college football really can promote education—if the university cares.
At the high-school level, football is a great experience, teaching self-discipline and teamwork. But too many programs operate like cults, pulling teens away from the classroom while instilling a sense of BMOC entitlement that backfires in senior year when recruiters don't call. One varsity player in 50 is offered either an NCAA scholarship or "ath admit" to college. Many wake up in December of senior year to discover their GPAs are too low, or extracurriculars too few, for regular college admission.
The rise in female educational achievement, as male achievement declines—documented by Hanna Rosin in her 2011 book The End of Men—must sync at least in part to large numbers of boys taking themselves out of the competition by spending so much of their teen years on football, which has become a year-round activity in many states. Athletics themselves can't be the issue, as girls' participation in high school sports is associated with increased women's success in college. But there is one high school sport girls do not play.
What about high school concussions? Steven Broglio of the University of Illinois estimates prep football players sustain 43,200 to 67,200 concussions annually. That's versus 80 to 100 concussions annually in the NFL, where the attention focuses. In high school there is usually no certified athletic trainer on scene (fitness trainers are nice but often unskilled in medical matters), nor ready access to neurologists. The only health insurance many high school players have is Medicaid, which is stingy about specialists; their parents or guardians may avoid doctors, fearing co-pays. The result is a head-injury double whammy: High-school concussions are far more frequent than NFL concussions, plus more likely to be mistreated (if treated at all).
At the prep level, there is no meaningful informed consent. No 16-year-old—desperate to start for varsity, conditioned to obey adults—will defy a coach who tells him to be a man and play through head pain. Generally, children can't give informed consent in any case. But the care-and-custody legal standard that applies to their teachers generally does not bind their coaches.
In youth football, participation peaked two years ago and has tailed off a little since. But still, with three million involved, there are significantly more tackle football players below high-school age than above. If concussions happen in youth football at roughly half of the rate of the NFL, that's 75,000 brain injuries annually to boys (and a few girls) in elementary or middle school.
Research shows the accumulation of routine blows to the head can do as much brain harm as one spectacular knockout hit—which is especially dangerous for the young, whose brain cases are not finished developing. "Compared to adults, younger persons are at increased risk for traumatic brain injuries, with increased severity," the Centers for Disease Control has said.
If you think little guys don't hit hard enough to hurt each other's heads, think again. Virginia Tech researcher Stefan Duma put accelerometers into the helmets of the Auburn Eagles, a youth team—ages 7 and 8—in a town near campus. He found the typical player sustained 107 head impacts per season, most in practice. (Audiences see games; the majority of hits occur during drills and scrimmages.) Acceleration for the median hit equated to 15 times the force of gravity. Duma's tykes recorded 38 impacts of at least 40 "gees" and six impacts of 80 times the force of gravity, which is 95th percentile for NCAA football contact.
In a society increasingly education-based, having millions of boys smashing each other's heads from a very young age on—wearing helmets that were designed for adults and weigh more than helmets designed for children would—just cannot be good.
There are potential reforms for all the social problems caused by football. Public subsidies to the NFL can end. Today, there are huge rewards for victory, no penalties of any kind for failure to educate—so football-factory college programs could be given incentives to ensure that their players graduate. NCAA scholarships could be reimagined so players receive extra semesters, after athletic eligibility ends, to fix their credits and get degrees. High school practice hours and contact hours could be restricted.
And the NFL could stop encouraging little kids to sign up for tackle—good for the league's fan base and equipment sales, bad for little kids - and only promote flag football, which is a lot of fun. Eli and Peyton Manning did not put on pads and helmets until age 13. Neither should anyone else. As president, Barack Obama now has said twice that if he had a son, he would not let that son play football. What about other people's sons?