How Masterpiece Stays Timeless
A new memoir by Rebecca Eaton, the executive producer of Downton Abbey and other Masterpiece classics, offers some insight into the series' enduring excellence.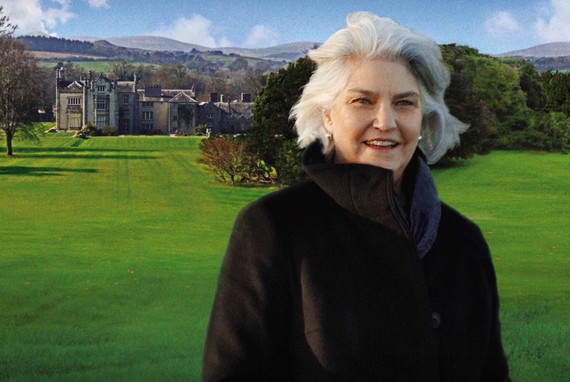 This weekend, as snow came down in Connecticut and I anticipated the start of Season Four of Downton Abbey, seemed the right time to read Rebecca Eaton's Making Masterpiece (Viking), her entertaining saga of guiding Masterpiece—which, with a nod to its British inflection and contributors, was long known as Masterpiece Theatre, and continues to be television's classiest and longest-running drama programming. After 28 years as the executive producer of the series, Eaton has delivered a memoir that is as full of twists of plot and characters as its scores of memorable adaptions from novels, biographies, and original narratives.
After a fellowship at the BBC in 1969, which was instrumental in shaping her deep appreciation of Britain's dramatic artistry, Eaton landed at Boston's public-broadcasting channel WGBH and was eventually recruited to Masterpiece, which was then funded by Mobil Oil. An early patron of the enterprise was Mobil's colorful public-relations chief, Herb Schmertz, whose goal was to associate the oil company with this special series, which he astutely understood would give "big petroleum" an aura of sophisticated benevolence.
From its opening program in 1971, The First Churchills, Masterpiece affirmed the lasting power of great storytelling that somehow fit the small screen. At the core of Making Masterpiece (and without an excess of self-regard) is Eaton and her colleagues' distinctive talent in selecting those stories and seeing that the ensembles of actors, writers, and directors maintain the standards that have made Masterpiece's programs a pillar of public broadcasting's place in American culture.
What makes Downton Abbey's popular appeal especially notable now, as Eaton's tale unfolds, is that over the decades, top-tier American television drama has evolved from an essentially unique Sunday evening of mainly British historical epics to a selection of dramatic series—consider The Sopranos, Breaking Bad, Homeland, Mad Men, and many others—without Masterpiece being downgraded into stately costume relics and miniscule followings. From its earliest days in the 1970s, Masterpiece (joined later by Masterpiece Mystery) benefited from a mixture of superb multi-part period pieces such as Upstairs, Downstairs, I Claudius, and The Jewel in the Crown to more contemporary series such as the gripping and cynical political drama House of Cards (adapted with considerable success to an ongoing Netflix version set in Washington and starring Kevin Spacey).
One of the most unusual Masterpiece triumphs beginning in the early 1990s were the seven installments of Prime Suspect, starring Helen Mirren as the rivetingly complex police detective Jane Tennison—Eaton describes her as "tough but tenderhearted." Eaton acknowledges that she almost turned down the program for being "too much like an American cop show to be of interest to our audience." But Henry Becton, Eaton's mentor and later a president of WGBH, "happened to read the script," she writes, "and saved me from myself: 'Rebecca are you sure you want to turn this down?' … Even Mobil liked Prime Suspect. What could I have been thinking?"
Eaton's right choices over the years greatly outnumbered her oversights—but she did have a few of the latter. She passed on Pride and Prejudice with Colin Firth, on the unfortunate grounds that Masterpiece had already aired a version years before. It was a hit on A&E. She also decided against My Left Foot with Daniel-Day Lewis (as the poet-painter Christy Brown), which became a Miramax film that won him an Oscar.
Even Downton Abbey was nearly a miss. In 2009 Eaton, was approached by ITV, but her initial reaction was that the series was too much like Upstairs, Downstairs, which was being readied for a new version, so she declined. HBO said no, and so did every other American commercial channel that was approached. In 2010, Eaton writes that she learned that the revered Maggie Smith had been cast as the Dowager Countess Grantham. "I suddenly realized that my reasoning about two up/down stories being one too many was very wrong indeed. I quickly called Gareth [Neame, the producer] to see if he'd found an American co-producer. Miraculously he had not … so in very short order, Gareth and I did the deal … It was to become the most watched drama in PBS history."
A book about a television series, even one with a pedigree as honored as Masterpiece, would hardly qualify as an assured splendid read, but virtually every chapter of Making Masterpiece tells an engaging story. Even the program's early hosts are deployed as characters in defining the tone that viewers found so appealing. There's a wonderful portrait of Alastair Cooke, the great British-born journalist whose role as host of the program in the 1970s and 1980s added to its luster. "He always said he only had two rules for broadcasting," Eaton writes, "no makeup and no teleprompter." He memorized every word and virtually never made a mistake. Next came Russell Baker, the incomparable New York Times columnist whose low-key charisma gave each introduction special panache. He retired in 2004.
Do these and other illustrious names from the program's past signify that Masterpiece, despite the runaway hit that Downton Abbey has become, will inevitably lose its cachet for audiences accustomed to today's flashier styles and grittier themes?
Eaton's view is persuasively optimistic:
I think the digital age has given quill pen Masterpiece an extraordinary lucky break. Time-shifting and on-demand viewing fit our viewers like a glove. You can watch on your own sweet time, just as you might read the novels on which so many of the programs are based. . . . The stories are timeless, and you'll never fall behind. You can build a library with them, or clean them out with the click of a button.
Taken in its entirety for more than 40 years on the air, Masterpiece deserves the name it was given at the outset.