2014: The Year TV Starts Atoning for Its Lack of Diversity?
Saturday Night Live and Looking offer reasons to be tentatively optimistic.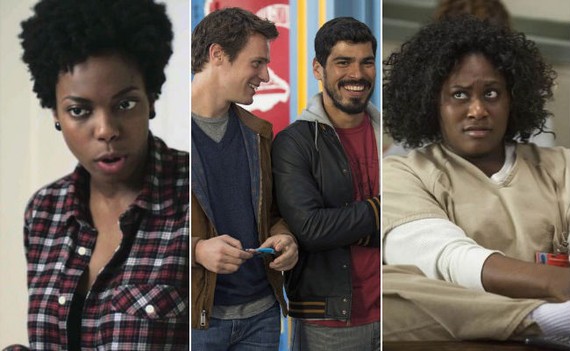 2013 was a great year for television. So great, in fact, that many critics' best-of-the-year lists offered some especially enthusiastic and superlative praise. "One of the best years for TV in a long time," Time magazine noted. "One of the best years in TV history," the A.V. Club echoed a few weeks later.
But 2013's stellar offerings didn't come without their share of problems. Conversations about TV from the past calendar year raised questions about the character diversity and representations of minority groups. Why does Mindy Kaling only date white guys in The Mindy Project? Will Girls get over its race problem? Can Doctor Who overcome its disappointing whiteness and maleness? Given the success of Scandal and Grey's Anatomy, why don't more showrunners take cues from Shonda Rhimes and make diversity a priority? How can portrayals of bisexual people improve if television doesn't even get female friendships right? Why is Orange Is the New Black the gold standard for TV diversity when even it could do so much better?
Some might minimize these complaints as the work of the PC police or rabid Tumblr social-justice warriors, but these questions matter. Seeing your lifestyle or identity represented on a television screen is validating, and it's easy to take that validation for granted if you're used to seeing people like you on every channel at every hour. When it doesn't happen, the message is clear: You're not important enough to have your stories told. Your identity—as a racial or ethnic minority, as a queer person, as a woman—isn't important enough to bother with getting it right.
So here's an optimistic prediction for 2014: After a year that saw a lot of rightful objections to the types of characters depicted on television, the coming year could bring some corrective signs of progress.
If ever there were an auspicious sign to kick off a new, yearlong campaign to improve minority visibility on TV, Saturday Night Live would be it. In the past few weeks, its hired a number of black female comedians: Sasheer Zamata joins the cast, while LaKendra Tookes and Leslie Jones are coming to the writers' room.
It was just last October that longtime cast member Kenan Thompson told TV Guide SNL didn't have any new black women on its cast because the show "never find[s] ones that are ready." (The last black female castmember, Maya Rudolph, left the show in 2007.) Thompson was quickly criticized as suggestions rolled in. SNL proved it was paying attention when Scandal's Kerry Washington came to host. The episode's cold open, which featured Washington running off and on stage scrambling to play the likes of Michelle Obama and Oprah, included this humorous but welcome apology:
The producers at Saturday Night Live would like to apologize to Kerry Washington for the number of black women she will be asked to play. We make these requests because Ms. Washington is an actress of considerable range and talent—and also because SNL does not currently have a black woman on the cast. Mostly the latter. We agree this is not an ideal situation and look forward to rectifying it in the near future, unless, of course, we fall in love with another white guy first.
A few weeks later, SNL held a special audition for a number of black female comedians, and not long after, it announced Upright Citizens Brigade alumna Zamata would be joining the cast in early 2014. Zamata's Internet presence suggests she's a bona fide talent—but the timing and spectacle surrounding the hiring process suggested to some that SNL was more eager to get out of critics' glare than to actually shake things up. Weeks before that audition, comedian Kerry Coddett—who was later invited to try out herself—wrote here at The Atlantic that the real problem with the show wasn't the cast itself, but the roles black women were given by a predominantly white writing staff.
"The Kerry Washington episode, and the show's long history, suggests that Saturday Night Live just doesn't know what to do with black women," Coddett wrote. "The roles it offers to them fall in line with much of the rest of popular media: stereotypical, demeaning, and scarce.
But SNL seemed to be aware of this, too, when it was later revealed that the show had also hired Tookes and Jones—who also participated in the same audition process as Zamata—to join the writing staff. A few new hires won't undo SNL's race problem, but their additions suggest SNL is taking some necessary steps to fix where its record falls short.
NBC isn't the only network that appears to have actively learned from the past. Looking, HBO's new show about gay men in San Francisco that gets called the "gay Girls" for no other reason than it shares a network with Lena Dunham's project and features young-ish people navigating a city as well as their awkward relationships, premieres next week. When HBO offered a first look at the show in November, writers pounced on its presumed whiteness—even though there were only 40 dialogue-free seconds to go by. In an article for the Huffington Post, Justin Huang wrote:
The most egregious thing about this, the thing that pisses me off the most, the slap in the face is that Looking is supposed to take place in 'San Francisco.' If the recent teaser and the main cast properly represent what the show is going to look like, then it definitely isn't the San Francisco that I know and love…

Shame on you, HBO. Did you learn nothing from the Girls race debacle? It's like you're willfully intent on being exclusionary and offensive. Is this a new publicity tactic? I guess it works. How meta of us.
The complaint might have been premature. A few of the main characters are in fact white, but critics who have spent more time with show say it does succeed in portraying the real-life San Francisco Huang is looking to see reflected back. In her preview of the show for Think Progress, Alyssa Rosenberg wrote:
Looking has clearly learned from the reaction to Girls. The show reflects the Bay Area's diversity, it's got sharp class politics, and as Patrick, a video game programmer hoping for a committed relationship, Jonathan Groff has never been more appealing.
Girls, for that matter, seems to still be trying to learn from its own lessons as it moves into its third season. The show's lack of racial diversity was a big talking point surrounding its first and even second seasons, a criticism Lena Dunham said she took to heart when she cast Community's Donald Glover as a second-season love interest. In a nod toward her critics, the guest-star plot ended with a cringe-inducing yet self-aware conversation about race between Dunham's and Glover's characters, but it also missed the point in some ways.
Judy Berman wrote for The Atlantic that Girls was never going to get over its own race problem as long as Dunham and company cast minority characters in roles that were completely defined by their race. Though Berman notes that white writers simply trying harder to write better characters of color is never going to be enough, Girls hasn't given up on self-improvement: The Daily Show's Jessica Williams and Orange Is the New Black's Danielle Brooks are guest-starring in the show's third season, which premiered Sunday, and though only Brooks's character has appeared on the show thus far, the additions feel thoughtful but not disappointingly reactive.
Speaking of Orange Is the New Black, the Netflix original series about a college-educated yuppie's time in prison for decade-old drug crime was one of last year's television breakout stories. (The series returns for a second season in 2014.) Debuting the same year as House of Cards, Netflix's other big original series, Orange is the New Black was heralded as another sign of the binge-watching, instant-streaming, TV-on-demand revolution. But it also earned praise—perhaps excessive praise—for featuring a cast full of women of color (including transgender actress Laverne Cox) who played characters with a range of sexualities. Creator Jenji Kohan, who previously helmed the drug-dealing dark comedy Weeds, has often talked about the show's central character, Piper Chapman (Taylor schilling) as the necessary white ingredient in creating a show about the types of characters not often seen on TV. As Kohan told NPR:
In a lot of ways Piper was my Trojan Horse. You're not going to go into a network and sell a show on really fascinating tales of black women, and Latina women, and old women and criminals. But if you take this white girl, this sort of fish out of water, and you follow her in, you can then expand your world and tell all of those other stories. But it's a hard sell to just go in and try to sell those stories initially. The girl next door, the cool blonde, is a very easy access point, and it's relatable for a lot of audiences and a lot of networks looking for a certain demographic. It's useful.
Will Orange's success mean we'll start seeing more leading characters of color on TV? It's not out of the question, considering how sometimes a successful underdog franchise is all it takes to convince executives that smart and funny stories about minority characters or women deserve extra consideration. Take Bridesmaids, for example: One of the more fascinating tidbits from New York magazine's 2012 profile of Mindy Kaling was how much Bridesmaids played a role in getting Kaling's show The Mindy Project a spot in the primetime lineup. As Jada Yuan writes:
When I asked Reilly why he'd given Mindy the network's best prime-time slot for a new comedy, after last year's breakout New Girl, he invoked the B-word. Yes, Bridesmaids (and the C-word: "crossover" potential), explaining that he thought their dynamic hour could re-create the magic of Kristen Wiig's movie by appealing to both sexes.
There are differences in how Bridesmaids and Orange could affect the TV market, of course: Bridesmaids was a major motion picture that grossed more than $288 million and had names like Kristen Wiig and Maya Rudolph attached. Orange Is the New Black was a relative guinea pig in Netflix's original-content experiment. (If you're willing to speculate, there is a show that seem like it could be spiritual successor: In December, Parks and Recreation star Rashida Jones sold HBO a dark comedy called Claws about a nail salon; the majority of American nail-salon employees are women of color.)
Considering the accolades Orange has received (and its healthy viewership numbers), perhaps 2014 will be the year we see a similar Bridesmaids-esque ripple effect. If 2014 is going to be a good year for television checking its prejudices, let's hope more shows like it will get the green light.