Girls, Greeks, the Golden Globes: The Week's Best Pop-Culture Writing
The most intriguing articles about entertainment we've come across in the past seven days
---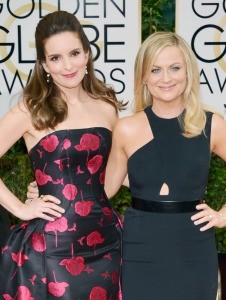 It's not just that Smith misses the point when it comes to the hosts; his befuddlement at the rest of the evening's "strange, mainly feminine" energy lays bare the ugliness of his worldview. Aside from implicitly regarding the femininity of the night as a negative, it doesn't take much in the way of interpretation to figure out that this is someone who has real problems with women — from his objection to the misunderstood premise of Poehler's Masters gag ("it isn't challenging for a woman to find someone willing to sleep with her," Smith bleats, a bit of throwaway frustration that calls for a good six months of psychiatric unpacking) to his jarring characterization of Cate Blanchett as a "tautly wound control freak" (presumably a judgment borne out of all the time they've spent hanging out) to, best of all, his insistence that "Only reigning dude Matthew McConaughey saved the evening." Yes, that's right, only the man's man whose wife calls him "my king" rescued the night from all those pesky girl-cooties.

In passages like that, Smith's anxiety broaches the windmill-tilting of the "men's rights movement"; it's even clearer in his parenthetical "retort" to the jokes about roles for aging actresses: "Hey, tell Bruce (Dern) how easy it is for old men to find work." Tell ya what, Kyle, why don't you ask Bruce himself: he's been doing several pictures and TV shows, year in and year out, since about 2006. Or ask Jack Nicholson, or Robert De Niro, or Al Pacino, or Dustin Hoffman, or Michael Caine, or Morgan Freeman, or Robert Redford, or Michael Douglas, or Robert Duvall, or Anthony Hopkins, or Tommy Lee Jones, or Ian McKellan, or Christopher Walken, or… well, you get the picture.
---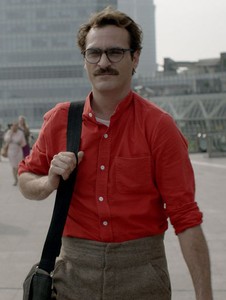 Her is consistently described as being set in the near future, a purposefully vague phrase that, in another movie, might have resulted in pointy shoulders or high-tech bodysuits. But Casey Storm, Her's costume designer, has created a near-future fashion that reflects how real fashion trends work: Instead of speculating on the future, Storm simply looks back in time.

Recent decades have seen retro revivals from the '70s, '80s, and even the '90s. In Her's world, current fashion is an agglomeration of trends from decades gone by, like mustaches from the '70s and '80s, and high-waisted pants that evoke a Depression-era aesthetic. We've seen these trends before, just not all at once. And apparently in the future, nobody will wear jeans, and everyone's pants will stay put without the help of belts or suspenders.
---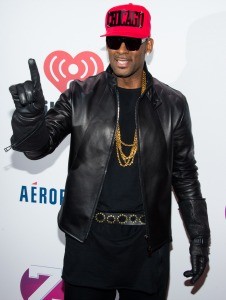 During my tenure as pop music critic at the Chicago Sun-Times, I covered Kelly's rise from busking on subway platforms and singing at backyard barbecues to becoming one of the dominant voices in r&b, selling more than 54 million albums in a three-decade career. It was a great story—pure "I Believe I Can Fly"—but there was a dark side. "Chicago singer and songwriter R. Kelly used his position of fame and influence as a pop superstar to meet girls as young as 15 and have sex with them, according to court records and interviews," I first wrote in December 2000.

Many more stories followed, none more dramatic or troubling than the report published in February 2002 revealing the existence of a 26-minute, 39-second videotape anonymously dropped in my home mailbox. Shot in the basement "playroom" of a house that Kelly owned in Chicago's Lakeview neighborhood, the video depicts a man resembling Kelly and a girl the Sun-Times identified (but never named) as having been 14 or 15 at the time. She is ordered to call the man "daddy"; she follows his directions to strike various poses and to open wide as he urinates in her mouth, and she's ordered to assume different positions as the two have sex. Four months later, the video resulted in the singer being indicted by the state of Illinois on 21 counts of making child pornography.
---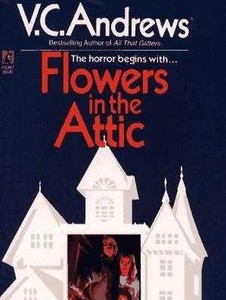 V.C. Andrews became a phenomenon upon the 1979 release of the gothic incest classic Flowers in the Attic, which has endured as a nostalgia-fueled oddity: Lifetime's TV movie version of it — starring Heather Graham, Ellen Burstyn, Kiernan Shipka, and Mason Dye — premieres Saturday night. As opposed to the dreadful 1987 feature film — with Louise Fletcher, Victoria Tennant, and Kristy Swanson — it is faithful to the book. (Among other things, it includes the sexual brother–sister relationship, which the previous version excised.) The groundswell of excitement for the Lifetime movie has been so great that the channel announced last week that it's already developing the sequel, Petals on the Wind.

In 2014, we're used to young adult books being a big part of mainstream culture. Since the first Twilight movie exploded in 2008, it's been boom times for YA book-to-screen franchises;The Hunger Games: Catching Fire was the top-grossing movie of last year. But it wasn't always like this: Flowers in the Attic's crossover from teen-to-adult zeitgeist was unique, and created the template for the young adult blockbuster. "This was certainly the Twilight and Hunger Games of our time, for my generation," said 46-year-old Rob Sharenow, Lifetime's executive vice president and general manager. "I can't think of another book series that had that grip on people."
---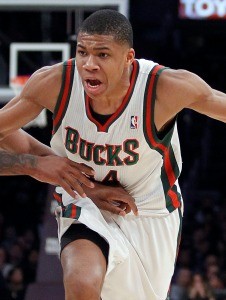 Unless you are a big Milwaukee Bucks fan or a basketball nerd who lives on the internet, it's very likely that you have not yet been properly introduced to Giannis Antetokounmpo. It's time for that to change, because he is the most exciting rookie in the NBA.

Who?

Giannis Antetokounmpo, the 6-foot-9 small forward who hails from Greece and is currently playing through his rookie season on a miserable Milwaukee Bucks team. He's—

No, I know. What I'm asking is how the hell are you supposed to say that name?

Oh, right. It's actually not that hard to pronounce—it sounds almost exactly like it's spelled—but you need to take your time and say it slowly, unlike these people.
---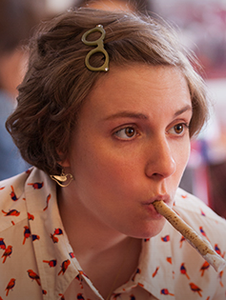 Since 2001, The New York Times has published over 300 articles mentioning Dunham, about 99 percent of which have been written in the past four years. And, except for the early days, right when Tiny Furniture became a thing and Girls screeners became zeitgeist incarnate, she's hardly ever the subject matter. Any story with a wisp of beard, a hint of first-person, a fragrance of futon, will surely mention Girls or the mind the show sprung from before it reaches its kicker. On a Sunday bare of Brooklyn, a Styles section stringer will rush to Bushwick to profile one of Lena's friends—even if they've already received the Grey Lady treatment before. It's not just the Times, though; other Manhattan-locked publications are guilty of lazily using a single atypical person as the synecdoche for a whole generation. But the reigningNew York Times columnists and writers do seem especially susceptible to crushing on their subjects—see Gail Collins and her series on well-aerated pets.

If you're looking for ammunition for your essays on nepotism, bad sex, being a millennial, having feelings, being friends with Claire Danes, or the implications of hosting Satan in a private school-educated artsy femonster who hates pants, you might try this instead.11. Also, if you are still party to the school of thought that congregates at bars and issues ragey screeds en masse about how Kathryn Bigelow condones torture, how Martin Scorsese thinks Americans can recession-proof themselves if they also proof their minds in Quaaludes, and how Lena Dunham's chief aim in life is to break Brooklyn away from New York City via a tectonic shift-causing twerk flash mob, you should perhaps give up watching TV and movies. The only thing you'll find here is definitive proof of how excessive (and insipid) New York's flavor of Lena Dunham worship has been ... and how they always seem to ask uninteresting questions. If you're going to talk aboutGirls all the time, at least cover new ground. The links below chronicle the abridged timeline of the media's thinking "Lena Dunham!" after every single round of word association.
---
Fortunately, while Laura Jane Grace's story is far from resolved, this chapter ends happily: Transgender Dysphoria Blues isn't only the best record Against Me! has ever made, it is one of the more extraordinary rock records of this decade. Whether Grace's stiff cocktail of primal scream therapy and slicked-up guitar hooks moves you is a matter of subjective opinion; that Transgender Dysphoria Blues is utterly unlike any other album currently brushing up against the mainstream pop world is indisputable fact.

***

Blues represents the most successful execution of a musical formula that Against Me! has honed over the course of six albums. Lyrically, it's a brutal self-interrogation of Grace's fears and weaknesses. It quakes with anxiety and vengeful rage. Like all Against Me! records, it purges all the bile that occupied Grace's headspace when she was writing the songs, only this time it's even heavier and more unsparing. References to depression and suicidal impulses — some but not all of which stemmed from Grace's gender dysphoria — populate the record. "Yet to be born, you're already dead / You sleep with a gun beside you in bed / Follow it through to the obvious end / Slit your veins wide open, you bleed it out," Grace sings in "True Trans Soul Rebel," and that's arguably the album's shiniest pop tune.