The NFL's Been Okay With Gay Players for 20 Years? Yeah Right
Former Houston Oilers players says the 1993 roster was okay with two suspected gay teammates, but their comments aren't as supportive as they've been made to seem.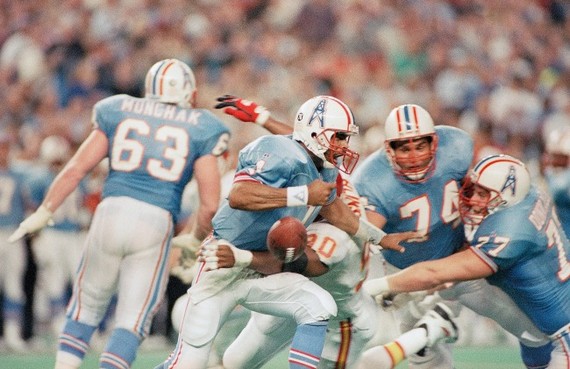 The Houston Chronicle ran a 9,000-word oral history of the 1993 Houston Oilers last week, and comments from former players Lamar Lathon and Bubba McDowell regarding gay teammates, a tiny part of the story, garnered the most attention from national media.
From the Chronicle:
McDowell: "Everybody knew certain guys [were gay]. … Everybody speculated and people used to see these two guys come in by themselves. They'd leave at lunchtime and then come back. … And those same gentlemen that was being accused of it, we was with them all of the time. The whole time."

Lathon: "… Everybody in the locker room, the consensus knew or had an idea that things were not exactly right. But guess what? When they strapped the pads on and got on the field, man, we were going to war with these guys because they were unbelievable."
As more and more retired athletes have come out in recent years, homosexuality and spots has become a high-profile topic lately. Since this story surfaced, Lathon's and McDowell's comments have been cited as support for the idea that NFL might be ready for openly gay players. Yahoo! Sports, for example, led its coverage by saying "The topic of whether a gay player would be accepted in a NFL locker room is probably overblown. Players like teammates who can help them win. The rest is trivial."
While that seems to be the general takeaway from the Chronicle piece, some have treated it as a evidence that locker rooms have been reasonably friendly environments for gay players for two decades. The New York Daily News opened its story, "The question of whether the NFL is ready for a gay player was already answered 20 years ago."
But there's a difference between tolerance and support, and while Lathon and McDowell say that nobody on the team had a problem with their teammates' sexual orientation, their words are not exactly those of glowing acceptance. The language used—vague comments alluding to catching them in the proverbial closet during hotel stays and lunch breaks, and most of the team knowing "things were not exactly right"—tells a different story, one where homosexuality was kind of, sort of, but not exactly, okay. It sounds like being gay was only excusable because it was kept somewhat secret and because those guys were beasts on the field.
Being that Lathon and McDowell are the only players quoted, we don't really get a full picture of what happened. Twenty years later the two players at issue still remain unnamed and unheard from. We don't know why they have chosen to remain silent, and whether they really felt comfortable with how their teammates treated them. Still, if the comments are true—that generally no big issues arose from having (somewhat closeted) gay players in the locker room, it could shed light on what it might be like for the first active player who decides to come out.
But the comments from another member of that 1993 Oilers team offers a different vision of what life might have been like for a gay player in the '90s, and by extension, what it could look like today. For years, Ernest Givins, a two-time Pro-Bowl receiver, was accused of being gay. He denied those accusations in a 1998 interview with ESPN, saying, "If they say, I found Earnest Givins driving at 140 miles an hour, get pulled over with cocaine in his car, or whatever the case may be, that's nothing. … we see that and hear that every day with athletes. But when you start stereotyping athletes, start putting that gay thing on them, that hurts more than anything. That hurts more than anything."
Givins, who didn't comment on the revelations in the Chronicle story, also has said he was taunted and accused of hitting on young athletes. Regardless of whether he was one of the athletes McDowell and Lathon were talking about, he painted a much bleaker picture of what it was like to be a (actual or imagined) gay football player at the time: Being a criminal and putting lives at risk was more acceptable than loving another man.
So Lathon's and McDowell's comments aren't proof that the NFL has been ready for gay players for 20 years. They're, at best, just another reminder of how far the NFL, and professional sports in general, still has to go when it comes to accepting gay athletes.
Sports was always slightly ahead of the times when it came to social progress, and in many ways has been a platform for men and women to break racial and cultural barriers before those barriers were broken in wider society. But, at a time when 18 states have legalized gay marriage, and when we have openly gay teachers, corporate CEOs, and politicians, sports is, perhaps for the first time, behind the rest of the culture in the move towards openness and acceptance.
Not one of the four major US sports has an openly gay athlete currently playing. Several athletes have come out after retiring, and at the end of the 2012 NBA veteran Jason Collins became the first active player in the four major sports to come out. Reception was generally positive, but he has not signed with a team this season and likely will never play again due to his age.
In April, former linebacker Brendon Ayanbadejo said he was working to get four current players to come out, but so far there has still been no follow up. Perhaps that's because vocally supportive (former) players like Ayanbadejo, Scott Fujita, and Chris Kluwe are the exception, not the rule.
Rumors swirled before the season free agent safety Kerry Rhodes was going to be one of the players to come out after signing a shiny new contract. Rhodes, who denies he's gay, has inexplicably found himself out of the league, and it's hard to imagine it's because of lack of talent—he's one of the best in the game.
Back in February, San Francisco 49ers cornerback Chris Culliver was widely criticized for making homophobic comments, saying "ain't got no gay people on the team. They gotta get up outta here if they do. Can't be with that sweet stuff."
The criticism of Culliver points toward the league's movement away from its former reputation as a bastion of homophobia. But at the time of the comment, Ayanbadejo said he believes that about half of the NFL feels the same as Culliver. While his opinion cannot be considered a fact, the 10-year veteran and vocal LGBT activist has as a good of a gauge as anyone when it comes to the climate of an NFL locker room.
Culliver's "sweet stuff" comments show the root of the difficulty for gay athletes: Too many people are stuck on the ridiculous notion that toughness (or weakness) directly corresponds to sexual orientation. And in the game of warriors, a game in which players are expected to help their team, even in spite of their physical well being, there is no room for weakness.
We learned recently from the Richie Incognito episode just how obsessed with toughness the NFL is, and just how unfriendly it can be to players seen as weak. After reporting an incident of bullying in which Incognito called him "a half-nigger piece of shit" among other things, Miami Dolphins tackle Jonathan Martin became a pariah. It turns out some other players and coaches encouraged Incognito to "toughen up" a player who they believed needed it. For speaking up, Martin was rewarded with an onslaught of insults from players and fans around the league, and a leave of absence. He hasn't played a game since October, and it's unclear whether he'll ever take the field again.
So in a sport considered to be America's apex of manliness, where masculinity can be seen as directly correlated with sexual orientation, it's not surprising that gay players remain reluctant to speak up, especially when it could mean their job. "Things were not exactly right," was how Lathon phrased his suspicion that those two players back in '93 were gay, but he might as well have been talking about the league itself—then and now.