The Inevitable Boringness of a 'Personal' Britney Spears Album
The veteran pop star promised Britney Jean would be her most intimate, hands-on record yet—and that's exactly why it's so dull.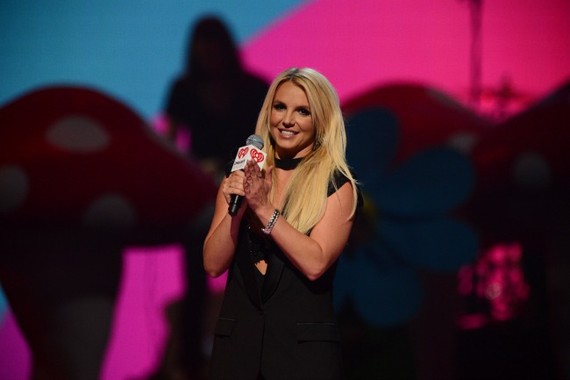 In her 2004 music video for "My Prerogative," Britney Spears issued this warning before crashing her speeding sports car into a fancy pool: "People can take everything away from you, but they can never take away your truth. The question is: Can you handle mine?" In 2013, on the eve of her eighth studio album, Britney Jean, the question is more like this: Do people even want her truth in the first place?
It's worth asking: For 15 years, Spears—a former Atlantic cover star—has been one of the country's (and the world's) most influential and reliable vessels for fun, flirty dance music. Spears's albums have also traditionally offered some commentary, meta or otherwise, about her life and career, and those PR-polished messages—and how they're sold to mass audiences—reveal much about music fans' relationship with celebrity. In the run-up to the album, due Tuesday and now streaming on iTunes, Spears and her team promised that Britney Jean would be her "most personal album ever." It looked like they meant it: In interviews, Spears said the songs were the equivalent of therapy following her breakup with fiancé Jason Trawick in January, and she's listed as a co-writer on every song.
While there was reason to be skeptical—Spears's most candid moments, like comeback documentary For the Record, are never really that candid—there was also reason to welcome the news. 2007's Blackout and 2011's Femme Fatale, among her career's best, were innovative, beat-heavy pop records that delivered cutting-edge EDM sounds and dabbled in dubstep before any of her peers did. But critics also noted that Spears often sounded robotically detached—a result of heavy vocal processing and Spears phoning it in—and there's only so many times she can sing about sexy encounters in the club before tedium ensues, on top of it becoming blatant fiction.
But now that Britney Jean is here, it's clear that a "personal" Spears album isn't at all what fans really want—or where she succeeds. It's her most disappointing release yet, a snoozefest of shallow mid-tempos and limp club tracks that chase trends rather than invent them. And the glimpses into Britney Jean Spears, the artist, are, frankly, neither interesting nor informative.
There's never been much evidence that Spears has much to offer as a songwriter. The last time she had as many writing credits as she does on Britney Jean was a decade ago on In the Zone, but for every "Everytime"—Spears's haunting, piano-ballad response to Justin Timberlake's "Cry Me a River"—there's "Someday (I Will Understand)," her forgettable pregnancy prophecy. (As we've also learned from Beyoncé, a pop performers having a songwriting credit doesn't necessarily mean much.)
But the problem with Spears's lyrical matter isn't her talent level, but her actual personal life, which, while once a riveting tabloid fixture, isn't exactly exciting stuff these days. She hangs with her young kids. She drives around. She bargain shops and makes frequent fast-food runs. Bradley Stern of MuuMuse has an interesting theory that Britney Jean is Spears's religious record, and news that Spears asked Sia to write a song called "Brightest Morning Star"—about how Jesus found his way—seem to confirm this.
After everything Spears has endured in the public eye, she's entitled to quiet domesticity with her children and the big man upstairs as much as anybody. But getting in touch with your spiritual side often doesn't make for great pop music—the cheese factor of bonus track "Brightest Morning Star"' distracts from the merits of its melody—and the same can be said for when Spears makes family life her inspiration. "Chillin' With You," a duet with younger sister (and newly countrified singer in her own right) Jamie Lynn, is a stay-at-home ladies' night number whose most personal detail is their wine preferences. (Britney drinks red; Jamie Lynn sips white.) Spears told Ryan Seacrest that she had a lot to say in the studio following her breakup, but the songs that seem to address the topic, such as "Don't Cry," don't feel remotely intimate. It's only on the Sia-penned second single, "Perfume," a fresh take on break-ups that manages to be genuinely affecting, and the Diplo-produced Katy Perry co-write, "Passenger," that Spears sings with any noticeable conviction.
The biggest fault with Spears's "personal" record—and why Britney Jean mostly falls so flat—is in her choice of producers. Black Eyed Peas frontman and human URL will.i.am takes the reins from Spears's usual team of Dr. Luke and Max Martin, a change Spears herself apparently requested. Longtime manager Larry Rudolph told Rolling Stone that Spears said, "I want Will to be a central figure in the album; I don't want to have hundreds of songs sent over." It's an odd choice—their previous track record is largely hit or miss—but perhaps his insistence on interview-style lunches to pick Spears's brain would pluck her out of her shell. Or maybe she made a safe choice because, as Spears explained in 2011, "I don't really have anything to prove at this point."
With the exception of lead single "Work Bitch," the partnership doesn't pay off. "Til Its Gone," opts for Rihanna-reject bass drops and a chorus that mistakes repetition for catchiness, while on "It Should Be Easy," Spears is Auto-Tuned into a parody of Top 40 radio that makes her sound like a guest on her own record. It's no secret that Spears's voice isn't one of pop's strongest, but corrective studio magic can be artfully applied: On Blackout, recorded in the middle of her public breakdown, it made sense to warp her voice on songs about blocking out personal trauma with pure hedonism. That disorienting disconnect is particularly effective on "Piece of Me," about the fuzzy lines between her personal life and public persona, and it makes subsequent moments of vulnerability in her catalog all the more striking. But on Britney Jean, even the grooving William Orbit-produced opener "Alien" at times stretches and manipulates her voice until she sounds like, well, an alien. Somehow, the harder it tries to be personal, the more Britney Jean pulls off the opposite.
It's fitting that Spears was a one-season judge on singing competition The X Factor, because the title of the show is really the only way to explain the career longevity she's had at this point. (This mild album, and the 32-year-old's impending Vegas residency suggest she may be winding down.) Even when she's half-heartedly going through the motions of her choreography or lip-syncing in "live" performances, the Spears fandom often operates on the assumption there's something she's holding back, and it clings furiously to evidence that supports this notion.
But as Britney Jean unfortunately suggests, a solid and successful Spears album isn't one where fans get "the real Britney." It's one where she sounds just human enough and just invested in her work enough to let fans project their fantasies of whatever "the real Britney" is: someone still hungry for creative control and agency, someone whose vocal idiosyncrasies bring out the best in producers, someone who isn't a total zombie. Britney Jean forces fans to confront the fact that the truth—her truth—is probably a disappointment.