The Exhausting Emotional Violence of August: Osage County
The film adaptation of Tracy Letts's award-winning dysfunctional-family play largely skips the "comedy" part of "dark comedy."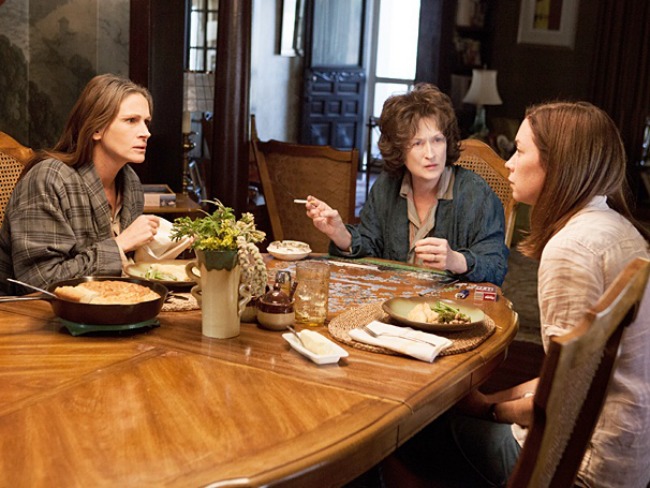 Earlier this year, when the film adaptation of Tracy Letts's dysfunctional-family stage drama August: Osage County premiered at the Toronto International Film Festival, Catherine Shepard wrote in The Guardian that the mean-spirited, pill-addicted matriarch Violet Weston (played by Meryl Streep) "rip[s] strips off the whole pack, sparing no prisoners … choking the air." This month, The Observer's Rex Reed assessed that whatever the film lacks, it makes up for in the scenes where Violet's family members "scratch, scream and fight back"—and in The Huffington Post, Marshall Fine wrote that "This particular family get-together is like one of those 'Royal Rumble' professional wrestling matches," and that "no one, it seems, is safe from attack."
There's a theme here. For a dialogue-heavy film with maybe 10 seconds of actual physical aggression, August: Osage County is a remarkably violent experience.
That's not a unique feature of the movie version, of course. As New York Times reviewer Charles Isherwood wrote in his 2007 review of the Broadway play, Violet "flays" the psyches of her family members; her "will to endure is inextricably tied up with the desire to fight and the need to wound," and she "can keep the blood in her own veins flowing only by drawing blood from others." But while Letts's play is billed as a "dark comedy," the film adaptation of his Pulitzer- and Tony-winning work goes skimpy on the comedy end of that phrase. In the hands of veteran TV director John Wells, Letts's story of a sprawling, unhappy family all gathered thrown into one crowded house to mourn their patriarch retains a few moments of cathartic humor, but could be more adequately called a lengthy, relentless assault of shrill tantrums and deep, shocking despair.
Violet's three adult daughters return to their hometown of Pawhuska, Oklahoma, when their father, Beverly—a retired poet and an alcoholic, played by Sam Shepard—goes missing and is found dead a few days later in a river, having committed suicide. Along for the ill-fated adventure are Violet's overbearing sister Mattie Fay (Margo Martindale), her husband Charlie (Chris Cooper), and their perpetually unemployed adult son Little Charles (Benedict Cumberbatch), whom Mattie Fay considers the family idiot (and the rest of the clan follows her lead). All three daughters show up to comfort their newly widowed mother with lies of omission at the ready: Sharp-tongued Barbara (Julia Roberts) has driven in from Colorado with her family, but she's recently separated from her husband Bill (Ewan McGregor), who's had an affair with a younger woman, and in her sullenness, she's rapidly driving both Bill and her moody teenage daughter Jean (Abigail Breslin) toward abandoning her. Dim, erratic Karen (Juliette Lewis) flies in from Miami with her slimy new fiancé Steve (Dermot Mulroney), who's even slimier than he appears—much slimier. And quiet Ivy (Masters of Sex's Julianne Nicholson) has a boyfriend, maybe for the first time in her life. But her unnamed lover, it turns out, is Little Charles—her cousin.
All these nasty truths—and more—bubble up and spew over in all sorts of excruciating ways. Old family secrets burst forth and new family scandals arise; there's adultery, there's incest, there's drug abuse, there's molestation. And in varying phases of her ever-present drug-induced haze, Violet finds ways to bluntly insult, abuse, accuse, or humiliate each relative individually until they've all abandoned her, one by one, in anger or in wounded disillusionment.
The performances are masterful: Mulroney is perfectly skin-crawling as Steve, Cumberbatch is heartbreaking as the kicked puppy Little Charles, and Nicholson's fiercely introverted Ivy may be the film's most intriguing character. The dependably excellent Cooper and Martindale do indeed deliver some excellent moments, particularly in their scenes of day-to-day husband-and-wife bickering. Misty Upham is a superbly subtle audience stand-in as Johnna, the unobtrusive live-in maid who watches wordlessly as the family implodes. And throughout, Juliette Lewis deftly demonstrates just how truly disgusting hopeful platitudes can seem to a grieving person.
"Well, you have to tip your cap to anyone who can stay married that long," Karen offers, with a perfectly cloying half-smile, to her sisters.
"Karen, he killed himself," Ivy replies flatly.
But in Wells's adaptation of August: Osage County very little of this plays out like comedy. Streep rages and deflates and rages again at full blast, and Roberts is spellbinding in one of the most bravely unpleasant roles of her career, but there's no winking quality to the horror; Barbara's (pyrrhic) victory cry of "I'm running things now!" rings with more campy melodrama than darkly funny dramatic irony. Private tragedies pile up without any nod or smirk toward the potential comedy in the setup question—How bad can things get?—and the punchline answer—Oh, just watch.
Instead, every time the film could be an inch kinder to its audience, it plunges a foot further into shockingly ugly cruelty. It's like the story Violet tells her daughters in a gentler moment between the four women: Her seemingly heartwarming tale begins with a pair of cowboy boots she desperately wanted for Christmas as a child, and it ends with the bitter recollection of opening a beautifully wrapped boot-sized box on Christmas morning only to find "a pair of boots, all right. Men's work boots, holes in the toes, chewed-up laces, caked in mud and dog shit. Lord, my momma laughed for days." By the time Ivy and Little Charles—the only two characters still blameless enough to deserve a relatively happy ending—receive the disturbing, climactic news that all but erases the plans they have for a future together, it's like a sucker-punch landing in a gut that's already been pummeled into numbness.
In 2009, theater reviewer Teresa Choate wrote that at Broadway performances of August: Osage County, "audience members' laughs and gasps, which punctuated the actors' line delivery, were in recognition of their own lives." But were you to recognize your own life in the film version of August: Osage County, it seems more likely that that realization would come with a thousand-yard stare.