The Best Movies of 2013
The Atlantic's film critic picks the top titles—and doles out some less-conventional awards.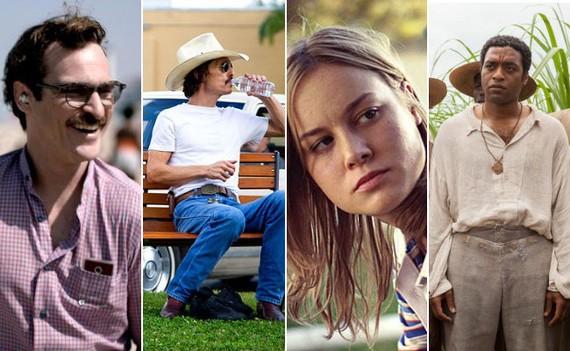 2013 was a tremendous year for film—the best, I think, since 2007 (No Country, There Will Be Blood, Juno, Zodiac, Assassination of Jesse James, etc.). The summer may have been a bummer, featuring such disappointments as Elysium and Pacific Rim, but since October it seems that nearly every week has brought a treat. As a result, I'm expanding my usual top ten list to a baker's dozen, with another 13 honorable mentions trailing behind. A few caveats: The order of the films on the list—and, in particular, that of the top two—changes in my mind on an hourly basis, so don't take it too much to heart. Also, for all the movies I saw this year, there were plenty more that I did not, including, alas, quite a few foreign films and documentaries. So if you notice omissions from the list, that is quite possibly the reason. And, as is customary, I've included a variety of more idiosyncratic awards after the main event. With that, let's get rolling.
1. Her
Subtle, moving, and immaculately constructed, Spike Jonze's latest may be the closest thing to Eternal Sunshine of the Spotless Mind since Eternal Sunshine itself.
2. 12 Years a Slave
An utter tour de force by director Steve McQueen, a beautiful and harrowing reminder of the power of cinema.
3. Short Term 12
A gem from director Destin Cretton, featuring one of the best performances of the year by Brie Larson.
4. The Wolf of Wall Street
Fast, funny, and remarkably filthy, Scorsese's new film is an irresistible display of cinematic technique, Goodfellas retold as farce.
5. Captain Phillips
Paul Greengrass's gripping account of the taking of a container ship by Somali pirates benefits from exceptional turns by old (Tom Hanks) and new (Barkhad Abdi) alike.
6. Gravity
Alfonso Cuaron's exercise in spatial geometry is the first film since Titanic that has seemed to me a genuine evolutionary leap in filmmaking technology (sorry, Avatar). Had the script been sharper, it would have been at or near the very top of the list.
7. All Is Lost
Writer/director J. C. Chandor (whose first feature, Margin Call, was among the best films of 2011) offers an object lesson in the virtue of understatement in this one-character drama featuring Robert Redford. If only Chandor had penned Gravity …
8. Dallas Buyers Club
Where has this Matthew McConaughey been hiding all these years, and what finally brought him to the surface? The erstwhile naked bongo drummer comes out of nowhere with one of the best—arguably the best—performance of the year.
9. American Hustle
How can a movie be so good, yet nonetheless be mildly disappointing? David O. Russell's cast shines in this delirious chronicle of the Abscam scandal, but the director occasionally loses his grip on the narrative thread.
10. Rush
Yet another of the year's mid-budget wonders: Ron Howard's direction dispenses with the usual blockbuster bells and whistles, and actor Daniel Bruehl (Inglourious Basterds) delivers a revelatory performance.
11. Enough Said
For all her Emmys and her decades of cultural ubiquity, Julia Louis-Dreyfuss is only now coming fully into her own. Under Nicole Holofcener's direction, she and James Gandolfini—playing a character truer to his real self than perhaps any other of his career—deliver the most touching romantic comedy of the year.
12. Inside Llewyn Davis
How is it that this film—a superior Coens project, if not quite an at-their-peak Coens project—is so low on the list? Can we put a few of this year's movies in the bank for next year? Also: Welcome to the big time, Oscar Isaac. You've earned it.
13. The Way, Way Back
Bold, innovative, unexpected? No, no, and no. But I couldn't leave this mid-summer charmer off the list. Come for Sam Rockwell, stay for Allison Janney, Steve Carell, Maya Rudolph …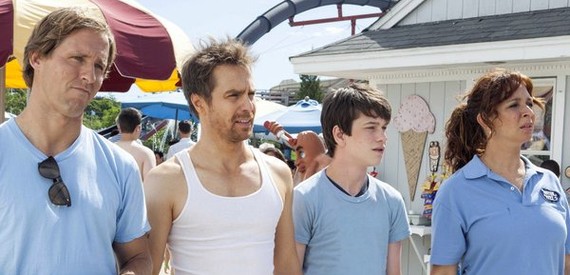 Honorable Mentions: Before Midnight, Frozen, Fruitvale Station, Mud, Nebraska, Philomena, The Place Beyond the Pines, Prisoners, Saving Mr. Banks, Side Effects, Stories We Tell, We Are What We Are, The World's End
And the rest...
Best Performance by a Voice With No Body: Scarlett Johansson, Her
Best Performance by a Body With (Almost) No Voice: Robert Redford, All Is Lost
Best Cameo: Channing Tatum as Danny McBride's sex slave in This Is the End
Runner-up: Chris Evans as Loki as Captain America in Thor: The Dark World
Best Romeo and Juliet Adaptation: Jonathan Levine's Warm Bodies
Worst Romeo and Juliet Adaptation: Julian Fellowes's Romeo and Juliet
The Rural Oklahoma Exoticism Award: August: Osage County
The Rural Nebraska Exoticism Award: Nebraska
The "It Would've Been Better With 50 Percent Less Dialogue" Award: Gravity
The "It Would've Been Better With 50 Percent Less Backstory" Award: Saving Mr. Banks
The "It Would've Been Better With 50 Percent Less Everything" Award: (tie) The Great Gatsby, The Hobbit: The Desolation of Smaug
Best Hairpieces: Christian Bale, American Hustle
Best Necklines: Amy Adams, American Hustle
Most Unnecessary Remake: Oldboy
The No, Not Every Holocaust Movie Gets Nominated for an Oscar Award: The Book Thief
The "Philip Seymour Hoffman Makes Any Movie Better" Award: The Hunger Games: Catching Fire
Worst Pixar Omen of the Year: Monsters University
Runner-Up: Finding Dory
The Avengers Award for Unnecessary Urban Mayhem: Man of Steel
Runner-up: Star Trek Into Darkness
The Ray Liotta Award for Best Portrayal of a Creepy, Corrupt Cop: Ray Liotta, The Place Beyond the Pines
Best Scene-Stealing Horse: Silver, The Lone Ranger
Best Scene-Stealing Snowman: Olaf, Frozen
Best Diagram of a Movie Plot Made by Someone in My Household: Broken City
Best Movie-Themed Birthday Cake Made by Someone in My Household: Percy Jackson: Sea of Monsters
Most Over-Directed Film: The Fifth Estate
Most Under-Directed Film (in a good way): All Is Lost
Most Under-Directed Film (in a bad way): Blue Jasmine
Best Title of a Movie That Grossed Less Than $500 Total: Triumph of the Wall
Worst Guillermo Del Toro Decision of the Year: Directing Pacific Rim
Best Guillermo Del Toro Decision of the Year: Not directing The Hobbit: The Desolation of Smaug
The Embarrassing Performance That Was Kind of Awesome Award: Stacy Keach singing "In the Ghetto" in Nebraska
The Embarrassing Performance That Was Merely Embarrassing Award: Jennifer Aniston stripping in We're the Millers
Best Water Park Manager: Sam Rockwell, The Way, Way Back
Worst Pool Manager: Bill Hader, The To Do List
Best Musical Segue: from Cole Porter's "Let's Misbehave" to Fats Waller's "Ain't Misbehavin'," The Great Gatsby
Best Deflation of the Adorable Kid Trope: Iron Man 3
Worst Hollywood Parenting: Will Smith, After Earth
Funniest Exchange About Quaaludes: The Wolf of Wall Street
Funniest Exchange About Cousin Marriage: The Wolf of Wall Street
Funniest Exchange About Pubic Hair: The Wolf of Wall Street
Funniest Exchange About Masturbation: This Is the End
Runner-Up: The Wolf of Wall Street
The Sudden Ubiquity Award: Benedict Cumberbatch (Star Trek Into Darkness, 12 Years a Slave, The Fifth Estate, August: Osage County, The Hobbit: The Desolation of Smaug)
The "Wow, I Can't Wait to See What He Does Next" Award: Matthew McConaughey (Mud, Dallas Buyers Club, The Wolf of Wall Street)
The "Yikes, I Fear What He Might Do Next" Award: Robert DeNiro (The Big Wedding, The Family, Killing Season, Last Vegas, Grudge Match)
Most Impressive Weight Gain: Christian Bale, American Hustle
Most Impressive Weight Loss: Matthew McConaughey, Dallas Buyers Club
Most Disappointing Big-Screen Foray by a Small-Screen Icon: Tina Fey, Admission
Least Persuasive Portrayal of a Historical Figure: John Cusack as Richard Nixon (The Butler)
Runner-up (tie): Robin Williams as Eisenhower, James Marsden as JFK, Liev Schreiber as LBJ, Alan Rickman as Reagan (The Butler)
The Blues Brothers Award for Vehicular Mayhem: Getaway
Best Movie About Typing: Populaire
Best Movie About Sniffing Scotch: The Angel's Share
Most Gruesome Gradual Strangulation: The experience of watching The Counselor
Runner-up: Brad Pitt actually being strangled in The Counselor
Least Time Travel-y Time Travel Movie: About Time
Best Case for Mandatory Action-Movie Retirement: RED 2
Runner-up: A Good Day to Die Hard
Most Disturbing Tongue: Jane Levy, Evil Dead
Most Disturbing Feet: James Gandolfini, Enough Said
Worst Imitation of a Danny Boyle Film: Fredrik Bond, Charlie Countryman
Strangest Imitation of a Danny Boyle Film: Danny Boyle, Trance
Worst Closing Shot: Josh Brolin grins (Oldboy)
Best Closing Shot: Jake Gyllenhaal hears a whistle (Prisoners)
Trends of the Year: Sex addiction (Don Jon, Thanks for Sharing), shipwrecks (Gravity, All Is Lost), the skin trade (Lovelace, The Look of Love), taking the White House hostage (Olympus Has Fallen, White House Down), the apocalypse as comedy (This Is the End, The World's End), slow cartoon protagonists who nonetheless win the big race (Turbo, Planes), likable character actors who are revealed to be villains in the final reel (Star Trek Into Darkness, White House Down, The Lone Ranger)