The Best Food Books of 2013
The top cookbooks and culinary histories of the year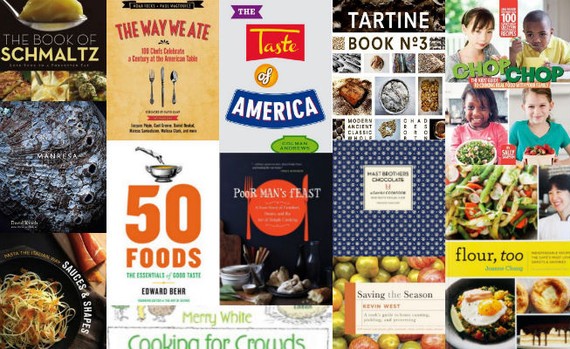 Forty years ago a young anthropology graduate student named Merry White published a book of recipes she'd used as in the catering jobs she worked to put herself through school. The book was accidental: A publisher saw the sheaf of recipes she'd left lying around, and commissioned a young artist he knew to do black-and-white drawings in the frizzy style that would be come a trademark when Ed Koren became one of The New Yorker's best-known contributors.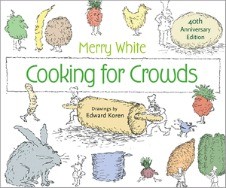 As a sign of the suitability of the match, White, known as Corky, came to resemble a Koren drawing (of a person, as opposed to the adorable frond-topped carrots and parsnips gathered round a feast table). And she went on to be a distinguished specialist in Japan, including as author of the marvelously interesting and recent Coffee Life in Japan (which I blurbed). Now Cooking for Crowds (Princeton University Press) has been reissued, and it's not just enormously charming but useful, full of sturdy recipes that can still seem mildly exotic no matter how much we flatter ourselves at the sophistication of our palates, each of them scaled for groups of six, 12, 20, or 50.
Yes, White was living in Cambridge, where as she points out in a new introduction most everyone had already lived somewhere else, and cosmopolitanism was assumed. But the extent of her adventurousness remains startling: substituting ground beef and pork, for instance, for the horsemeat she had used in Nepal when learning to make momos, meat-filled dumplings. Yes, we all have our own recipes now for spanakopita and salmon with dill. But do we all have an easy rabbit stew? Her recipes for chicken tandoori, for instance, are reliable without being dumbed down, and fermented watercress soup is right in line with today's fermentation mania. Others I want to try right away, like stuffed cabbage whose filling is miles away from my grandmother: chicken liver, chopped salt pork, ground pork, bacon fat, and plum tomatoes. This is more, that is, than an artifact of Brooklyn avant la lettre. It's full of practical dishes and tricks you'll call your own, like tossing fresh-roasted almonds in maple syrup to serve on ice cream.
***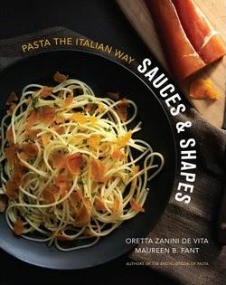 Every year brings its own Italy picture books, useful more for assembling travel wish lists than for actual cooking. This year exactly one was published that will stay in your kitchen and get sauce-stained. (Well, two: Lidia Bastianich published a book to go with a TV series, Lidia's Commonsense Italian Cooking, with her daughter, Tanya Bastianich Manuali; this is for very simple cooking, and like everything she writes completely usable.)
However unimaginatively titled, Sauces & Shapes: Pasta the Italian Way (WW Norton) is just what it says—exactly the way Italians cook pasta, with a particular emphasis on which shapes go with which sauces. That's the shtick, at least, and the discussion of the right shapes is imaginative and informative. But at heart this is an everyday cookbook full of quick, nutritious sauces that will make nearly instant dinners: tuna and porcini; chopped arugula and herbs with just olive oil and lemon juice; lemon peel steeped in cream; pasta baked with mozzarella and other cheeses you have on hand. The authors, collaborators on the previous Encyclopedia of Pasta, are as or more knowledgeable than anyone writing on Italian food: Oretta Zanini De Vita, an experienced and energetic historian and cook who has spent decades in libraries and traditional kitchens, and Maureen B. Fant, a longtime journalist, classicist, and writer on Italian food who gives food tours of Rome, where she has lived for thirty years.
Some recipes are complex, like the many ragus, including rabbit, for the ragu-obsessed (a growing number). There are soups and other categories of dishes that include pasta, and at the end a definitive guide to making our own pasta, with the kind of explicit line drawings that signify serious business. This is an authoritative guide for every pasta sauce you've heard of, reduced to its essentials the way an Italian cook would make it, informer by utterly Italian sensibilities (with an American's tell-me-again-how-that-works practicality). And you can at last silence arguments on the right way to make carbonara.
***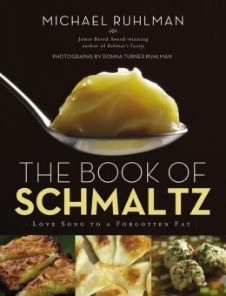 You don't have to be Jewish to be made very, very hungry by The Book of Schmaltz: Love Song to a Forgotten Fat (Little, Brown). The author, Michael Ruhlman, isn't. It took a non-Jew to give chicken fat the respect it deserves. Michael Ruhlman is an extremely accomplished food writer (collaborator of Thomas Keller, author of the invaluable Ratio) who believes as most food people do, that fat has a place of honor on every plate.
He recognizes a great fat when he tastes one, and also has a "terrific cook" for a Cleveland neighbor named Lois Baron, who like many assimilated Ashkenazic Jews in the Midwest didn't keep kosher but had schmaltz at many meals. (Startlingly, as is not mentioned here, in today's Eastern Europe "schmaltz" almost universally means pork fat.)
From her he learned the basics of rendering skin with onion to make schmaltz, how to make gribenes, or cracklings. Using her recipes and his own cooking smarts, he came up with perfected classics like matzoh ball soup, chopped liver, kugel, and potato knishes (graduate level even for most Jews; and you know he isn't Jewish by his pronouncement that "I find kasha appalling"). He goes a level further with a terrine of pate de foie gras, dumplings made with piped cream-puff dough, oatmeal cookies with dried cherries (yes), and, in one of the few not-even-possibly-kosher recipes, scones with roasted red pepper and Parmigiano-Reggiano. I admit to my own Rodney Dangerfield moment seeing a small, elegant book with beautiful color pictures (by Donna Turner Ruhlman; the book started as an iPad app the couple published) devoted to a humble staple of my childhood kitchen.
***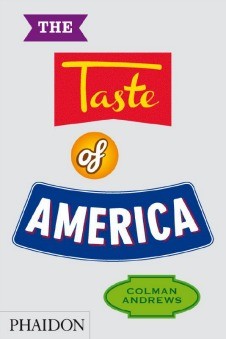 The Taste of America (Phaidon), a hardcover book with a shiny silver cover is presented as a kind of fancy catalogue, with colored drawings of Colman Andrews's favorite American regional foods that "most vividly express the way we eat."
The reason it deserves the hard covers is that even after the brands vanish, the information that Andrews, one of the most prolific and skilled writers on food in this or any country, has collected on foods like Missouri black walnuts, and how those industries got started, will stay valid and absorbing. There are history nuggets on the origins of the corn-chip biz and the difference between two Macadams for whom nuts and paving asphalt were named (the paving man, a Scottish surveyor, predates the Scottish-born Australian chemist and politician in whose honor the nut was named by 71 years).
On every page there are also specific product recommendations for purveyors you'll probably know (Kossar bialys, Cafe du Monde beignets) but also new ones you'll want to try, like Hudson Cream flour, from Kansas (the country's best, his colleagues at Saveur, which he used to edit, told him), Callie's Country Ham biscuits, local albacore tuna canned with a bit of salt and no liquid from Eureka, California, and Potter's graham crackers, made by a food-science student at the University of Wisconsin Madison whose mother owned a bakery nearby. And he makes you remember under-publicized US treasures, like Texas ruby red grapefruit.
In fact the book could be a source guide for your entire Christmas list, as well as for holiday-table arguments (the best pastrami isn't from New York but ... LA? The best golden russet apple is from Pennsylvania? No, it's the Roxbury russet in my front yard). The sources include the reigning standards like Nueske's bacon and Benton hams. Besides making tempting reading, this is an encouraging picture of surprisingly healthy American regional industry of the kind Jim and Deb Fallows are turning up in their great American Futures series.
***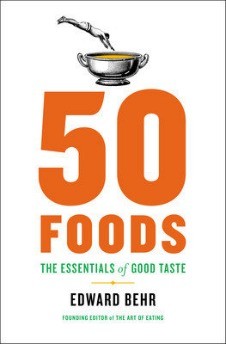 For more than 25 years, Edward Behr has championed simple, artisanal food, much of it discovered during explorations in France and Italy, in his newsletter and now magazine The Art of Eating. He's compiled his always-instructive essays in 50 Foods: The Essentials of Good Taste (Penguin Press), arranged alphabetically rather than by subject—a bit oddly, given that so many of the entries are on, say, cheese, a longtime passion, or bread, another. Each has something on buying and storing you can learn from, and an observation you might never have thought of but will make you nod in agreement: "Cooked, pears...aren't tart enough to complement meat in the way that an apple or a prune, say, complements pork"; "Compared with wheat bread, the taste of rye comes less from fermentation than from the quality of the grain itself."
***
Four books put into practice the simple cooking that underlies Behr's philosophy (50 Foods includes no recipes): One Good Dish (Artisan Books), really 100 recipes (to continue the numbered theme) by David Tanis, former chef of Chez Panisse and author of the New York Times' City Kitchen column, each of them showing an exquisitely attuned, but not precious, sensibility that draws from Provence, Spain, Italy, and California and keeps things manageable. Typical: "Nicoise salad on a roll," an Americanized version of the Provencal pan bagnat. If I could eat one cook's food every night, it would be Tanis's.
The Art of Simple Food II (Clarkson Potter) extends Alice Waters's Chez Panisse philosophy into the garden, an extremely natural step given that among her most lasting contributions to the culinary world—to the country, really—will be getting schoolchildren into the garden. There are plenty of recipes, of course, as in the first Art of Simple Food, but what distinguishes this book is understanding the interplay between garden and kitchen. It will have you imagining how to plant your front or back yard or your fire escape.
Joe Yonan really did live in a garden to write Eat Your Vegetables: Bold Recipes for the Single Cook (Ten Speed Press)—his sister and brother-in-law's Maine homestead. Yonan, food and travel editor of the Washington Post, found in writing a monthly column called Cooking for One (part of the title of his first book), that he and most people he knew were becoming vegetarian or vegan, so he got his hands dirty for months. There's nothing purist or overtly virtuous about his book, though: he loves Korean and Asian food and the Texas barbecue of his childhood, and draws on those and many other styles. The single portions and meatlessness are almost side aspects of a vibrant short book that will make you cook. And even, yes, massage your kale.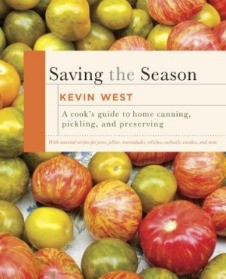 The next step after growing your own food is of course preserving it, and you've likely noted that restaurants everywhere serve pickled everything even in the height of growing season, to show they've gotten with the grow-your-own program. This still seems to be a step farther than even diehard farmers-market shoppers are willing to take. But maybe they'll be convinced by Kevin West's Saving the Season: A Cook's Guide to Home Canning, Pickling, and Preserving (Knopf)—as much by its stylishness (West is a former writer and editor for W, as well as having earned a certification as a Master Food Preserver by the University of California Cooperative Extension) and storytelling of the author's east Tennessee childhood. He brings in gardening history, 18th-century American painters (Raphaelle Peale), poems, and practical information; it's a rich book. And unlike other books on preserving, West gives recipes that will goad you to make easy preserves, for example an apricot crostata with a lard-butter dough, fresh apricots, and a spread of apricot butter made of just apricots, sugar, and lemon juice. But it's not all height of summer: You can start on the winter chapter, with grapefruit vodka, Seville orange marmalade (my own January activity, always using a different recipe—West's this time), and homemade gummi candy.
***
Each year also brings a crop of chef's books, almost uniformly useless in the home kitchen but worth looking at if the mind of the chef interests you. One exception is when a particularly talented editor works as interpreter for the home cook. So you know that The Gramercy Tavern Cookbook (Clarkson Potter), by Michael Anthony, will work, because Dorothy Kalins, founding editor of the US edition of Saveur, is listed as producer. Anthony's taste, like the New York City restaurant's, is for fairly homey, if beautifully presented, American food. Kalins also brings us another slice of America in John Besh's Cooking From the Heart (Andrews McMeel), a lavish and handsome picture book that's more or less a biography of where Besh, the charismatic former Marine and now TV personality, trained and traveled before establishing his several restaurants in New Orleans, particularly the German Black Forest and Provence. The new book reads like a long magazine or travel book with particularly appealing recipes.
Here are the three chef's minds you need to look into this year: Pickles, Pigs and Whiskey: Recipes From My Three Favorite Food Groups (and Then Some) (Andrews McMeel), by John Currence, who reinvents Southern food at his City Grocery, the culinary heart of Oxford, Mississippi, a place with plenty of heart. Currence, a native New Orleanian, knows the ingredients of the South, and so will use, say, Steen's cane syrup (which I wrote about after visiting a Louisiana plant) with pork belly braised in ham stock, or emblematic yellow cornmeal in chicken-skin cornbread.
Andy Ricker has spent nearly 20 years traveling in Thailand, and his Pok Pok, in Portland and now New York City, has become a cult. You'll see why in Pok Pok (written with J.J. Goode; Ten Speed Press), as rich and complex a guide to a rich and complex cuisine as I've seen, destined to join David Thompson's Thai Food as classic explanatory works in English. A few recipes, like stir-fried brussels sprouts with Thai fish sauce and soy sauce and chiles, garlic, are thinkable in home kitchens, but most are flavor-layered curries and soups  and noodle dishes so interesting you'll want to re-equip your pantry. And following his instructions you'll be able to: Ricker is careful to specify kitchen implements, mail-order sauces, provide a very clear guide to ingredients, and to admit what's (fairly) easy and what's really hard. He's a natural teacher.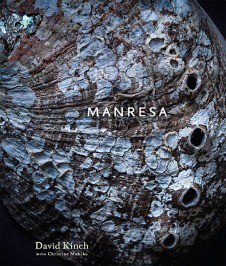 David Kinch is a chef's chef. At Manresa, his restaurant an hour south of San Francisco on the California coast, he serves beautiful and extremely sophisticated food informed by haute cuisine in Scandinavia and Europe (Michelin has for five years given him two stars) and made with produce from Love Apple, a farm the restaurant owns in partnership with a local lawyer-turned-farmer named Cynthia Sandberg (not Sheryl's sister). His recipes are almost exclusively for other chefs, but also fascinating (spot prawns with bone marrow and artichokes, creamy nasturtium rice with passion fruit and crab, and if you've wanted to make the edible soil on so many trendy menus at home, here's your source). In Manresa: An Edible Reflection (Ten Speed Press), written with Christine Muhlke, the executive editor of Bon Appetit, you'll see why his fellow chefs hold Kinch in almost unique regard. I can't help hoping every chef will take this to heart: "When it comes to inspiration beyond Love Apple, I don't turn to the Internet. Absorbing all of that content without actually tasting the food and experiencing the restaurant can pollute a chef's vision."
***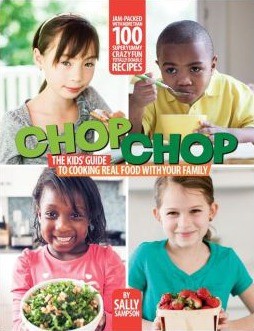 Cross all parents of young children off your gift list by buying them Chop Chop: The Kids' Guide to Cooking Real Food With Your Family (Simon & Schuster Paperbacks), the book version of an innovative nonprofit quarterly magazine created by Sally Sampson, one of the country's most skilled and experience cookbook writers. Sampson has solved a puzzle everyone talks about—how to make children and families cook—by being truly cross-cultural, practical, explicit, and never patronizing. Whether cheeseburgers, chili, gazpacho, homemade peanut butter, fajitas, or molasses cookies, these are recipes that will teach parents as well as children, and fill refrigerators for weeknight suppers.
***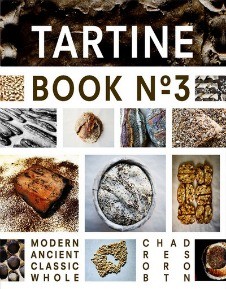 As with chef books, professional bakers' books are seldom of direct use in a home kitchen. Chad Robertson's Tartine Book No 3 (Chronicle) isn't really an exception. It's not for beginners. But Robertson might be the most admired bread baker in the country: Tartine, in the Mission district of San Francisco, has a line out the door pretty much every minute it's open (I'm proud to say I devoted a chapter to its original location in my Pleasures of Slow Food); Bar Tartine, its restaurant a few streets away, is a must stop for every food-lover. His cult has reached Sweden and Denmark, where he has spent time teaching and baking. His new book shows the influence of those trips, in sprouted- and fermented-grain and seeded breads, and breads using cold-climate grains like rye, oat, cracked corn, kamut, toasted groats, and millet, many of which will be of interest to those looking to reduce or eliminate their gluten consumption
The four locations of Flour, a bakery-cafe in Boston, also have constant lines, but this being Boston, with infinite winters, they don't go out the door. At first the restaurants were popular for the sunny personality of the owner, Joanne Chang, who was always there to welcome customers. Now she bikes and runs (literally—she does marathons) between the locations, but not everyone knows her, they just know how good the soups, salads, sandwiches, and mini-pizzas are, as well as the baked goods. In Flour, Too: Indispensable Recipes for the Cafe's Most Loved Sweets & Savories (Chronicle), Chang reveals the secrets of her egg sandwich (bake scrambled eggs and cut them into pieces, layering the squares with tomatoes, cheese, and bacon), curried tuna with apples and golden raisins (the sandwich I always have; now I see one of the reasons it's so good is lime, not lemon, juice and red, not white, onion), and "winter paper salad," with hazelnuts, fennel, apples, celery, and flat-leaf parsley, dressed with hazelnut oil, dijon, and champagne vinegar. There are holiday showpieces—croquembouche and buche de noel—but the dessert likely to become standard is bittersweet chocolate-espresso terrine, flourless and not great to look at but potent to eat, and one of her most popular desserts.
No season is complete without chocolate porn. This year Alice Medrich updated her 2003 classic Bitter Sweet with Seriously Bitter Sweet: The Ultimate Dessert Maker's Guide to Chocolate (Artisan), which lives up to its title. But for Brooklyn hip you'll need Mast Brothers Chocolate: A Family Cookbook (Little, Brown), by Rick and Michael Mast, craggy-featured, long-bearded brothers whose flair for handmade papers, purist bars, and simple recipes makes this a beautiful but approachable book. No recipes are complicated, and you'll want to try the spare sauces and truffles, even if the meringues and Boston cream pie will take some skill to achieve.
***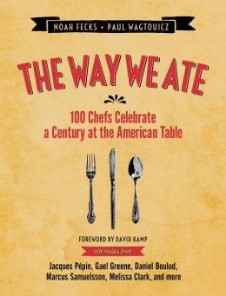 Auxiliary trip to Brooklyn hip: The Way We Ate: 100 Chefs Celebrate a Century at the American Table [Touchstone], by Noah Fecks and Paul Wagtouicz, two young, talented, sunglassed, long-bearded, and in-demand photographers whose Tumblr blog The Way We Ate created a sensation in the food world when they set out to reproduce recipes from every issue of Gourmet ever published. The book is organized around a theme or event of every year of the 20th century, which they invited in-group chefs to riff on with one recipe for a drink, dish, or dessert. "Organized" is a loose term here—this is an amiable mess of a book, but on every spread there's a terrific food picture.
***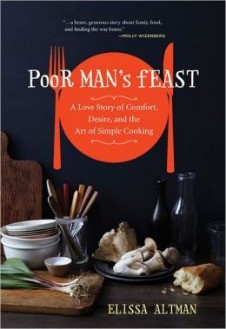 Not every year, a book features a voice you'll want to hear from again and again, by a writer with a beautiful, liquid, emotionally charged style. Fifteen years ago it was Ruth Reichl with Tender at the Bone; four years ago Tamar Adler with An Everlasting Meal; this year it is Elissa Altman, the writer of a James Beard award-winning blog of the same name as her book, Poor Man's Feast: A Love Story of Comfort, Desire, and the Art of Simple Cooking (Chronicle). Poor Man's Feast is the story of her Jewish upbringing in Forest Hills and the merging of cultures with her partner, Susan Turner, whose Polish Catholic family was very different from her own. As with those books, chapters conclude with recipes to express and punctuate particularly charged passages, like songs in a musical; because Altman is such a good cook, they're appealing as well as strategically placed (onion panade, a warming supper to make when you've only got onions, old bread, and cheese in the house). But it's the frank, precise lyricism of her writing that will draw you to and back to this book.