The Beauty of Doors
A new book documents colorful entryways of New York City—and tells a story about art and urban change.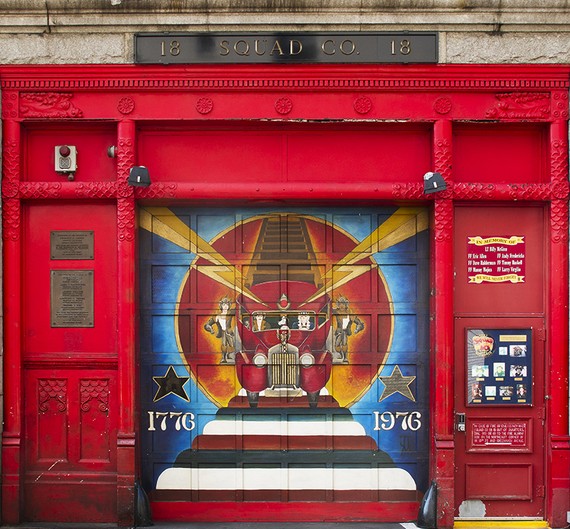 Visual books about New York's painted and graffiti-scrawled walls seem as plentiful as graffiti itself. But other parts of the urban environment don't get the same coffee-table-tome attention. For instance: doors. Until now, the illustrations gracing city portals have been mostly ignored as a distinct canvas. Door Jams: Amazing Doors of New York City by Allan Markman (Schiffer) spotlights the most elaborate, eccentric, and surprising entryways in the five boroughs.
Markman was appointed senior graphic designer for the United Nations in 2006. His first task: create a workplace poster announcing the newly formed UN Ethics Office. "The idea I came up with was a grid of interesting, diverse, and beautiful doors with the following copy: 'Not sure if you should open that door? Contact the Ethics Office,'" he says. There was no budget to purchase stock photos, and Markman could not find enough public-domain images to his liking, so he began photographing doors in and around Manhattan. It took him four days to snap all the pictures needed for the poster, which, he told me, "the client loved, but upper management rejected." The ad was never printed, but Markman's door obsession had begun.
To a street artist, doors are public canvases waiting to be transformed. To Markman, they collectively tell the story of a diverse city: "The door is an exciting and often surprising marker of the urban experience. Many doors provide a small glimpse of a forgotten past, while others reflect the dysfunction of the present. A door speaks of class, culture, wealth, poverty, change, neglect and even death. Some really interesting doors adorn the mausoleums found in the Woodlawn (Bronx), Greenwood (Brooklyn), and Maple Grove (Queens) cemeteries."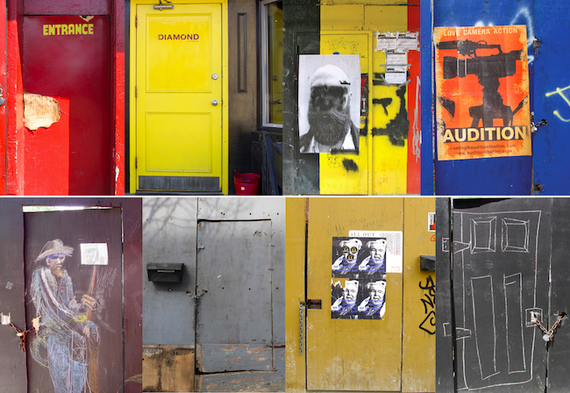 The more-than-300 doors in the book were photographed over a period of six or so years, and the process of capturing them has shown Markman how a city transforms over time. "The general pattern is that the more upscale and established the neighborhood, the slower the pace of change," Markman says. "For example, Beekman vs. Lower East Side, Upper East Side vs. Chinatown, Park Slope vs. Bushwick, etc." Neighborhoods in transition (pre-gentrification) are ripe for artists to express themselves on the walls and doors. Yet as soon as property values begin to climb, the public spaces for artistic expression (legal and illegal) begin to disappear and artists who create street art move to more affordable neighborhoods.
"I often revisit Bushwick/Williamsburg and have found that a good number of the [previously photographed] doors are now located near properties that are being transformed into expensive condos," he says. "In many cases the doors have been painted over by new artists or tagged. The warehouses and small factories where time and neglect, or artists create a rich visual environment for an urban photographer like myself will soon be replaced by expensive condos, studios, and lofts."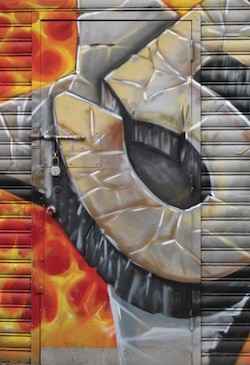 A dramatic example of gentrification affecting street art is 5 Pointz, an outdoor gallery space in Long Island City. A good number of the doors in the book were found there. "I have revisited the site to find the doors and gates that I photographed have completely changed," he says. "Now 5 Pointz is scheduled for destruction—it will be replaced by three upscale, high-rise buildings."
Much of the art that appears on doors and walls is done illegally, so by necessity the artists remain anonymous. The artist often tags his creation, but it is not easy to discover the person behind the tag. Many street artists work collaboratively. The book does feature pieces are associated with well-known creators—The Yok, Swoon, Chico, and others.
One of the most famous "sanctioned" doors is FDNY Squad 18 on 10th Street in the West Village (pictured at the top of this article). The door was painted in 1976 for the bicentennial and it depicts "a vibrant and detailed painting of firefighters responding to a fire." But, Markman says, "if you look closely the firemen look a lot like the Village People, seemingly gay themed. Sadly, the city plans to renovate the firehouse and restore it to its original, late-1800s look, which means that the present door will be destroyed."
As the book's mélange of styles and concepts shows, a door is just a canvas—there's no one, common trait that these paintings share. Well, other than the features of the door itself, which do matter. Markman says he hopes what sets this collection apart from other street art photography books is "the beauty and meaning in the mundane as well as the spectacular. Texture that has developed through wear and tear and neglect, unique color, shapes that are created by design, or carved by time—all these elements make certain doors unintentional pieces of art."