Reminder: Acting Is Work
Patrick Stewart's and Ian McKellen's latest Broadway stints offer the deep satisfaction of watching people be really good at their jobs.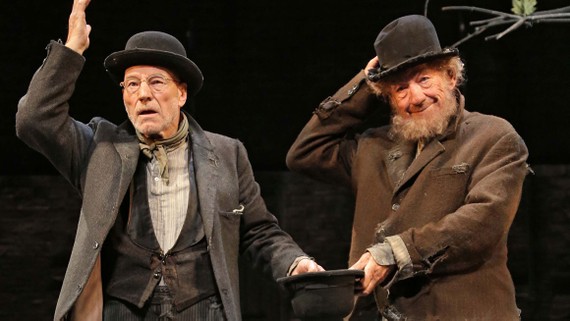 It has been with much fanfare that Patrick Stewart and Ian McKellen now share the stage for repertory performances on Broadway. In No Man's Land, Harold Pinter's inscrutable work about life and memory, Stewart takes the role of Hirst, a successful essayist and literary critic. McKellen plays opposite Stewart as Spooner, an apparently failed poet and possible old friend and rival. On alternating nights, in Waiting for Godot, the philosophical exploration by Samuel Beckett, Stewart assumes the role of Estragon opposite McKellen's Vladimir.
It's not enough to say that each of these roles plays to the actors' strengths. Rather, the roles reveal the sheer range of their talents and challenge the audience to wonder, what, if anything, are the actors' weaknesses?
This should not be surprising, of course; the two men, each knighted and collectively possessing of every award and accolade an actor might ever desire, are peerless but for each other. And yet their film roles of the last two decades reveal only so much. We know well their performances as men of deeply serious character engaged in matters of the most severe undertaking. This is to the advantage of such objectively implausible fare as the X-Men films, with their ludicrous plots somehow made believable by the force of performance alone. Likewise, even the lowest moments of Star Trek: The Next Generation were elevated by the dignified delivery of the man in the captain's chair.
A consequence of this—of powerful actors either saving or destroying the world, depending on the film—is that audiences are denied a perhaps unexpected truth. Patrick Stewart and Ian McKellen are funny. More impressively, in fact, is that they're funny in very interesting ways. For much of the first act of No Man's Land, Stewart's Hirst festers quietly in a drunken senility. In the second act, however, the character seems switched on, at which point Stewart delivers one of the great comic monologues of all time, describing in lurid detail a long running love affair with a married woman. Stewart's tone and timing is astonishing and unrivaled—every bit as effective as his most dramatic scene in the most somber film.
McKellen, meanwhile—our wise and majestic Gandalf—is seen here hilarious and hypnotic as a true physical comic. He wobbles ever slightly on stage, all shoulders and legs, as though he were a marionette controlled by an uncertain puppet master. (When he treads the boards in Waiting for Godot at the opening of the second act, he does so very literally to the audience's merriment.) This couples sublimely with his slightly befuddled, almost improvisational manner. The words seem to come out as though they were a surprise even to him. Most captivating, however, is when McKellen melts into the background, at which point he becomes a silent, reactive haze of emotive body language. His are a thinking man's eyes with performances unto themselves. It is very much a cliche to write, "I could watch him walk on stage and quietly read the newspaper," but in this case I have to wonder if that wouldn't be one hell of a show after all.
None of this, I suspect, tells the reader anything not guessed long ago. The subtle whimsy of Gandalf the Gray and the occasional droll uttering of Jean-Luc Picard have long telegraphed the joy simmering beneath the surface of both actors. What stayed with me during these two men's performances, and what really moved me to write this at all, are the labor movements of recent days, and the increased attention to employees of the service industry. While watching McKellen and Stewart in each of the two plays, I was occupied by the sight of two people simply doing their jobs well. In this case, it was a pair of actors moving elegantly and comfortably and precisely, uttering lines of joy and despair with ease and yet with seriousness of purpose. They were demonstrating a devotion to craft in two deeply serious and supremely challenging plays.
But such sights are not limited to the stages of Broadway. The performances, which wasted not a movement or syllable, provided that same simple pleasure that one might get from watching a cashier dash items across a checkout scanner and fill grocery bags with Tetris-like precision. Or that of a department store clerk neatly gift wrapping a package and turning a strand of ribbon into an ornate bow. A contractor constructing the frame of a house with only a single violent drive of the hammer per nail. Here on West 48th Street, but also on every corner in America, is the physical embodiment of a spiritual beauty, of people who care about their jobs and who do them well, with grace that seems effortless but rather is the result of years of attentiveness—of a long sharpening, and an even longer honing. Such men and women are all around us. There are few things more dignified and stirring than a job—any job—done honestly, and with care and self-respect.
In the case of these shows, the effect is intensified by Sean Mathias's sparse staging and the artful, sometimes brutal, supporting performances of Shuler Hensley and Billy Crudup. Likewise, the intimacy of the Cort Theatre, which itself seems like the kind of place that Macbeth might spontaneously appear from nothing. But regardless of venue, if there is something inspiring at work, it is the sight of people who have devoted their energies to a calling, who have mastered their craft, and who every night channel the whole of their energies and talents simply because it is their job to do so.