Meet the Biographer of a Man Who Never Lived
Warren Lehrer is touring the country with a multimedia presentation of his meticulously illustrated chronicle of the fictional fiction author Bleu Mobley.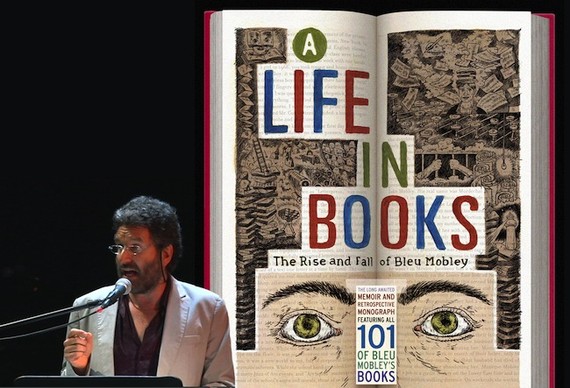 A Life in Books: The Rise and Fall of Bleu Mobley, is an illustrated biography of an alternately best-selling and dejected author, currently serving time in prison, told through anecdotes about and excerpts from his 101 published books. There's one thing that sets it apart from most other literary biographies: The subject, Bleu Mobley, is fictional.
It took Warren Lehrer, a writer, illustrator, designer and pioneer of "visual literature," more than eight years to invent Bleu Mobley and to flesh out his life story and his books.  I wrote about the book two years ago when it was still a work in progress. It was just published by GOFF Books, and now Lehrer's fabrication is also leaping off the page.
"In my live appearances, I present myself (as I do in the book) as the editor/compiler of this book on the life and work of Bleu Mobley," Lehrer says. "I explain that I am a longtime admirer of Bleu's work, am fascinated by life his story, and honored (and surprised) that he agreed to my doing a book on him."
Lehrer's performance begins with an audio recording of Bleu whispering into a microcassette recorder from the darkness of his prison cell. Lehrer animated the words through kinetic typography so audiences get a visual feeling of what it's like inside Bleu's insomniac mind. The audio quality is poor, but even so, "Some people have remarked on how similar Mobley's voice is to mine, and that we have other things in common, too," Lehrer says. "But in a lot of ways we're very different. He never had a father, for instance. He wrote 101 books. I've only written 10. I may be obsessed with my subject, and bursting with all things Bleu Mobley, but I'm not confused about where I end and he begins."
Lehrer's job in putting this biography together was to present evidence of Bleu Mobley, the man and his books, side by side: "Now it's up to each reader to decide whether Mobley is an important man of letters or a sell-out, a champion of the voiceless, or an elitist hypocrite, the conscience of America, or an ungrateful traitor. And if his story is a parable of the rise and fall of a culture, or a swan song for the book itself as a medium?"
A Life in Books is a bit like a Russian Matryoshka doll. Nested within the tale of Mobley's life are 101 book covers and 34 excerpts that read like short stories. "Mobley claims to have never written about himself," Lehrer says, falling into his voice as third-party biographer. "Yet in this juxtaposition of memoir and monograph we discover him and the people he loves sluicing through all his books, however obliquely."
Lehrer skillfully follows Bleu's life as writer and designer. The fake author's first book—which he composed and printed in the letterpress shop of his junior high school—is about a magical experience he had one day, watching the sunset with his manic-depressive artist mother at a marshland in New Jersey. Lehrer's real-life wife, the actress and oral historian Judith Sloan, actually performs the whole text of that 14-page book during his live presentations. "It draws people in right away to the idea that Mobley creates books as a way of making sense of the world around him," Lehrer says.
Since he cannot afford to tour with an entire cast, Lehrer has produced short video vignettes. In the filmed version of Bleu's 1998 novel No More Mrs. Niceguy: Confessions of a Nice Catholic Girl, actress and performance poet Caridad de la Luz, a.k.a. La Bruja, plays Paula Martinez. A dutiful daughter, wife, mother, and church member, Paula is diagnosed with cancer and soon discovers her own voice through the transformative power of hard-earned rage. The novel grows out of the experience of Bleu's daughter Frida being diagnosed with a rare and potentially deadly blood disease. After three years—going to scores of doctors, dozens of labs, too many clinics, treatment centers, and hospitals—Frida becomes an expert at waiting her turn, but impatient when it comes to being bullshitted. "Paula isn't Frida, just like Bleu isn't me," Lehrer says, "but La Bruja's moving performance helps demonstrate Bleu's use of fiction as way of getting at the truth."
Other films include the music group Betty performing an excerpt of Bleu's 2002 epic-length rant I Am Not an Issue, and beat box artist Chesney Snow reciting the poem If This Scar Were a Ladder from Bleu's final book, Cell By Cell. He also created animations of some of the works like Bleu's first children's story How Bad People Go Bye Bye, a pull-out, pop-up book on the history of capital punishment. (The films and animations will be included in an enhanced ebook edition of A Life in Books currently in production with the help of a Film and Electronic Media grant from the New York State Council on the Arts.)
Who is Bleu? His Polish-born grandfather, Mordechai Jacobson, lived as a Jewish rag merchan on the Lower East Side and sometimes used an Anglicized name, Jake Mobley. Bleu was given his first name not because he was a particularly sad-looking baby but rather, according to his mother, because he was one-quarter French and was born with a distinctly blue complexion.
At the outset of Lehrer's performance, Bleu is languishing in prison. "I don't tell the audience at the performance/readings, but in the first few pages of the book you read that he's in a federal detention center for refusing to reveal the name of a confidential source, re: a non-fiction book he wrote about the [43rd] president of the United States," Lehrer says. "He's kept mum for nearly nine months. ... Like Scheherazade, however, he needs to tell his story to survive, and like her, one story unfolds from and into others. Bleu Mobley is like Kurt Vonnegut, who quit writing (quite publicly) numerous times, but just couldn't stop himself from writing more books."
Lehrer can relate. After 10 years working on this project, Bleu should have run its course by now, "but it feels like he's sprouting wings," Lehrer says. He still has to complete the enhanced book app edition, and in February he is doing a theater residency at the LaGuardia Performing Arts Center in Long Island City to develop his performance more. "There's so much material in A Life In Books, I like the idea of building more variability into the presentations," he says. "Also, in the process of developing the book app I came up with the idea of asking readers to complete a few Bleu Mobley titles based on the excerpts in A Life In Books. I've started that already as a writing contest."
Lehrer is continually asked by readers and by those who have seen his performance if Bleu Mobley is still in prison, if he's writing again, or still alive. "When I tell them that he's a fictional character, I'm met with shock and disbelief," he says. "Perhaps I should put a warning label at the beginning of each chapter reminding readers that it's all made up. Or should I just take it as a compliment?"