How R. Kelly Lost His Edge
His lyrical filth used to come with a dose of musical innovation, but no longer.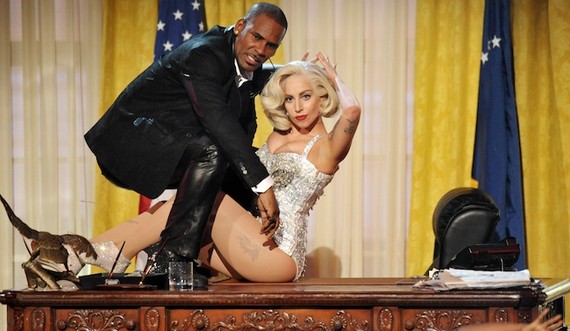 R. Kelly has consistently been one of the most forward-thinking artists in R&B, , a singer who makes up new rules as he goes.
On his 1995 album R., he began effectively incorporating hip-hop into R&B, collaborating with the Notorious B.I.G.; Kelly's 2011 memoir, Soulacoasta: The Diary of Me, suggests that he has worked with more than 50 rappers since then. He often uses a hybrid vocal approach, speak-singing his way through strange or lewd scenarios that are packed into overflowing, ambitious albums. For his 2000 release TP-2, he referred to himself as an "R&B thug," appropriating some hip-hop attitude for the world of smooth soul men. This, along with Kelly's sexual frankness, helped his genre seem a little less old-fashioned at a time when rappers stole a lot of its relevance.
But inexplicably, Kelly decided to go retro on his last two albums. Love Letter and Write Me Back explicitly referenced Sam Cooke and '70s Philadelphia soul, and they felt redundant. Despite Kelly's role in making R&B for the 21st century, links with tradition have always been clear in his music. He practically drips with retro credibility; there's no need for him to devote entire albums to proving it.
After these two throwback efforts, Kelly seems to have realized that his place on the leading edge is in jeopardy. On his latest release, Black Panties, he's looking to reclaim his place as the premier hit-maker blending R&B, rap, and raunch. The lone, suit-wearing soul-man who graced the cover of his last two albums is gone; instead, the artwork depicts Kelly with a scantily clad woman on his lap, or Kelly staring out from a heap of similarly dressed ladies. There were no rap collaborations on his previous two releases; the first single from the new album, "My Story," features 2 Chainz. Ludacris and Young Jeezy also make appearances on the album proper; Future, Migos, and Juicy J show up on the deluxe version.
But Kelly's reentering a crowded field. Singers like Trey Songz, Jeremih, and more recently, Ian Isiah have watched Kelly's career path carefully and attempted to emulate it (though they haven't achieved his ubiquity). A crop of young West Coast artists, like Ty Dolla Sign and DJ Mustard, can blend R&B and hip-hop into streamlined bolts of minimalist musical debauchery. The Ty Dolla-DJ Mustard collaboration "Paranoid," for example, begins, "I got a bad light-skin from the valley/ she be in the club with no panties," which makes Kelly's album seem overdressed, title-wise, in a year when artists seems to be in a race to include the most bare flesh in their videos.
Kelly certainly tries to be of the moment on Black Panties, which is full of trendy hip-hop production. He frequently tracks his verses with light percussion and background synthesizers, and then moves into onslaughts of programmed drums on the hooks. The album reflects the sonic aesthetic of many major-label hip-hop releases, which contain an assortment of sounds from a variety of producers. (Though Kelly usually has a hand in most, if not all, of the production on his albums.)
But Kelly doesn't do much to modify or adapt his new crop of sounds; he just incorporates them into his universe. "Cookies" has the ominous, chattering whirr of something like Rick Ross's "Stay Schemin'" from 2012, while "Spend That" features a keyboard-driven propeller, hardly four notes, installed by DJ Mustard. There are nods to the darker, slower, snapping stews of Mike Will Made It, who has crafted hits for Rihanna and Ciara. And there are notable instances of auto-tune, a modern touch that has been largely indiscernible on Kelly's previous albums. He has often based songs around prominent guitar riffs—"Ignition (Remix)" and "Step in the Name of Love" being prime examples—but guitars hardly make a peep on the album.
In the past, Kelly has been bold enough to make artistic decisions that most artists wouldn't even think of, let alone consider—the hip-hopera Trapped in the Closet, for example. But now Kelly seems mainly to be borrowing tropes from others, and many of those tropes were hand-me-downs in the first place. "My Story," about coming "from humble beginnings" and being "cocky with my spending" follows in the footsteps of Drake's "Started From the Bottom," which follows countless other climbing-the-social-ladder tracks. Kelly doesn't add much to the formula. On "Crazy Sex," he uses the term "ratchet," stealing vocabulary from DJ Mustard's scene. Even the auto-tune could be viewed as Kelly pulling from someone else's arsenal—in this case Future, the artist who appears on the deluxe track "Tear It Up."
Like countless soul singers before him, Kelly has always preached pleasure. When he went to court for child pornography charges, his priapic focus became more troubling, and he paradoxically stayed in the limelight during this period by making some of the most inventive and popular music of his career. Black Panties includes a parade of blunt tracks like "Legs Shakin'" and "Marry the Pussy."
But the younger Kelly often approached sex with bawdy humor, wild foreplay accompanied by wild wordplay. Black Panties doesn't get beyond "I'm a sex genius." Kelly helped write the sex-in-pop handbook for recent decades, but he's forgotten where he stashed it. (Maybe by the throwback tuxedo?) This leaves him with a series of flat, repetitive come-ons.
So while Kelly has made the right move by leaving behind imitation of the classics, unfortunately he stills seems to be stuck imitating various musical trends from the last couple of years. He has been telling the press that he's writing country songs. Melding his style with a touch of honky-tonk? That's an idea worthy of R. Kelly.