Cheering for Themselves: Why Sports Fans Attempt to Set Noise Records
Team rosters change, and arena sponsors come and go, but setting the Guinness world record for loudest team roar? That might last forever.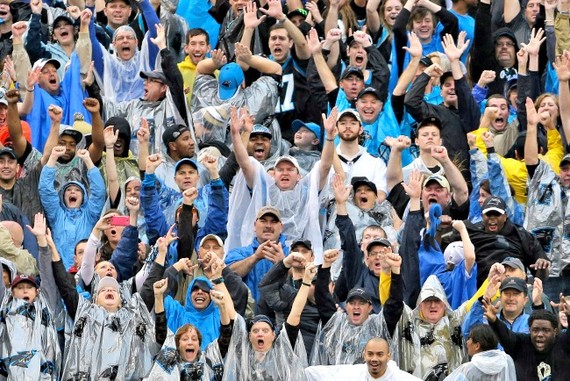 During the third quarter of a recent game on NBC's Sunday Night Football, fans of the New Orleans Saints were roaring, their cheers ricocheting throughout the Mercedes-Benz Superdome. The game was getting out of control, with the Saints leading the Carolina Panthers 21-6. But never mind that—because the commotion had little to do with either team or the sport they play. The fans were cheering for themselves.
Yes, the crowd had competition in mind, but the opposition was a fan base in a different city and for a different sport: 17,000-odd basketball fans in Sacramento, California, who filled Sleep Train Arena with enough noise to ratchet 126 decibels, a Guinness world record for the loudest crowd roar in an indoor sports facility. So now, the boisterous Bayou horde of 70,000 wanted to be heard by history.
In the last few months, attempts to break the Guinness world record for stadium noise have become a popular objective at a variety of sporting events. It all began in September of 2013, when Seattle Seahawks fans achieved the loudest crowd roar at an outdoor sports stadium. That didn't sit well with a segment of Kansas City Chiefs fans, so a few weeks later that group mustered the requisite decibels to apprehend the record. Clemson University football fans, not to be left out, tried to vault Kansas City the following week but failed. Then Sacramento Kings fans cheered their way to the indoor version of the title in November. Finally, in December, when Seahawks fans reclaimed the outdoor mark—peaking at 137.6 decibels—in a game against the Saints, New Orleans fans decided to vie, six days later, for Sacramento's indoor crown.
By the time Saints fans were shouting in what would be an unsuccessful bid, with NBC's national audience bearing witness, the circuitous trail of masturbatory pandemonium was enough to exasperate NBC Sports' Al Michaels, the play-by-play man for the game. "Next week eight guys in Moscow will be belching after dinner and they'll set the record," Michaels scoffed.
Guinness World Records doesn't seem to hold the cache it did when its printed book was an encyclopedia of novelty feats for an era when people searched in books for facts. But the organization remains the authority people turn to when building something bizarre that they hope will outlive them; Guinness persists as the vanguard of what's essentially an illusions-of-immortality business.
When someone applies to pursue a Guinness record, the organization sends a representative—an adjudicator—and for attempts in the U.S., that person is often Philip Robertson. Robertson, an Englishman with a thick, ceremonious British intonation, leaves his New York City residence for the likes of Fargo, North Dakota, and Bryan, Texas, to measure 30 or 40 attempts per year. He wears his official Guinness gear—a navy sport coat with a yellow and cyan tie—and shows up with a clipboard to engage in the pomp and validation of telling people they're the world's greatest. Recently, he's adjudicated everything from the largest bacon cheeseburger to the most proficient organ donor sign-up drive. But most of his time in the past few months has been consumed by football fans trying to quantify and commodify their love for their teams.
Robertson deals with the superfans who apply to set the crowd roar mark, though only after Guinness screens them to make sure they can cover his travel costs, provide him with field access, and supply the industry-standard recording equipment needed to measure the melee. Robertson then meets with stadium officials to ensure that the team will not pump artificial noise through the speakers or fire cannons during the attempts. Attendees could, in theory, enhance their performance on their own with the use of drums or vuvuzelas, but that the major sports leagues in the U.S. don't allow those items in the stands. Lungs, hands, and shoes have to suffice.
In Seattle, Robertson worked with coordinators Joe Tafoya and Kerry Carter, former Seahawks players who remain connected to the franchise through Volume 12, a social campaign and product line related to Seahawks fandom. The effort is a subset of Tafoya and Carter's company, a "brand enhancement firm," as they call it, that supplies "influence, engagement, loyalty, and monetization." The Volume 12 name is a repackaging of the "12th Man," the nickname commonly ascribed to Seahawks fans despite Texas A&M University's trademark claim to the appellation. Seattle, more than many places, embraces the fans-of-fandom dynamic; A&M may have a loyal following, but not one that shouts and stomps hard enough to register seismograph readings during games.
This 12th Man culture is, at once, a reputation, a responsibility, and a purchase. The Seahawks' field, named for a telecommunications company, is often filled with a noise level akin to jet engines. Most football fans know that emitting volume can obstruct an opposing offense from relaying its play calls, but Seahawks fans see their utility on more of a macro level. The flight to far-flung Seattle—endured in ostentatious aircrafts, mind you—fatigues opposing players, or so the narrative goes. The irregularly obfuscating level of stadium noise is the supposed knockout blow. Locals attribute the team's success in part to the "12s" (that's what Seahawks fans have taken to calling themselves) for their superior acts of "12ing" in their "12s" gear. This is the unofficial 12th Man's love of self, and that love becomes a movement, and that movement becomes a product because this is a world in which adoration embarks on a trajectory that culminates in hooded sweatshirts sold for $49. To love oneself is to buy oneself.
This culture—the Guinness gimmick, the celebration of the 12th Man—isn't the only instance of fans having game-within-the-game objectives. Myriad remote controls have, of course, been shattered because of gambling lines and fantasy lineups. But those endeavors don't often impede on the in-stadium experience, whereas this zeal for zealotry, with its sans-context clamor, can supersede it. It turns the spectator into the spectacle.
Sports franchises are billed as civic attractions, but anyone outside of Green Bay, Wisconsin, with its publicly owned Packers, knows that portrayal is a half-truth. Fans have no control over, or connection to, the rosters that dictate success. Based on information offered by the Kansas City Chiefs' website, only two of 53 players have a hometown or college connection to Kansas or Missouri. Logos change, coaches come and go, and the stadium is named for a ketchup maker one moment and a subprime mortgage supplier the next. If fans can't obtain the immortality they want from Robertson and Guinness, at least they'll find reliability in themselves, the only constant, available each season to pursue victory over other fans and their own past performances.
Eventually the Guinness chase will slow down—maybe Michaels's imagined Russians will enter a stadium to eruct an insurmountable boom. But the movement to cheer for the home crowd will linger. It is, for now, just a vaporous, far-off threat to the mores of American sport. But someday, there may be a scene in which people who wear expensive fan-promoting gear stand in a fan-themed bar on a Tuesday afternoon, with no games displayed on the TVs, just to stare into each other's eyes and clap.