Beyoncé's New Album Is Shocking, Sexy, and Has Something to Say
A chat about what the pop star is up to on her brand-new "visual" release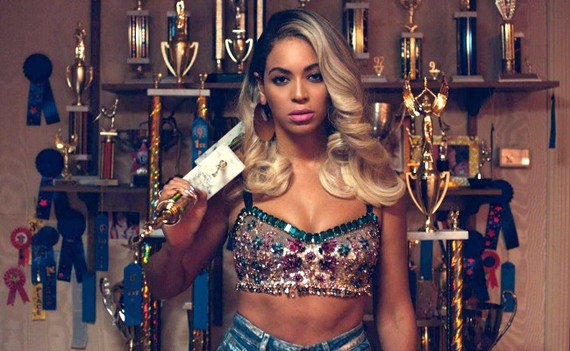 Spencer Kornhaber: This going-viral GIF handily illustrated what Beyoncé did Thursday at midnight: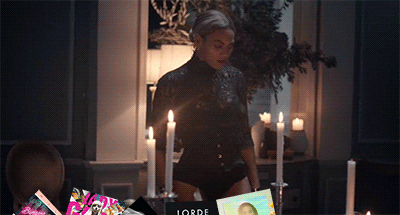 Translation: She upended the year in pop music by releasing a self-titled, "visual" album on iTunes—with zero forewarning. Well maybe not quite zero. She'd been on a year-long promotional tear, performing at the Super Bowl, producing an HBO autobiographical documentary, and launching a world tour. But no album had materialized. No album seemed likely to materialize. And then one did.
Nolan, Ashley, we took an hour today to binge on the 14 songs and their 17 accompanying videos (including credits!). Mostly we sat in stunned silence, except for that time when we all shifted uncomfortably as the camera closely followed Bey's hand running across the curves of her body in slow motion for the "Rocket" clip. How are you feeling?
Ashley Fetters: Impressed. Overstimulated. Kinda hot and bothered, a little uncomfortable. So, you know, great overall.
Nolan Feeney: I feel like a grown woman, and I can do whatever I want.
Kornhaber: "Impressed" is a good place to start. This album's existence must be one of the best-kept-but-then-revealed secrets in music history. What's amazing is not just that it exists—it's that it's a really big, cohesive, high-effort deal. There are SEVENTEEN music videos here, and in terms of production values, they all rank in the top tier of the medium. There are no tossed-off performance clips or star-free animations. Beyoncé's in every video. They seemed to have been filmed all over the world. They vary from documentary-style to story clips to high-art dance choreography.
Feeney: Beyoncé indeed pulled off some Homeland-worthy scheming by letting the album's unclear due date become something of a joke to fans while she slaved on all these videos for a year. With so many people involved in such a large production, I hope the lawyer who wrote up the nondisclosure agreements gets a hefty Christmas bonus. (Something to think about: While many videos feature guest stars and extras, shots of Bey are often separate footage, as if filming these didn't require the participants' full knowledge of what exactly what was going on.)
We've had a few clues about her filming music videos—
we knew she went to Coney Island to shoot a clip for an unreleased song
—but nobody anticipated a project of this scale. What makes this album release brilliant isn't just that she kept fans out of the loop, but how she envisioned and executed a project her fans never saw coming. The release was not an
old-school music moment
, where every fan got the same product at more or less the same time because of a fast production turn-around. It was a forward-thinking, next-level kind of moment.
Kornhaber: And then there's the music, which at least on first listen, seems … pretty damn good. Not the sound of a pop star regurgitating what she'd done before. Not a ton of obvious hits. More hip-hop vibes than she's served up previously, but also a lot of ballads and experimental stuff—often all existing in the same track. It's going to take some time to process. For now, what are the highlights for you two?
Feeney: We heard some of "***Flawless" when she teased it as "Bow Down" in March, but its final form is a completely different beast. Like other moments on the album, it's a middle finger to the verse-chorus-verse-chorus format of pop songs, which makes the fact that it's one of the catchiest tracks a particular triumph.
It also fires back at some of her critics. Her lyrics about not being "just his little wife" take aim at those who link the overall quality of her previous album, 4, with its celebration of monogamy and domestic bliss. And the extended spoken word bit from Nigerian writer Chimamanda Ngozi Adichie feels like a response to original pushback against the song. The "bow down, bitches" line got plenty of heat for dissing women, but when Beyoncé samples Adichie's suggestion that competition among women for jobs or accomplishments isn't necessarily a bad thing, Beyoncé seems to say that calling her out for being anti-feminist is just another case of a patriarchal society trying to police her behavior. (Whether you agree with that is another story.)
Ultimately, though, what makes the track so fun is how it's also classic Beyoncé. The line "I woke up like this" revels in her fabulous, effortless brand of perfection—even if another track, "Pretty Hurts," highlights her frustrations with maintaing that image.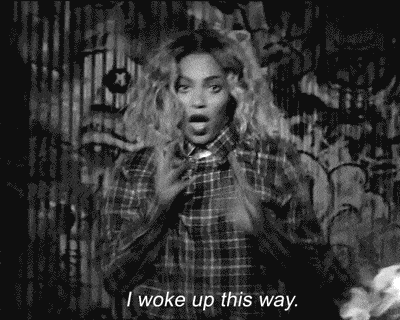 Fetters: "***Flawless" (what's with the asterisks?) is a perplexing one for me. I love the Adichie cameo; I love everything that stands for. And I love how weirdly bleak and dreamy it sounds.
But the "I woke up like this" seems puzzling, especially after having seen the video. Given that she opens the album / video playlist with "Pretty Hurts," which is all about the huge, painful amounts of effort that go into beauty, it seems like when she sings about looking flawless, her "I woke up like this" should be taken as a sort of caustic, yeah-right sarcastic remark. And I love that. But the video for it muddled my perception of how she means it.
I think my absolute favorite, though, actually, might be "Partition." There's a time-honored tradition of marrying sex and cars in various ways in pop music, and in "Partition," Beyoncé contributes to the canon by asking the chauffeur to "roll up the partition, please." (Because sex, if that wasn't clear.) Sonically, it's kind of pleasingly trippy and earwormy, and it also features some nifty, detail-oriented scene-setting in the lyrics.
Kornhaber: The first song to really make me say "whoa" was "Mine." The opening part of the song is a piano-backed confession, with Beyoncé singing that she's "been having conversations about breakups and separations / I'm not feeling like myself since the baby." Then the tempo kicks up, and you have Drake doing a repetitive, echoing chorus (it's consummately Drake—the entire track sounds like something off Take Care, which isn't a bad thing). Then we're back to Beyoncé, getting more confident: "We should get married / Let's stop holding back on this and let's get carried away." At six minutes long, it's this epic, shapeshifting, moody, shockingly honest (or seemingly honest) look at how one of the most public relationships in the world has evolved.
Also, Ashley, I agree that "Pretty Hurts" is fascinating. Here we have Beyoncé, whose name is synonymous with perfection, singing that "Perfection is the disease of a nation."
Fetters: Right? After hearing that, watching a parade of videos in which Beyoncé does, indeed, look perfect made me say, "Yikes, did this hurt?" Do you think there's a logic to opening the album with that one?
Kornhaber: Well when I first listened to the song, it felt like a humblebrag: Oh poor Beyoncé, you're too beautiful. But then I watched the video, a behind-the-scenes look at all the primping and obsessive weight-loss (and fabulous, sky-print workout gear) that goes into a beauty pageant. The sight of dotted lines markered onto Beyoncé's face by a cosmetic surgeon is straight-up disturbing. The fact that a song/video like this opens the album almost inoculates Beyoncé to accusations of self involvement. She's fierce and flawless and swaggering for much of the rest of Beyonce, but we never forget that there's an element of criticism and self awareness to that.
Fetters: Totally. I think this is a message we don't hear often enough: "Effortless" or "natural" female beauty, for many women, actually takes a significant, sometimes truly disgusting amount of effort. Hearing Beyoncé—somebody who's known for being such a naturally perfect human—say, look, this is hard even for me, that's especially powerful. And the fact that in the video you see both these beautiful women and the ugly work it takes to make them look that way illustrates it really well. (Side note: This is what I would love to see in more commentaries on society's expectations for women—i.e., that Lily Allen video last month.)
Kornhaber: Already, here, we're talking about the music and the videos in the same breath. That's probably what Beyoncé wanted, but is it a good thing? My sense is that at that pop culture's so audiovisual these days that it only seems right that someone would eventually present a song set that's a complete audiovisual experience from the start.
Feeney: The project caught us by surprise, but its ambition makes sense for her—she did, after all, make a video for every song on B'Day's deluxe edition. Though that project featured a handful of visual treats—"Freakum Dress" and "Get Me Bodied"—other songs got simple, boring treatments that felt like rushed afterthoughts. Here, the videos are much more integral, as much a part of the song's DNA as the music and lyrics, and they bring out ideas and interpretations I wouldn't pick up on otherwise. Beyoncé's multimedia approach enhances the experience by focusing on the art itself, not the technology used to distribute it. (Cough, Artpop, cough.)
Kornhaber: Yeah, happily, these videos seem less like a marketing gimmick than an actually important part of the statement Beyoncé wants to make. For example, the adorable final track "Blue," about her baby, becomes a portrait of new-family intimacy when paired with footage from the Knowles-Carters' post-pregnancy trip to Brazil. Plus it is SO MUCH MORE ADORABLE when you see Blue Ivy's teensy feet.
On that topic: Favorite visuals from Beyoncé?
Feeney: While "Superpower" totally reminded me of the Divergent trailer, the video that stands out the most in my mind is "Haunted," or, as I like to call it, American Horror Story: Beyoncé. For starters, it's functional: Though it's not as explicit about sex as other album tracks, the flesh she shows off makes it clear we'll be seeing a side of Bey we haven't seen before. It's also just plain weird in a way Beyoncé music videos often aren't. They've indulged in fantasies—her Basic Instinct homage "Ring the Alarm" comes to mind—but they've never attempted horror or creepiness. It's not a bad look for her.
Fetters: I liked all the neon in "Blow," and "Mine" had some really striking elements—Beyoncé as the Virgin Mary at the beginning was pretty and arresting, and the people making out with wet shirts over their heads looked like a performance-art commentary on torture methods, but they were sort of bizarrely nice to look at. That said, I think that my favorite part was either the footage of what seems to be the best vacation ever in Brazil, or tutu-clad Beyoncé brandishing a drink in one hand and a trophy in the other in "Grown Woman." There's a lot of joy in both of those images.
The one that felt the least like a natural extension of the song to me, though, was "Drunk in Love." I'm not sure how else I would have filmed what generally feels like an extended tantric jam session between the most powerful married couple in music, but there was something distinctly stagey and weird about their nighttime-beach-romp-plus-some-rap-verses conceit to me.
Feeney: Ashley, you don't think Hype Williams handed them a bottle and said, "Go have fun on the beach, I'll just watch?" (Not that kind of fun, I mean.)
Kornhaber: To jump in: That kind of fun wouldn't be all that implausible. There's some kinky stuff here, no?
Fetters: Yes. (And yes, Nolan, I think that's exactly what happened.) Am I right in thinking this is raunchier than usual, or am I misremembering some elements of her last few albums? I found myself thinking a lot about Rihanna while I listened and while I watched. Rihanna often oscillates between themes that are dark and tortured and themes that are empowering, in the way some of this album does, too, but I think the bigger point is that Rihanna is still pop music's reigning queen of raunch. Beyoncé reminding me of Rihanna—in that way, especially—isn't something I'm used to.
Feeney: Well, Ashley, I've told you my theory about how Rihanna is actually the most important pop artist of the moment considering how her genre-spanning sound has influenced a new wave of performers—Miley Cyrus's and Selena Gomez's first singles this year all were either Rihanna rejects or clear imitations. But a surprise Rihanna album won't cause this much excitement, so I'm reconsidering that stance.
Nothing about this album suggests to me that Beyoncé was channelling anybody but Beyoncé, but you're right about the amped-up raunch factor. Where to begin? There's her detailed, Monica Lewinsky-referencing account of sex in a limo. "Rocket" has awkward, water-running sex metaphors and plenty of phallic imagery. "Blow" sexualizes pink Skittles and cherries. There's also her cursing! Remember how she wouldn't even say the word motherfucker in the uncensored 'Telephone" video? My, how times have changed.
Fetters: I'm still kind of baffled as to what "Turn my cherry out" even means. (Note to readers: doesn't mean I'm asking. Please don't tweet it at me.)
Feeney: Beyoncé singing sexy songs isn't new, but it's rare that she sings about physical intimacy while leaving so little to the imagination. Not that this is a bad thing.
Kornhaber: Yeah, I think it's on theme, actually. "Grown Woman" is just a bonus track—which seems insane to me, given how many times I've heard it at parties in the past year; accept that it's a hit, Beyoncé!—but it also seems like a thesis statement. The sheer diversity of visuals and sounds on the album give greater meaning to a line like "I'm a grown woman and I can do whatever I want." Sometimes, that's getting on her knees in the back of a limo. Not always!
Feeney: That's the lesson I took away from this album, too. Beyoncé may "have it all," but she fights back against the notion that having it all is a static, singular identity. She can be Beyoncé, the mother to Blue Ivy. She can be Sasha Fierce, the fearless entertainer. She can be Peaches when she gets nasty, as she sings here. And she can be Yoncé, who I can only assume is Beyoncé's rapping alter ego. (What I wouldn't do for a Yeezus-Yoncé joint tour.) Does she contradict herself? Sure. But Beyoncé is vast! She contains multitudes! Try and pin Beyoncé down, and she won't cooperate. I don't think it's a stretch to look at Beyoncé's messages of female empowerment over the years as a celebration of just how multifaceted womanhood can be.
Fetters: It makes a tidy statement to say that Beyoncé, the album, is about that: Beyoncé doing whatever she wants. But does that apply to this album more than her other ones?
I do think "Grown Woman" is the real theme piece, especially the "grown" part. There's a lot of baby-Beyoncé, and then there's plenty of Blue Ivy, too, which seems to emphasize that she's completed the circle, in a way: She's been doing this since she was a baby, now she's still doing it and she has a baby. She grew up doing this, and now, as a grown-up, she's doing exactly what she grew up to do—and she's dominant at it. Whether you grow up wanting to be a singer or wanting to be an accountant, making it a reality and flattening your competition in the field you've chosen is enough to make anybody feel justified in throwing on a tiara, pouring a drink, and announcing, "Bitches, I run this."