2013 in Music: The Good, the Problematic, the GIFs
A roundtable about the songs that defined, or should have defined, the year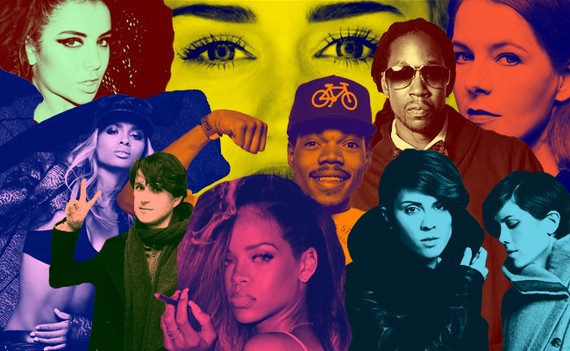 The Atlantic's Entertainment Channel—editorial fellow Nolan Feeney plus editors Ashley Fetters and Spencer Kornhaber—discusses the songs that made us laugh, cry, rage, and want to hit the gym. Scroll to the bottom for the Spotify and Rdio playlists of all our favorites.
---
What's the most 2013 song of 2013?
ASHLEY FETTERS: Over the summer, New York Magazine ran a great story about how, for the iPhone generation, romances are never really over—now that we can Facebook stalk, drunk text and/or lonely text on the sly, do the gradual oops-sorry-didn't-see-your-text-till-now fadeout, and post passive-aggressive quips or images on social media, people are hardly ever just out of one another's lives, period. Nicki Minaj and Ciara's excellent breakup jam "I'm Out" came out around the same time and mentions some of these very same kinds of tech-assisted romantic manipulation: ignoring texts, posting hot post-breakup photos online, and throwing shade on Instagram.
And maybe the 2013 song that betrays the deepest misunderstanding of how the world works in 2013 is 2 Chainz and Fergie's "Netflix." "Let's make a sex tape and put it on Netflix," they drawl in unison. What? You don't put things on Netflix, guys. That's YouTube! (Or, in this case, probably one of its DIY-pornier cousins.)
SPENCER KORNHABER: If we're using New York publications' think pieces as our barometer of what "2013" means, then I've gotta bring up Jon Caramanica at the Times calling Macklemore the first "contextually post-black pop-star rapper." "Huh wut" is an appropriate response to a statement like that, but the music critic Jordan Sargent offered a smart interpretation that partly centered on the idea that "arguably the story of pop in 2013 has been the ascension of white artists at the expense of black artists." Examples: "Baauer (who is not white but whose audience is) going number one thanks to a meme that bastardized the Harlem Shake, Robin Thicke and Daft Punk (and even Justin Timberlake) being the white faces at the front of classically black songs, Miley Cyrus' entire existence."
Lorde's No. 1 hit "Royals" both embodies this phenomenon and, in a way, comments on it.  She's caught flack for seeming to diss hip hop while at the same time capitalizing on it, but part of the song's appeal is that it also sounds like a 16-year-old New Zealand girl's honest reaction to some features of America's globally influential pop culture. It's about the mental whiplash that comes from being both infatuated with and puzzled by the Grey Goose-sipping dogma that dominates radio. Rap's materialism originally was—and often, still is—a reaction to economic destitution and oppression. But it, like so many hip hop tropes, has been appropriated, commoditized, and warped over the years. Lorde may not understand the history behind rappers' brags about "Cristal, Maybach, diamonds on your timepiece / Jet planes, islands, tigers on a gold leash," but she does recognize that for her—and for a lot of people—their appeal lies exactly in their otherness: "Let me live that fantasy."
NOLAN FEENEY: According to to popular wisdom, "featuring Pharrell Williams" were the magic words of 2013. According to me, "produced by Ariel Rechtshaid" conjures up a more impressive resume than Williams's: In one year, this guy helmed albums from Charli XCX, Haim, Sky Ferreira, and Vampire Weekend, whose own "Diane Young" feels quintessentially 2013 given its sly commentary on #YOLO pop—the title is a play on the phase "dying young."
On the other hand, it's impossible to ignore the cultural juggernaut that is Miley Cyrus. "We Can't Stop" embodied the year's most notable trends and themes, both musical (twerking, Molly talk, cultural appropriation concerns, Mike WiLL Made It beats) and non-musical (millennial hand-wringing, selfie anxieties, excessive hashtags, the BuzzFeedification of the Internet). So how does one settle this tumultuous, internal debate? Easy: With "Ashtrays and Heartbreaks," a song that features both Miley Cyrus and production from Rechtshaid.
Months before she gave foam fingers and teddy-bear outfits a bad name, this smoked-out collaboration with Snoop Dogg's reggae reincarnation, Snoop Lion, was the first taste of Cyrus's hip-hop transformation. Snoop's own glum verses are nothing special, but Cyrus's hooks about getting high to escape the pain and loneliness of real life pack the same emotional punch of "Wrecking Ball." It's far from the best song of the year, and it's certainly not the most popular. But with Rechtshaid's touch, it's got 2013 written all over it.
---
We talked a lot this year about the many ways in which pop music is often problematic—racism, misogyny, and homophobia still persist. But music has historically been a platform for forward-thinking statements, too. Were there any moments in music this year that made us say, "Hey, that's actually pretty cool and progressive"?
FEENEY: Angel Haze's version of Macklemore and Ryan Lewis's Grammy-nominated gay-rights anthem "Same Love" is, at the risk of being hyperbolic, unforgettable. The first time I heard Haze murmur, "Hi mom! I'm really scared right now, but I have to," over the song's cheerful, introductory piano notes, I foolishly thought it was adorable. My stomach dropped seconds later when the 22-year-old queer rapper recalls the time her mother sat her down and said, "You'll burn in hell or probably die of AIDS."
I've seen the argument that the Mary Lambert's chorus on the original "Same Love"—"I can't change, even if I tried, even if I wanted to"—is more regressive than progressive because it engages with the language of bigots, presenting homosexuality as just biology rather than stating something along the lines of "I'm here, I'm queer, and it doesn't matter why." But Lambert's words take on a different tone here when they follow Haze's verse about how her mother locked her away for two years "because she'd rather see a part of me die than me thrive." Even if nature-versus-nurture conversations should be irrelevant in 2013, many LGBTQ people can't frame the conversation in more progressive terms because they are, say, getting kicked out of their homes by loved ones who do think change is an option. Haze's cover, with Lambert's chorus, feels necessary when so many others in her position (or worse) don't have the same platform.
If Haze wrote and released this exact song before Macklemore did, would it have been as popular? Of course not, and Haze knows that too: "I'm sorry if it's too real for some of you to fathom," she raps in the first verse. I think part of the original's success was its relative safeness—a message wrapped in an attractive white package where the biggest threats are anonymous YouTube comments and DOMA. Now, I'm not going to pretend I don't like Macklemore's version—I spent plenty of days last fall driving around blasting The Heist—but Haze's powerful, personal narrative illustrates how much a straight white guy making hypotheticals and sweeping generalizations doesn't cut it when it comes to pop music taking a stance on gay rights.
KORNHABER: That's a good point on what's a little icky about Macklemore—he's acting as a spokesman for people who are perfectly capable of telling their stories for themselves. Luckily, rap in 2013 offered up a ton of vivid, smart narratives that, like Kendrick Lamar did last year, remind how powerful and subtly political first-person testimony can be. On the incredible Run the Jewels album, Killer Mike (assisted by El-P) fleshed out the mortal fear of police that remains a fact of life for many people of color in the Obama Era; the first verse of "DDFH" (which stands for "Do Dope, Fuck Hope") has Mike's mom calling him up and imploring him, "Please don't rap about that shit 'fore they murder your black ass."
But the most powerful track in this vein was Chance the Rapper's "Pusha Man," which actually is two songs: a springy, soulful jaunt about the supposed glamor of drug dealing, and then downtempo story about the paranoia that comes with life on streets. The final verse offers an eye-opening explanation of a very specific kind of seasonal affective disorder:
It just got warm out, this this shit I've been warned about
I hope that it storm in the morning, I hope that it's pouring out
I hate crowded beaches, I hate the sound of fireworks
And I ponder what's worse between knowing it's over and dying first
Cause everybody dies in the summer
Wanna say ya goodbyes, tell them while it's spring
FETTERS: Nolan, I know we had our problems with it at first, but I've warmed up to Lily Allen's "Hard Out Here." It's got its imperfections, but ultimately, it's always nice to see a pop song be plainspoken about the challenges that still face women today. And of course it's also nice when someone as charming as Lily Allen speaks out. The world at large could always use more reminders that of course feminists can be cute, and fun, and gentle, and, you know, feminine.
I'm also pleasantly surprised—well, in a faint, relative way—by Pitbull and Ke$ha's funky hoedown duet "Timber." Usually what creeps me out about Pitbull is that his sexual aggression so frequently seems like a one-sided deal; often, there are no clues as to whether the lady he's got his eye on is reciprocating or reaching for the pepperspray. But in the club-dancefloor encounter described in "Timber," Ke$ha takes on the persona of a woman who's just as openly aggressive about pursuing a hookup as Pit is: "It's goin' down," she announces to us in the opening notes of the song. And a result, the dynamic feels playful and electric and hot, not creepy. Mutual consent—it's sexy!
---
Did we learn any new words or phrases this year from pop songs, or laugh out loud at any clever rhymes? What was the best wordplay or vocabulary usage in music this year?
FETTERS: Like everyone else ever, I mega-lolled at "Hurry up with my damn croissants" and that unpublishable verse about minks and Jerome / "Romey Rome" from Yeezus. But I think it's also worth recognizing "Things don't run we" in Miley Cyrus's "We Can't Stop." It's just a hilariously zero-fucks-given choice of rhyme, and I love it for that—plus it seems custom-built for an ironic, or unironic, hashtag.
FEENEY: This year I heard a lot about some girl named Molly, learned what the fox says, and figured out what rhymes with "hug me." Kidding! So, Neko Case has always been a masterful lyricist, but "Man," from her album The Worse Things Get, The Harder I Fight, The Harder I Fight, The More I Love You, has some of my favorite lines of the year. Artists that try to flip the script on gender roles can easily rely on clichés, but Case smartly avoids those pitfalls by returning to the kind of violent, animalistic imagery she employed so well on 2009's Middle Cyclone: "I'm not the runt of the litter / the fat-finger bullies were no match for me / so taste them in my teeth."
KORNHABER: Eminem is a terrible human, but as he proved over and over on The Marshall Mathers LP 2, he's also an amazing rapper. There are too many mindbending lines on it to pick just one (though, OK, I've started using "pointless as Rapunzel with cornrows" in conversation), but for anyone who wants a glimpse at where Slim Shady's at in 2013, I direct you to "So Far." It's not exactly a pleasant listening experience—it opens with a detailed description of a bowel movement in a McDonald's bathroom. But if you don't howl at his self-deprecating descriptions of just what a crotchety, low-class, antisocial old man he's become, you're a better person than I. The third verse is a work of literature about the strange side effects of fame: Em's grocery shopping—"in produce, hunched over, nosebleed, ogre style"—when a fan approaches, asks him to sign a poster, and then marvels at the fact that his idol has crows feet.
---
Every year, inevitably, has its under-appreciated songs—those fabulously promising singles that somehow just fail to become hits. What's the 2013 single that you can't believe people didn't love?
FEENEY: This year, we bid farewell to one mega-girl group and welcomed back another. In the wake of Girls Aloud's split in April, I'm surprised more people weren't obsessing over "Flatline," the comeback single from Mutya Keisha Siobhan, the three original members of the Sugababes.
Dev Hynes, partly responsible for last fall's stunning Solange EP, produced this bittersweet track about pulling the plug on a dying relationship, and he sure knows what to do with a woman's voice. Each member of the group shines during their solos, and no voice is lost in the mix of their sweet, textured harmonies. The trio never brought the song stateside, so I'll forgive my fellow Americans for not jumping on it. But across the pond, the song flopped—what gives, Britain?
KORNHABER: It's unfortunate but not that surprising that Kitty (formerly Kitty Pryde) isn't a superstar yet. The sound of a white, suburban, teenage girl rapping about working at Claire's, tweezing her eyebrows, and loving Taylor Swift makes a lot of people reflexively gag—a fact that Kitty realizes and makes art out of. But still, if ever were there a song of hers that could cross over, it'd be "Ay Shawty 3.0" off of her brilliant (yes, brilliant) Daisy Rage EP. Over a lush, woozy sway of a beat, Kitty deprecates herself ("I should be less creepy and less easy-sounding") and cleverly mines her pop-culture obsessions ("I'm Mary Jane and you're Petey, in the street, I'll invert you / So greet me with kisses iconic and sweet") as she professes a crush on rapper with gold teeth. The slyly catchy chorus drifts in. And then Lakutis, playing that crushed-upon rapper, blows her off: "It's cool you thought you could know me but... Nah." So it's an age-old tale of unrequited love, made totally unique, and it'll get stuck in your head, too.
FETTERS: It was big abroad but I'm a little surprised Americans didn't warm up to Jason Derulo's 2 Chainz-assisted ode to sexual jet-setting, "Talk Dirty." I know Jason Derulo's moment was barely a moment and it was a good while ago, so I'm sure that's part of it. But in a lot of ways, "Talk Dirty" reminds me of Chris Brown and Pitbull's decently successful 2011 single "International Love." It has the same smirking, aw-yeah-I-have-sex-in-all-the-countries theme, which of course perpetuates much of what was wrong with "International Love," like its moderate-to-blatant skeeviness, objectification/exoticization of minority women, etc. But it replicates a lot of what worked about it, too: bouncy, inherently danceable beat; punchliney rap verses trading off with a catchy hook. So it perplexes me that it failed to even make the Hot 100. Plus "Talk Dirty" borrows a horn break from Balkan Beat Box, and as far as I'm concerned, that's never the wrong choice.
---
What was 2013's most GIF-able moment in music?
FEENEY: My favorite moment of MTV's Video Music Awards didn't happen on stage, or even inside Brooklyn's Barclays Center. It happened on the red carpet, when Grimes and 2 Chainz showed up wearing the same designer pants. What a contrast: She's a tiny woman who makes weird, experimental songs that address subjects like sexual assault. He's a 6'5" rapper who writes rhymes about strippers with big butts. And yet! She openly professes her love for rap music and wears Versace. He's the kind of guy who makes Spotify playlists for Bon Appétit magazine and also wears Versace. What is mainstream? What is the underground? Are outsiders the new insiders? What is pop music? What is genre? Guys, I don't even know anymore.
FETTERS: Way to outclass, Nolan, with a GIF that makes a statement about highbrow and lowbrow and cultural boundaries being crossed. My favorite is Beyoncé's hair getting stuck in a fan.
There's potential for catastrophe (or at least schadenfreude-laden hilarity) when something this unseemly happens to such a poised, regal human. But she keeps on singing! And laughs about it later! She handled this like a champ.
KORNHABER: Darn, I was going to say every second of Beyoncé's fabulous Super Bowl halftime show. And if we hadn't mentioned Miley so much already I'd do the GIF of that dude eating a wad of cash in the "We Can't Stop" video. And I'm tempted to cite North West's parents' glimmering, cheeky "Bound 2" kiss as the ur-example of people just not being on Kanye's level this year, but then I'd have to spend another 1,000 words explaining his genius, and frankly, 2013 has seen enough of that.
So, OK. I'll go with Drake rapping spastically in the snow while wearing a white tracksuit and some chains in his "Started From the Bottom" video. As with most things Drake, it's this hypnotic, somehow profound combo of annoying and endearing:
---
This year suffered from a crippling lack of Adele, but even in her absence, there were a few great opportunities to get all choked up over emotionally charged ballads. What song gave you the most feels this year?
FETTERS: It barely counts, because it came out as a single just a week into 2013. But Rihanna's "Stay," with Mikky Ekko, is just so lovely. The cold awareness of the lyrics ("It's not much of a life we're living") plus the warm, drowsy piano—it's just a gorgeous, haunting portrayal of what it's like to choose to stay in a dysfunctional relationship, insulating yourself in its codependence and screwed-upness for fear of feeling the initial chill of what life might be like otherwise.
KORNHABER: For a certain kind of urban-dwelling twentysomething, Vampire Weekend's Modern Vampires of the City serves up one way-too-real moment after another. Ezra Koenig manages to find pathos in lacking religion, getting older but not being old, and staring at posters in falafel shops. "Hannah Hunt" is the most obvious wrecker—in two spare verses followed by an explosive refrain, he recounts a relationship that self-destructs for ineffable reasons involving a copy of the New York Times—but "Step" is the real masterpiece. It interpolates "Pachelbel's Canon" (automatic lump-in-throat material) as Koenig shows-not-tells about the way a young adult's mindset subtly shifts over time: from defining oneself through pop culture, travel, hobbies, interests—stuff you'd list in a Facebook profile—to accepting a simpler, more universal longing for stability and love. People like to say that all millennials thinks they're special snowflakes, but "Step" is the sound of at least one of them embracing the fact that he's not.
It'd be wrong not to also mention two more-traditional ballad champions. The Nashville folk act Torres's "Honey" made for the most straightforwardly moving six minutes of the year, which is all the more impressive because I'm still not sure what it's about. "This cannot happen again / Twice in a year is too much" singer Mackenzie Scott huskily warns, and she could be referring to anything from domestic abuse to forgetting to grab milk at the store. What's important is the way she recognizes her own rage, and recognizes the way it powers her creatively—"what ghost crawled inside my guitar?—while her band slowly throws a tantrum with guitar fuzz. Scott conveys emotion while staying vague; 2013's other breakout country-ish poet, Brandy Clark, does it with specifics. Her album, 12 Stories, packs volumes of melancholic but often-hilarious details; for a taste, check out "Take a Little Pill," a twangy ode to antidepressants.
FEENEY: Tegan and Sara's Heartthrob is one of the year's finest breakup albums, but if you're looking to have your hand held through the five stages of grief, you won't find relief here. The twin-sister duo's seventh release is their cleanest and poppiest to date, but its feelings are messy and mercurial—kind of like real-life breakups. One minute Sara Quin claims she's over it, the next she's grasping at straws about what went wrong. In one song, Tegan prays for your calls. In another, she ignores them.
No track embodies that tension better than "Now I'm All Messed Up," the devastating penultimate number about a relationship's anxiety-wracked breaking point. The veteran indie rockers (and recent Top-40 infiltrators) prove the moment of catharsis doesn't require a clean break as one sister shouts in the final chorus, "Go! Go!' Go if you want, I can't stop you!" while the other, the inner conscience, pleads between breaths, "Please stay! Please stay!" Producer Greg Kurstin deserves credit for transforming their original, sparse piano arrangement into the electrifying power ballad it is today, but Tegan and Sara's songwriting has always been about pushing through insecurities in pursuit of confidence or romance, if not both. On Heartthrob, the sisters show they're pros at flipping the most gut-wrenching heartbreaks into surprising victories.
---
Pop music is good for the soul, obviously. But it's also good for the glutes. What did you add to your workout playlist this year?
KORNHABER: Listening to Disclosure's Settle—a perfectly executed, hook-heavy, darkly shaded retread of house music—is like mainlining endorphins, so it soundtracked many a run through Rock Creek Park for me this year. "White Noise" has rightfully become a modern classic, but the less-acclaimed "Grab Her!" plinks and pongs and echoes on such an immense scale that it makes you feel like you're burning calories in Tron.
For anaerobic exercise, when the BPMs matter less than a loosening of inhibitions against grunting, I'd recommend Fuck Buttons' Slow Focus. The noise duo's third album is aggressive, experimental stuff, crossing electronica sensibilities with death-metal volume. Highlights like "Brainfreeze" and "Sentients" use factory-inspired ruckus to build sonic creations that almost feel like they live and breath—perfect for when you need to be reminded that the body is but a machine.
Construing "fitness" more broadly, I've been surprised how frequently I find myself switching on Arcade Fire's Reflektor when I have to force myself out of bed. Lily-white indie rockers + bongos, according to a lot of reviewers, are inherently embarrassing, and at times I agree—you can't really listen to Win Butler moan "Is anyone as cruel as a normal person?" without cringing: The Starbucks CD-sellers doth protest too much. And yet… The entire thing is so frequently joyous, so finely detailed, so insistently danceable, that listening to it makes mundane tasks (ahem, laundry folding) a lot more pleasant. "Afterlife" with its playful, scratchy guitars and swelling rounds of "ooohs" works beautifully as a daily affirmation, so long as you ignore the fact that it's about death.
FETTERS: I'm really into the distinction between aerobic and anaerobic, Spencer—because you're right, what makes sense for one part of your workout won't necessarily for another. So, first, aerobic: True, this year's Avicii album, in addition to being smart and surprising, has a few tracks that turn my cardio-machine workout into either an intense Run Lola Run-style rescue mission (like "Heart Upon My Sleeve," with what I think might be the most menacing cello solo pop music has heard in years) or a sweaty, awesome, perpetually uphill dance party (like "Lay Me Down"). And there's also Lady Gaga's "Venus," but that's a much weirder kind of dance party.
And as for anaerobic jams, I've really enjoyed lifting weights to Imagine Dragons' "Demons." Every lateral raise just feels so meaningful.
FEENEY: Does dancing around your apartment while staring at your barely used running shoes count as a workout? Because I have plenty of tunes for that occasion—and the most aerobic among them is Katy B's "5 AM." Last fall's Danger EP was a delicious sampler plate of grimy UK bass music, and "5 AM," the first taste off her forthcoming Little Red, is just as tantalizing.
My anaerobic jam of choice, Iggy Azalea's "Work," is a rags-to-riches autobiography and bass-rattling collection of contradictions: She's ostensibly a total rap outsider, a 23-year-old white girl from Australia, but upward mobility is one of hip hop's oldest themes; Azalea spits in an affected drawl she picked up from mimicking MCs like Tupac and her mentor T.I., yet there's an occasional wordy awkwardness that suggests she's still finding her voice. Her rapping style is a frequent target for critics who take swipes at her originality (and question its racial implications), but on "Work," she frames this approach as a commitment to her craft: "So I went harder / Studied the Carters till the deal was offered." Is she talking about the Lil Wayne albums? Jay and Bey? Doesn't matter: In the gym, Azalea's snarling lesson about hard work paying off is nothing short of inspirational.
---
What was your favorite—your absolute, hands-down, most singularly beloved—song of 2013? Fifteen years from now, when you think back to 2013, what's the song you'll remember playing on repeat?
KORNHABER: Britney Spears, "Work Bitch." No apologies. This is corporately produced pop music at its most awesomely utilitarian. Big-budget industrial throb, LOLs via absurd fake Cockney accent, and a campy yet earnest motivational speech add up to an entirely positive emotional experience: For four minutes and eight seconds, you can feel invincible. Then it's back to work.
FEENEY: Every song on Charli XCX's debut album, True Romance, is about love, the 21-year-old has said in interviews—except for one song, which is definitely about getting high on ecstasy. "Take My Hand" is that song, and while there are obvious references to swallowing pills and staying up all night, I'd argue it's actually her most romantic track to date for the way it captures the sheer excitement of being around somebody, the rush of getting lost in their presence. Each string swell and synth stab wakes up a thousand new nerve endings; every bass pulse is a nervous lurch in your gut; glitchy keyboards buzz like butterflies in your stomach.
Love-as-a-drug metaphors feel as old as pop music itself, but there's a reason Charli XCX keeps using them—she's pretty damn good at making the trope feel as youthful as she is. As her new single "SuperLove" once again demonstrates, Charli's songwriting expertly hones in on what make moments of passion, romantic or or otherwise, so intoxicating.
FETTERS: Laura Mvula's "She." It's this tiny miracle of a song, and it's about perseverance; between the voices and strings and tinkly chimes, you can practically hear flowers blooming. "She don't stop / don't, don't don't stop" is the kind of thing I want to hear first thing when I wake up in the morning and again before I go to sleep at night.
The Spotify playlist:
The Rdio playlist: