SNL's Slump, A&E's Morals: The Week's Best Pop-Culture Writing
The most intriguing articles about entertainment we've come across in the past seven days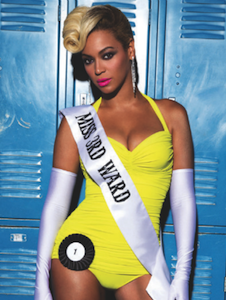 Some of the styles heard on the album: that marching-band thing where Beyoncé seems to celebrating a holiday only she knows about; Houston rap; light "Rock With You"-flavored disco; snatches of snare and hi-hat programming from trap music; the kind of smeared, minimal bass music favored by her sister (and ice bats); and several new variants that she and Boots have cooked up. Samples of Chimamanda Ngozi Adichie's TED talk on feminism: one. A way of saying that you are awesome that will be overused probably before the year is up: "I woke up like this." Every time I play "Beyoncé," it sounds better, and more like an album than anything else she's done. That's a trade-off, because I don't hear an M-80 song like "Crazy In Love," but I am entirely happy to have fourteen tracks that work in a row. I am also entirely happy to watch Beyoncé roller-skate and crush cigarettes with black patent-leather platform stilettos.

But, if I got that last shoe I.D. wrong, I'll hear about it, and that's part of what the weekend was about. The comments section of a Jezebel post about the album became a slugfest over who speaks for whom, in terms of feminism and feminists who might not be white, or who might not be feminists, despite what they claim. A post on The Gloss responded to this discussion, creating a parallel discussion. The rapper Kitty Pryde delivered a comic "live-blogging" of the album that allowed a writer named Alex Hardy to sort of dismantle her. Read the post, but, in short: a Jay Z line on "Drunk In Love" sounds a bit like "eat the cake, anime," but is preceded by Jay Z saying the name "Ike," reminding most of us that the line in question is "eat the cake, Anna Mae," from the bio-pic about Ike and Tina Turner. I won't pretend to know how this potentially ugly reference works between Jay Z and Beyoncé, but it's her album and they look pretty happy on the beach, so some sort of inversion is at work.
---
I am ashamed that it took R. Kelly's alleged transgressions ultimately being about me to finally make me take a step back. That it took a brazen alliance with Chris Brown to wake me up. That it took a high school friend who I haven't spoken with in seven years sending me a Facebook message, saying she was curious how I felt considering my very public adoration of "his music and all-around ridiculousness" to get me to write this. To write this about a man who, not six months ago, I drove 25 hours to see in concert. And I've made light of the accusations against him, using the word "allegedly" as a tug on the collar, an "O.J. didn't do it" sweeping under the rug.

But it all happened. And here we are, a world where I can't tell you how to proceed with R. Kelly because I still haven't decided how I will proceed with R. Kelly. If I had a poster of him on my wall, I'd probably take it down, but if I hear his song at a bar, there's a good chance I'm going to stay. It's complicated, and it's fine that it's complicated.
---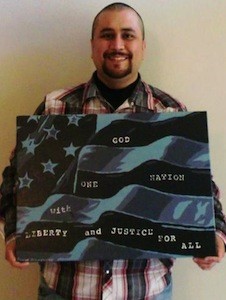 This morning I went to CNN and was interviewed about the painting for about five minutes. I think I got to a number of my points, in every case using the term "in my opinion." I was able to say that in my opinion, George Zimmerman is a murderer, a psychotic, that his was a travesty of justice. But I stalled, repeated myself, and am sorry I wasn't better. An article following my appearance was partially titled, "Art Critic (Jerry Saltz) Calls George Zimmerman Painting 'Psychotic,' Compares Him with Manson and Gacy." So some points got through. I was home by 8:15 a.m.

Evidentially, the right wing wakes up earlier than the left wing. I checked my e-mails, Twitter, and Facebook, and as I read my messages I grew cold with fear. They were inundated with hate. Sickening glimpses onto the American night.
---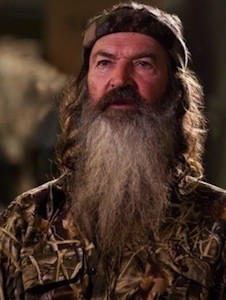 Time
Why Phil Robertson Got Suspended From Duck Dynasty
James Poniewozik
Star and duck-call mogul Phil Robertson of Duck Dynasty, for instance, was indefinitely suspended by A&E Wednesday after an interview with GQ in which he called homosexuality sinful — like, in his words, drunkenness, bestiality, promiscuity, and terrorism — and in specifically anatomical terms saying why he thought being gay was "illogical."

But which was the actionable part? Was he suspended for believing that being gay is a sin? For saying it out loud? For saying it in those terms?

In TV, writers talk about getting notes from the network to "make the subtext text." That is, rather than be subtle, or hint at the meaning of a scene or dialogue without saying it in so many words, you need to make it clear so that nobody in your audience misses it. Robertson got in trouble, for once in TV history, for making the subtext text — for being explicit about the conservative Christianity that, when it was subtext, was a selling point for him and for his show.
---
Sports on Earth
The Best and Worst NFL Announcers
Aaron Gordon
Kevin Harlan/Solomon Wilcots: 52 Infractions

Eleven is a perfectly respectable number of slip-ups for a play-by-play guy, although Harlan does have a habit of saying "this NFL" as if there is some other NFL. Wilcots, however, surprised me with 41 infractions. In fact, Wilcots unexpectedly proved to be one of the worst announcers by these standards.

By my estimation, Wilcots has the least steady grasp of the English language of any NFL commentator. The following are words Wilcots made up or inappropriately used: droppage, Howzerwitz (he meant howitzer but wasn't even close: "Nobody can catch the ball when it comes out of a Howzerwitz"), rejumpstart, impetus (I've surmised he simply doesn't know what this word means), rambles (he twice meant to say rumbles but failed).

Math is also not a strong suit for him: "Even if they kick a field goal, they're down by eight and it takes two scores to tie the game." I'm not sure if he's just calculating incorrectly or if he's counting a two-point conversion as a separate score. Either way he's wrong.
---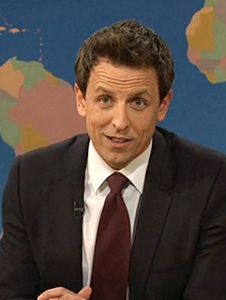 The Washington Post
Saturday Night Live, No Stranger to Slump Seasons, Begins to Recover
Hank Stuever
In a weakened state, it's also easier to notice "SNL's" puzzling dependence on old premises, such as lampooning talk shows of the sort that no longer exist or only ever existed on "SNL" ("Girlfriends Talk Show"; "Lady Gaga's [talk] Show"); or making very old hay out of the game-show genre ("New Cast Member or Arcade Fire?"; "Cartoon Catchphrase"). These set-ups no longer apply to "Saturday Night Live's" original mission, which is to lampoon contemporary culture.

Yet, despite the slump, "SNL" still offers the security of ritual — something of real value in a pop-culture era that worships disruption and upheaval. The show's format is as inviolable as the Mass liturgy. (Mass, that is, if more than half the priests were Jewish.) It starts with the "cold open," where "SNL" displays both its desire and its flailing inability to deliver relevant political satire, followed by monologue, sketches, a song, "Weekend Update," more sketches, another song, and then, most delightfully, the back end of the show, which is an experimental playground for anyone still awake.
---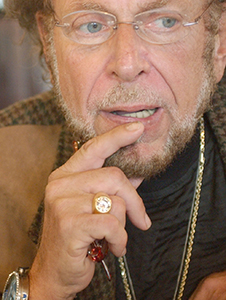 Mr. Goldstein, who lived to shock and offend and was arrested more than a dozen times on obscenity charges, stuck around long enough for social mores and technology to overtake him. By the time his company went bankrupt in 2003, he was no longer a force in the $10-billion-a-year industry he pioneered. But for better or worse, his influence was undeniable.

"He clearly coarsened American sensibilities," Alan M. Dershowitz, the civil liberties advocate and Mr. Goldstein's sometime lawyer, said in 2004.

"Hefner did it with taste," Mr. Dershowitz added, referring to Hugh Hefner, the founder and publisher of Playboy, which predated Screw by 15 years. "Goldstein's contribution is to be utterly tasteless."