You Don't Want to Fight an NFL Lineman—Stop Talking Like You Do
Anonymously calling someone a coward is the height of self-parody and the pit of self-awareness.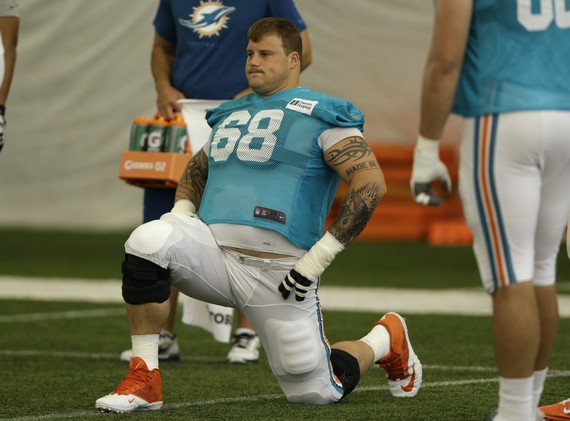 "This is a most cowardly struggle. These people can do nothing without gunboats... We should have had gunboats."
Miami Dolphin Richie Incognito has been found to have directed a rather lengthy campaign of harassment at fellow offensive lineman Jonathan Martin. "Harassment" understates the thing. Incognito, with some regularity, threatened Martin's family ("[I'm going to] slap your real mother across the face"), threatened Martin personally ("Fuck you, you're still a rookie. I'll kill you"), and assailed him with racist invective ("Hey. What's up, you half-nigger piece of shit"). This is what we know. Apparently there's more.
Until yesterday, Incognito had taken to loudly defending his honor over Twitter, telling ESPN reporter Adam Schefter—"If you or any of the agents you sound off for have a problem with me, you know where to find me. #BRINGIT." Schefter subsequently brought it in the form of actual quotes. Incognito has been quiet ever since.
Jim Trotter has a useful piece on all of this in which he quotes various front office people loudly quoting from the Book of Men:
"I think Jonathan Martin is a weak person," said one personnel man, speaking on the condition of anonymity. "If Incognito did offend him racially, that's something you have to handle as a man! Mike Pouncey was a rookie at one point while Incognito was there and you never heard any complaints from him. There's no other way to put it, other than him being sofTTT!"

Said another: "Guys are going to be guys, if you know what I mean. I'm sure there are some instances of 'taking things too far,' but that happens everywhere. You handle it in house—fight, handle it on the field, joke about it, etc.—and keep it moving..."

"I might get my ass kicked," one said, "but I'm going to go down swinging if that happens to me, I can tell you that."
Probably not.
Anonymously calling someone a coward is the height of self-parody and the pit of self-awareness. Each of these personnel men feel perfectly comfortable attacking the mental strength of Jonathan Martin. Not a single one of them is willing to put their name on it. That is because none of them wants to deal with the pain of embarrassing themselves, their organization and the league, nor the pain that might attend their careers.
Calling for others to endure pain in one breath, while you duck it in the next is a particularly loathsome form of cowardice. The men who call on Martin to fight Incognito in the locker-room, are also the same men who would ruthlessly cut Martin or Incognito should either be injured in any way that jeopardizes the team's plans. Perhaps one of these braggarts actually would "go down swinging." But "down" does not have the same meaning for a general manager as it does for a left tackle. Jeff Ireland can report to work with a broken arm. Jonathan Martin not so much.
The point here is power. As demonstrated by Trotter's column, Martin has risked his career and millions of dollars by exposing Incognito. There's a solid argument that Martin's actions were "brave." It just isn't the kind of "brave" that immediately empowers the NFL. On the contrary, it's the kind that threatens it.
The personnel men are not alone:
Early this morning, a poster with the username "idrd1994" left an impassioned defense of Incognito on the FinHeaven message board. In it, he attacked both Martin and Mike Pouncey as "black brothers that do drugs on a regular basis," and asked readers to "pray [GM Jeff] Ireland and [coach Joe] Philbin die of AIDS." He blasts the team from top to bottom, claims Incognito is getting railroaded, and uses the "black people say the N-word in rap music" argument to dismiss claims that Incognito sent racial messages to Martin. He also implies that Martin has pondered suicide, and "does not belong in an NFL locker room."
There is strong evidence that idrd1994 is Richie Incognito's father—Richard. The senior Incognito isn't commenting.
UPDATE (1:12 PM): Thinking on this, I want to say something more. I think Jim Trotter should have asked his sources why they would demand that Martin risk his career, when they obviously are not willing to risk their own.
There's quite a bit of opinion in Trotter's piece, but very little of it comes at the expense of the people who are venting under the mask of anonymity. I think challenging one's sources, as opposed to simply shielding them, is an important step in distinguishing penetrating journalism from stenography.