Why I Wouldn't See 12 Years a Slave With a White Person
"I did not want to have to entertain any of the likely responses from someone who could not see themselves in the skin of the enslaved men and women on the screen."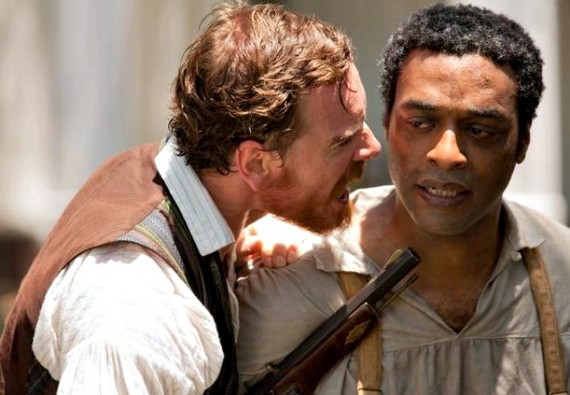 I'm not a racist. But I do have a race problem. I finally owned up to it as I was anticipating seeing 12 Years a Slave. In the weeks leading up to its opening in my state of North Carolina, I tried to think of whom among my friends I could see this film with. I have a number of racially and ethnically diverse friends and acquaintances who would love to see it, and yet, I knew I could only see this movie alone or with another dark-skinned person.
Though I was born in North America, I was raised in four other countries on three different continents. I speak English and French. I understand my Nigerian Igbo language. My family has married across ethnicities and cultures—I have in-laws of Arabic, Italian, and Indian descent. I always knew I was Nigerian-American, living between cultures and nuanced identities. But I never knew I was just black until I started spending my adult years living in America. Believe me, now I know.
This is hard to admit. I will hurt the feelings of people I love. But isn't confession the first step to being reconciled? I have good, healthy friendships with a range of people, but I could not think of one white person where I live with whom I would feel emotionally safe enough to see this particular movie about slavery. I did not want to have to entertain any of the likely responses from anyone who could not see themselves in the skin of the enslaved men and women on the screen. I had no desire to dissect the film politically and theologically, engage in well-meaning social commentary, marvel at the history conveyed through the movie, or grieve over what was done to black people.
I did not want the burden of the social translations that black people so often have to do automatically on so many internal levels while engaging in discourse with whites in this country. There are things we learn to do almost subconsciously in order to keep some whites comfortable enough around our blackness. Things like gauging their actual level of interest or understanding of black culture in order to know how far to take a particular conversation before things get awkward. Things like letting them know you hear them trying to say they do in fact see black people. Things like anticipating their questions and responses when they see you with a new hairstyle or come across some element of black culture in your life. Things like using your voice intonation, your word usage, and your bodily gestures to signify that you can hang with them without it being "obvious" that you are a black person in their white world.
Very often, black people work to make white people at ease by layering away any unease we ourselves may feel. It is hard work to translate yourself daily to someone else who most likely lives life without ever being fully aware of how their very existence has been the basis for determining what is "normal" in America and much of the world. And yet this painful and ongoing work of translation is second nature to those of us who have always had to figure out ways to be seen and understood in a world where the white experience is assumed to be the default.
I wanted to sit in the pain and horror and soul-breaking sadness of a movie like 12 Years A Slave with another person like me—someone who is reminded every single day that we are black in America. It doesn't matter our descent—first-generation Nigerian-American like me, or someone with family here since the Atlantic trade. Our personal narratives do not matter when we walk into stores that cater to consumers of high socioeconomic status (Barney's). Our accomplishments do not matter when we're randomly accosted by police (Henry Louis Gates). Our leadership (Obama), our strengths, our beauty, our innocence (Trayvon), our fears, our needs (Renisha McBride), our humanity all take second seat to our skin, skin that in all its beautiful, nuanced shades is simply seen as "black."
I did go see 12 Years a Slave, in the middle of a weekday afternoon, alone. I sat in the sparsely occupied theater with seven other people: four white men, two white women, and one black man. And for the duration of the ads and the movie previews I tried to brace myself for the experience. I kept whispering to myself, "It's a movie. It doesn't happen anymore. It's a movie. It doesn't happen anymore." I could not remember the last time I felt so physically tense and uncomfortable at the beginning of a film. Scene after scene, my body did not relax once. And when it was over, I was so grateful I had come on my own. Not because of any increased animosity toward white people, or any steaming anger toward a system of injustice; mainly because in the moments after the film I simply could not speak. I needed space to process the images I had seen, the dark silences I had heard, and the slow leaking of my own raw emotion I did not even know I had been holding on to for the previous two and a half hours. I have always been awed by how humans can experience both a deep numbness and extreme pain at the same time.
Seeing the movie was hard. But the truth is I had developed my own race problem before the film was even released. And when I look back I see that it has largely come from the slow and painfully growing suspicion that I'm primarily a check-mark in the lives of so many well-meaning, educated white people. Black educated friend: check. African conversation partner: check. Black woman of safe but uncommitted romantic exploration: check. Black articulate friend I can introduce to my family: check. Black internationally reared cultural elite I can relate to without leaving my comfort zone: check. Black emotionally safe friend with whom I can make "black jokes" in the name of familiarity: check. The list could go on.
I am saddened at the undeniable reality of my problem. I mourn my seeming inability to fully trust those pink-skinned children of God.
The most unsettling thing about my race problem is that I'm not sorry for it, though. Confession may be the first step, but I have failed to reach the second one: repentance. I know I cannot stay in this place of distrust, of increasing disdain and anger. But I am not ready to dismiss these feelings, either. I am not ready to work toward the unity I believe we are all called to move toward. Because these feelings, difficult and tragic as they are, seem to be teaching me some valuable lessons.
Now more than ever I will engage in cross-racial relationships with an unapologetic and hopefully compassionate commitment to calling out the ways that people fail to see the complexity and reality of being black in America.
Now more than ever I will write and speak in ways that seek to reclaim what is "normal" from whiteness.
Now more than ever, I will struggle in public dialogue with the ongoing repercussions of being a Christian living in a country that since its beginning has woven together religion and race to sanctify human bondage and to help maintain injustice.
Now more than ever I will pour my creative energy into supporting and building safe spaces in which all shades of brown and mahogany boys and girls can live the fullness of life as boys and girls created in the image of God.
I have given myself permission to dwell in this malaise. I do trust that eventually it will be redeemed. I hope my white friends can bear with me however long it takes. Even if it's something as crazy as a dozen years.