When Country Music Goes to the Dark Side of Small-Town Life
Brandy Clark and Kacey Musgraves have defied country's tradition of celebrating the working class, and in doing so, they address the harsher realities of modern rural America.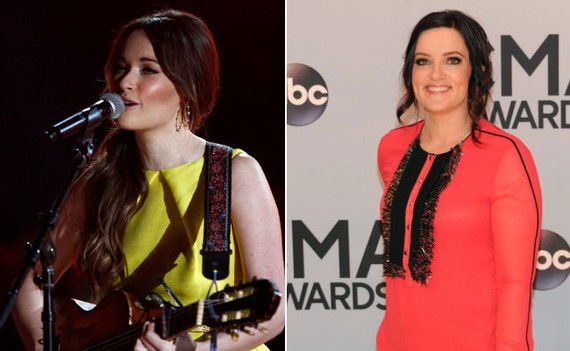 One of the defining characteristics of modern country music is its distinctly American way of acknowledging of class and place. Country singers have long embraced their working-class roots and expressed pride in the battles they fight to make rent; the genre's everyday Joes and Janes are proud to be everyday, or maybe even a little trashy, as evidenced in older songs such as Confederate Railroad's "Trashy Women," and Garth Brooks's "Friends in Low Places" as well as more recent songs such as Trace Adkins's "Ladies Love Country Boys," Blake Shelton's "Hillbilly Bone," and Gretchen Wilson's "Redneck Woman."
As someone from a rural area, albeit a more-than- one-stoplight town, I can see why it's liberating to let go of the typical American pressure to try and "move up" in society. Country music has catered to that urge for a long time. But recently, a few female country singers have stepped away from this point of view, portraying small-town narratives in a more melancholy light. Instead of endorsing the country lifestyle, these artists question small-town living, the value of tradition, and the virtue in staying in one's place. Instead of leaving life unexamined and being happy to be to do so, Kacey Musgraves's "Merry Go 'Round" and Brandy Clark's "Pray to Jesus" ask why people continue down the same road as their parents did. And as encouraging as many of the rebellious "embrace-hick-culture" songs were, these new songs feel more appropriate for the time we're living in.
This isn't the first time, of course, that country music has acknowledged the obvious point that being poor isn't fun. Dolly Parton's "Coat of Many Colors," for example, walked the line between dreariness and glee, expressing pride in her mother's coat of rags as well as stating the challenges of being broke. Hank Williams sang nostalgically of "The Old Country Church," but he also sang, "I'll Never Get Out of This World Alive":
No matter how I struggle and strive,
I'll never get out of this world alive.

These shabby shoes I'm wearin' all the time
is full of holes and nails,
and brother if I stepped on a worn out dime,
I bet a nickel I could tell you if it were heads or tails.
But even in earlier eras of country music, singers embraced their roots and expressed pride in the battles they fought to make rent: Johnny Cash, for instance, sang of his Southern roots and country life in "Country Boy" and "Southern Accents." The rural, low-income life was presented as a freedom from materialism; Cash sings that he's a "country boy, ain't got no shoes; country boy, ain't got no blues."
In the early '90s and into the mid-2000s, however, a brazen "hick" attitude developed in the genre, nourished in a time of relative economic health and the intensified post-9/11 nationalism of the early aughts. Rhett Akins released the much-beloved "Kiss My Country Ass" in 2005. Blake Shelton has since adopted  it as his
"theme song,"
with good reason: Today, Shelton is the poster boy for this particular brand of country music.
When the economic boom of the 1990s ended and the financial crisis of 2008 began, though, the profound gap between the rich and the poor—and often the rich and middle class as well—was exposed anew. As the Bureau of Labor Statistics put it in a report from earlier this month, the recession hit all of America hard; it caused unemployment rates to fall at equal rates in metro and non-metro areas in 2008 and 2009. But over the last few years, while employment rates in metro areas in America have begun to recover, job growth in rural regions and small towns has stalled.
Country has evolved along with America, of course, and so it's only logical that today, the cultural climate in real-life rural areas has become visible in country music's sentiments toward the rural lifestyle.
It didn't seem out of place to embrace a simpler life when all it meant was going without a few new dresses or sharp ties. In Garth Brooks' 1990 song, "Friends in Low Places," Brooks sings "Blame it all on my roots, I showed up in boots, and ruined your black-tie affair," as he addresses his ex. He is dressed inappropriately for a formal event and uses bad manners; unlike Hank Williams, who sang of his ragged boots as a point of frustration, Brooks revels in being rough around the edges, even if he is poking fun at himself. Similarly, in "Redneck Woman," released in 2004, Gretchen Wilson sings that she can wear WalMart clothes half-price because she doesn't need "designer tags to make my man want me." She frames it as a choice. It's not that she can't afford champagne; she prefers beer.
But when being rural and low-income starts to mean that you're living without heat or that you're struggling to pay for your own groceries, these songs begin to sound bittersweet rather than celebratory. It's tempting to play a "happy warrior," especially when much of American culture frowns upon people who acknowledge any sort of victimhood. (After all, notions that the poor are poor because they're lazy still persist in much of America.) But it's hard to ignore some of the harsh realities of rural life in America today, and Musgraves and Clark in particular have taken the issue head-on. "Merry Go 'Round" and "Pray to Jesus," two songs eerily similar to each other in both melody and lyrics, don't try to sidestep the dreary reality that can be a small-town or low-income life.
Clark sings,
We live in trailers and apartments too
From California to Kalamazoo
Grow up, get married, and when that one ends
We hate sleeping alone so we get married again…

Don't want to buried in debt or sin
So we pray to Jesus and we play the lotto
'Cause there ain't but two ways
We can change tomorrow.
Musgraves, meanwhile, sings,
Mary, Mary, quite contrary
We get bored so we get married
And just like dust we settle in this town…

Tiny little boxes in a row,
Ain't what you want it's what you know
Just happy in the shoes you're wearin'.
In Musgraves and Clark's narratives, there is boredom, and even worse, there are dreams that go stale. People living in urban areas aren't necessarily spared these problems, but there are more distractions available and often they have a better shot at realizing those dreams.
Ashley Monroe's "Satisfied," additionally, isn't specific to small towns, but unlike much of traditional country music, it expresses unhappiness about the everyday aspects of life.  Monroe sings about disappointment in the familiar and in the reality of commitment, and excitement in what's new or what's been left undiscovered in the past. Monroe sings,
Old man lookin' at a photograph,
of a love that's long gone from his past,
and his wife's got a letter that she can't read,
from a boy who never came back from the sea.
That's a psychological place modern country music has tried to stay away from: The biggest country music stars in the past decade have embraced tradition and staying in the place you grew up. In "Back Where I Come From," for example, Kenny Chesney sang, "Some say it's a narrow place, narrow eyes on a narrow wage / But I make it a point to say that's where I come from." Lambert extolled the virtues of small-town celebrity over anonymity in the big city in "Famous in a Small Town" when she sang, "I dreamed of going to Nashville, put my money down and placed my bet, But I just got the first buck of the season, I made the front page of the Turner Town Gazette." Brad Paisley sang of the virtues of traditional Southern values in "Too Country." What does "too country" even mean? he asks, and cheekily defends the country life:
Is it too many pearls of wisdom under grandpa's old hat
Is it too old-fashioned, is it just too antique
Is the question too strong or is the answer too weak?
Clark and Musgraves's songs, though, embody a state of mind country music needs to acknowledge more often. Because it's just as important for country music to tell the sad side of the story.
People love country music, in part, because it speaks to the heart of rural existence, a way of life that many people find happiness in and a culture that seems more authentic.
Yet, like all real cultures, rural life has its shortcomings. People become bored in a way that is distinct to an isolation of place. Rural boredom is different from urban boredom: Much of the appeal of cities is rooted in the excitement of newness, of novelty, so urban boredom is a result of being surrounded by stimulation yet still feeling alone. Rural boredom, by contrast, is often exacerbated by the tendency to wonder what you're missing out on. It comes from wondering if there is more to life than a familiar community (like the one Miranda Lambert sings of) and the limited romantic possibilities and career options a small town offers. Musgraves, Clark, and Monroe capture that suffocation perfectly, and more artists should take their lead in being honest about the limitations of small-town life. Because sometimes, even country music's unsinkable happy-warrior protagonist needs to reflect.