What Really Makes a Film Feminist?
Asking whether a new Swedish rating system based on the Bechdel test can evaluate a film's feminism exposes the problems with labeling a film "feminist" in the first place.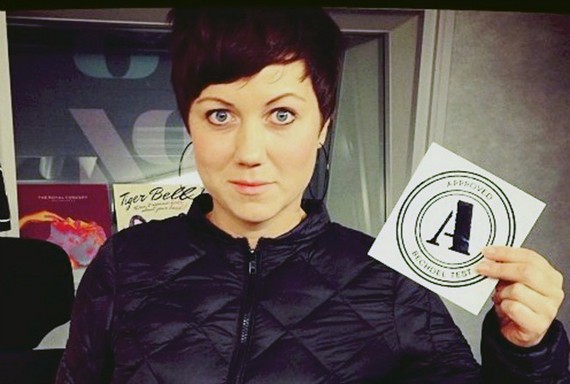 Last week, Swedish movie theaters created a media foofaraw when they announced that they would begin providing a rating based on the Bechdel test for the films they screen. The test, created by comic artist Alison Bechdel in 1985, asks whether a film has at least two female characters and at least one scene in which they talk to one another about something other than a man—if it satisfies these criteria, Swedish theaters give it an A. The goal, according to Ellen Tejle, the director of an art-house cinema in Stockholm that is implementing the rating, is to draw attention to how few films pass the test and encourage filmmakers to make more movies with three-dimensional women characters in them.
When the news broke, writers immediately began questioning whether the test is an effective way to judge whether a film is feminist. The answer to that is no—but it's important to note that that's not actually something the test was intended to do. The illustrated character in Bechdel's comic strip Dykes to Watch Out For who first espouses the idea says she uses it to determine not whether the movies are feminist but simply which movies to spend her money on. For those of us with a limited movie budget and a desire to see representation by and of women improve, choosing which films to support can be a political act; I like to spend my dollars on films directed by and/or written by women—and, not surprisingly, those films also usually pass the Bechdel test.
But to actually evaluate whether a film as a whole is feminist requires much more than a tally of female characters and the conversations between them. A film may have some feminist elements, some sexist elements, and some elements that are neither, because—and this is important—"feminism" is not simply the absence of "sexism." The most reliable way to determine whether a film is feminist is to see it—and even then, the question is not a simple one.
It is, for example, possible for a character to be a feminist creation without the film in which she appears being feminist. When Pacific Rim premiered earlier this year, sci-fi fans eager to support Japanese actress Rinko Kikuchi invented a test named after her character, the Mako Mori test. Though Mori is the only female character in the film with more than five lines, she has her own goal that's separate from the male lead's: avenging the wrongful death of her parents. Thus, the Mako Mori test asks whether a film has "at least one female character who gets her own narrative arc that is not about supporting a man's story." This test is one way to determine whether a character is feminist—by which I don't mean that she espouses feminist philosophy but rather than she is a fully-fleshed out human being—by asking whether she is a subject or an object. A subject has her own thoughts and desires upon which she acts, whereas a woman who has been objectified is acted upon by others.
However, as the inventor of the Mako Mori test notes, the question of whether a film is feminist cannot be determined solely based on whether the characters are. For example, some critics have argued that although Sandra Bullock's Ryan Stone, the central character in Gravity, is a feminist creation (director Alfonso Cuarón resisted studio pressure to define her by a romantic relationship and have her be rescued at the end), putting the solution to her problem—spoiler alert—in the mouth of a male character, hallucinated or not, actually reinforces patriarchal norms. Likewise, not every film that fails the tests can be said to be entirely sexist. In fact it is hard to find anything sexist in  The Lord of the Rings, which fails the Bechdel test, other than the lack of female characters. Same goes for The Avengers, which fails both the Bechdel and the Mako Mori.
Muddying matters further, whether one believes a film is feminist varies depending on one's definition of feminism. Liberal feminists—who believe that women and men are created equal and should be treated as such even though they often aren't—would likely consider the X-Men films to be feminist because they feature female superheroes who fight alongside male ones, even though they live in a world ruled by men. Cultural feminists, who believe women's biology and instincts make them different from men in ways that should be celebrated, might consider Steel Magnolias to be feminist even though the characters only talk about men and family. Material (more commonly referred to as intersectional) feminists—who believe that sex, gender, sexuality, race, religion, class, and other factors are all components of internal identities and signifiers of privilege (or the lack thereof) in society—may consider Bridesmaids to be feminist: Though it avoids race and religion, it deals with class, body size, sexuality, and the intersection of the many pressures women face in choosing mates, friends, and careers. (Shout out to Jill Dolan's The Feminist Spectator as Critic for the categories liberal, cultural, and material feminism.)
But in evaluating whether a film is feminist, it's perhaps most important to understand that the question of whether a film itself is feminist is often confused with the question of whether it is sexist, whereas in reality the absence of the one does not imply the presence of the other. Dead Poets Society is not generally considered feminist: It does not pass the Bechdel or the Mako Mori tests, and it does not espouse equality, celebrate female biology, or detail the multitude of factors that determine identity. But unless we're willing to call Bridesmaids sexist for having only one fully fleshed-out male character and not dealing with the concerns of men, it would be unfair to call Dead Poets Society sexist simply for being a male-driven film.
The truth is that the definition of feminism varies as much between feminists as it does between feminists, non-feminists, and sexists. For those of us in the artistic and theoretical realms, one focus of feminism has long been disrupting false binaries like male/female, masculine/feminine, and gay/straight so that equality is not something that's measured by whether you treat women the same way you treat men but by whether you regard everyone as a unique yet fully human individual. Feminist criticism needs to work to disrupt a binary, too—the one that defines art as either feminist or sexist. Even the most socially conscious creator can be influenced by the sexism that pervades our culture, whereas a creator interested in telling stories primarily about men can still make a feminist film—or at least a not-sexist one.
The Bechdel test, the Mako Mori test, and whether the film was written and/or directed by women are all great ways to determine how to spend your movie-going money in ways that support women's stories. But evaluating the feminism, sexism, and/or lack thereof in a film as a whole rarely results in an easy conclusion—and it definitely requires that you see the movie.