How to Be One of the Guys
I don't really know in what universe "figure him out a little" leads to calling someone a racial slur.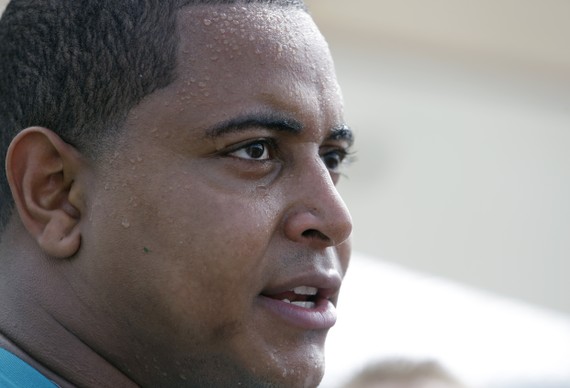 It's worth checking out this piece by retired Dolphins lineman Lyndon Murtha, in which he gives his ostensibly unbiased ("I don't have a dog in this fight") perspective on Jonathan Martin and Richie Incognito:
From the beginning, when he was drafted in April 2012, Martin did not seem to want to be one of the group. He came off as standoffish and shy to the rest of the offensive linemen. He couldn't look anyone in the eye, which was puzzling for a football player at this level on a team full of grown-ass men. We all asked the same question: Why won't he be open with us? What's with the wall being put up? I never really figured it out. He did something I'd never seen before by balking at the idea of paying for a rookie dinner, which is a meal for a position group paid for by rookies. (For example, I paid $9,600 for one my rookie year.) I don't know if Martin ever ended up paying for one, as I was cut before seeing the outcome.

Martin was expected to play left tackle beside Incognito at guard from the start, so Incognito took him under his wing. They were close friends by all apperances. Martin had a tendency to tank when things would get difficult in practice, and Incognito would lift him up. He'd say, there's always tomorrow. Richie has been more kind to Martin than any other player.

In other situations, when Martin wasn't showing effort, Richie would give him a lot of crap. He was a leader on the team, and he would get in your face if you were unprepared or playing poorly. The crap he would give Martin was no more than he gave anyone else, including me. Other players said the same things Incognito said to Martin, so you'd need to suspend the whole team if you suspend Incognito.

Which brings me to my first point: I don't believe Richie Incognito bullied Jonathan Martin. I never saw Martin singled out, excluded from anything, or treated any differently than the rest of us. We'd have dinners and the occasional night out, and everyone was invited. He was never told he can't be a part of this. It was the exact opposite. But when he came out, he was very standoffish. That's why the coaches told the leaders,bring him out of his shell. Figure him out a little bit.
I don't really know in what universe "figure him out a little" leads to calling someone a "half-nigger" and telling them "I'll kill you."
Be that as it may, it's worth considering what being "one of the group" meant on the Dolphins' offensive line:
Recently suspended guard Richie Incognito held meetings for fellow Miami Dolphins offensive linemen at a South Florida strip club and would fine them if they didn't attend, according to a report.

The National Football Post, citing two sources, reported that Incognito expected the linemen to attend. If they failed to show up, Incognito would fine them in the club's kangaroo court and mock them for not being part of the group, one of the sources said.

"Richie wanted to set up Richie's world as a way for everybody to act," a team source told the National Football Post. "Richie thinks everybody should act that way. He doesn't get that some guys aren't into that behavior. Some guys don't want to constantly explain to their wife or girlfriend why they have to go to a strip club."
This is right out of the gangster's playbook. It's enough for me to dirt. You need to do it with me. Otherwise, I start wondering whose side you're really on.