'Bound 2': More Evidence Kanye Just Wants to Make People Happy
His ridiculous video on Ellen confirms West's status as joybringer.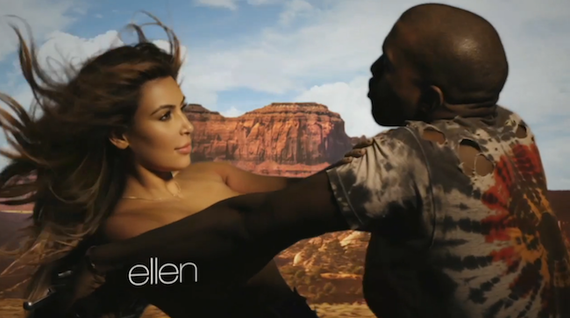 One of the many things that displease Kanye West: Barack Obama repeatedly referring to him as a "jackass" (including in the pages of The Atlantic). "I don't care if somebody the president or not," he said this week. "I care about thoughts, and how you helpin' people, and what you bring to the world. My music brings joy to people. What I create brings joy to people, and I'm about people."
West's many skeptics probably find a boast like that to be pretty rich—more evidence, in fact, for the "jackass" reputation. Even his supporters might look askance at the statement. "Joy" is not what one thinks of when listening to his abrasive and vulgar new album, Yeezus.
Yet West remains more self-aware than many people want to credit him for. Today he took to Ellen to unveil his new video, "Bound 2." There's something amiss if it doesn't inspire at least a touch of joy:
Inspirational-video American west scenery; Kanye in a ripped tie-dye tee on the back of a motorcycle entwined with a topless Kim Kardashian—the appropriate reaction here is to laugh both with and at what's going on.
He's trolling, of course. In the accompanying interview with Ellen, referring to his sports-arena marriage proposal, he talked about knowing what "taste" meant and wanting to reject it. He's also making art, though. The dreamy, sexual, blatantly metaphorical clip—two lovers on a highway to infinite bliss—sums up "Bound 2," which closes a nightmarish-sounding album about polygamous sexcapades with a sweet, soulful, and yet still lewd ode to monogamous commitment. It's jokey but not a joke. As Slate's Forrest Wickman puts it, "Love makes people do silly things."
There are other appropriate reactions. Like, Kanye, if you adore this girl maybe don't reduce her to a hood ornament? But the overwhelming feeling the video's meant to induce is WTF glee—the same emotion that comes with the electro-plasma chainsaw noises that open Yeezus, or the gargantuan mountain that he's been bringing on stage lately, or the fact that he decided to premiere his new video on Ellen. Scowling, problematic, vain, and profane West remains, but he's also also, above all, a delight.